AUSTIN, Texas – Young Americans in the Lone Star State told Fox News they were unhappy with the state of the U.S., with one woman saying she was "very nervous" about country's direction.
"I'm not currently super happy with it," said Ella, of Austin. "I think there's a lot going on right now that's not so great."
Trevor, another Austin resident, said he was "not particularly satisfied" with America's state of affairs.
"There's a lot of headbutting and just overall aggression from everyone," he told Fox News.
"Honestly, very nervous for the way the country is heading," Ariana, of Dallas, said. "The economy, the fact that climate change is happening and taking a really big toll, and then there's a bunch of different things, like our homeless people."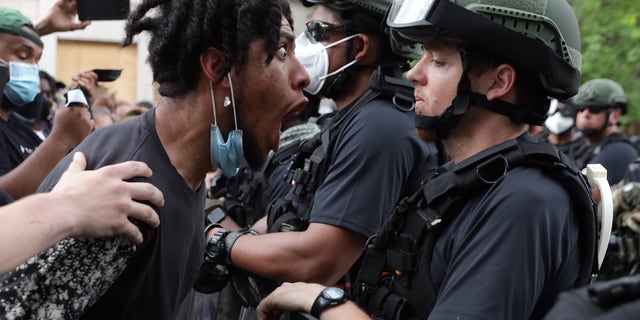 A man yells at a law enforcement officer during a George Floyd-related protest on June 3, 2020, in Washington, DC.  (Alex Wong/Getty Images)
HALF OF ALL 'UNSHELTERED' HOMELESS PEOPLE ARE LOCATED IN ONE STATE: REPORT
Sofia, who described herself as homeless, said she was "a little bit" satisfied with the country's state.
AMERICAN DEPRESSION LEVELS HIT ALL-TIME HIGH: POLL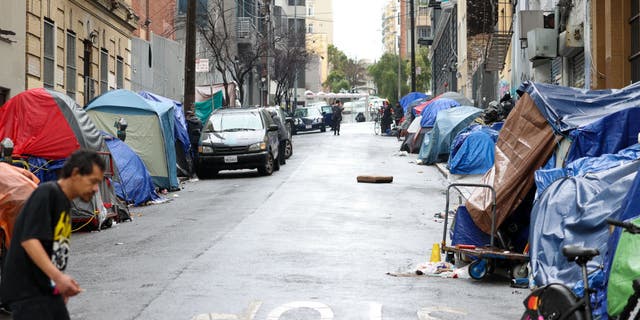 Homeless tents near the San Francisco City Hall on Jan. 13, 2023.  (Tayfun Coskun/Anadolu Agency via Getty Images)
Ella said abortion laws nationwide had "room for improvement." Sadie agreed.
"Definitely laws like abortion and LGBTQ rights and stuff like that need improving," the Austin resident told Fox News, adding that the U.S. is heading in "a bad direction."
To hear the full interviews, click here.