The media insist the Supreme Court's credibility is crumbling.
President Biden says it is not a "normal court."
Two Democratic lawmakers are pushing 18-year term limits for justices, while the Hill's Progressive Caucus and two of the largest pro-choice groups are backing an expansion of the court – a way to alter its political balance.
But hold on. Left-wingers who say the court's 6-3 supermajority is out of control had no problem with the sweeping liberal rulings of a half century ago. There was Roe v. Wade in 1973, establishing a constitutional right to abortion, and the Bakke case in 1978, when a white former Marine was denied admission by the University of California and Justice Lewis Powell wrote that race was one factor that could be considered because diversity was a compelling state interest.
The president is wisely resisting that pressure, even as he denounces the court's latest rulings, including that a graphics designer has the right to refuse to create websites for same-sex marriages. Weirdly, the man who supposedly sought the services of the designer is straight, married and a gay rights supporter who knew nothing about the case – "apparent falsehoods," the New York Times said in quoting critics, that "undermined the court's decision."
WE WANT TO KNOW IF PRESIDENT BIDEN IS INVOLVED: ROBBY SOAVE
Such anomalies aside – and SCOTUS did produce a few rulings liked by liberals, on a voting rights case in Alabama and in upholding Biden's immigration policy – some on the left are going through a meltdown. AOC says impeachment is not off the table. Rep. Ted Lieu says he supports expanding the court because of its "radical extreme supermajority." Neither option is going to pass a Republican House, but it suggests the depth of the Democrats' anger.
The end-of-term rulings come after a pair of exposes by ProPublica, about two members of that majority, Clarence Thomas and Sam Alito, not disclosing sizable payments or fringe benefits from Republican billionaire pals. Both jurists deny any wrongdoing, but the stories have fueled Democratic calls for ethics reform at the court – another path to trying to discredit the institution.
Whatever affirmative action has accomplished, it has long contained internal contradictions. Asian-Americans are a minority who have always felt penalized by affirmative action aimed at Blacks and Hispanics.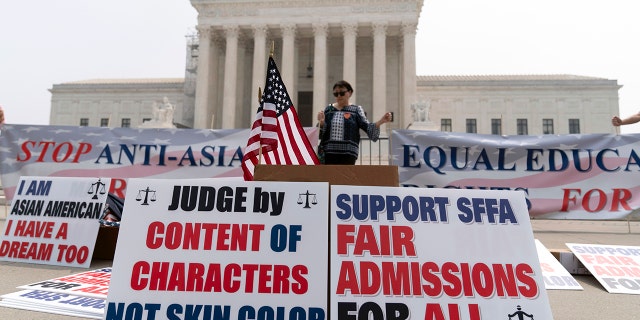 A person protests outside the Supreme Court in Washington, Thursday, June 29, 2023. The Supreme Court on Thursday struck down affirmative action in college admissions, declaring race cannot be a factor and forcing institutions of higher education to look for new ways to achieve diverse student bodies. (AP Photo/Jose Luis Magana)
The Atlantic's Jemele Hill tweeted that Asian-Americans "carried the water for white supremacy and stabbed the folks in the back whose people fought diligently for Asian-American rights in America." Actually, they just wanted to be admitted to college on their own merits.
And African-Americans have told me that whatever their achievements, affirmative action made them feel viewed like second-class citizens.
Critics are perfectly entitled to denounce rulings they abhor, just as conservatives did during the court's liberal heyday – both sides, by the way, willing to tolerate judicial activism when it plays in their favor.
CLICK HERE TO GET THE FOX NEWS APP
But to talk about adding justices, impeachment and the like suggests that the left's goal is nothing more than tilting the court back in their political direction.