On this eve of Easter, why this focus on blood and death and gore today – Good Friday? Isn't there sufficient agony and suffering in the world today to consider rather than pondering unpleasant events from 2,000 years ago?
What, precisely, is "good" about Good Friday?
We'd all prefer to avoid unpleasant, even if unavoidable, eventualities like death and suffering. Our culture's obsession with appearing youthful, euphemistic funerals or attempts to download our biological consciousness to a hard drive, is all to evade death's harsh reality. Aren't these just alternative forms of whistling past the graveyard? Isn't the Christian myth simply a response to death-avoidance?
If Christianity were simply death avoidance, I couldn't imagine how an instrument of capital punishment, the Cross, would come to be its central symbol.
The layers to this are gripping. The pain of the Cross is dramatic, but it was not an act. Jesus flinched, writhed in fact; he felt it. This was not an appearance of pain (as some of the early heretics claimed); it was the real thing.
HOLY WEEK LEADS THE FAITHFUL TO EASTER SUNDAY
Video
Combined with the pain is the innocence of the one suffering. Part of the pathos of Calvary is that the one suffering didn't have it coming.
And then comes Christ who embraces his agony, drinking it down to the dregs. One text puts it that not only does he embrace it, but saw it as a mission and a goal: "for the joy set before him [he] endured the cross, scorning its shame…" (Hebrews 12:2).
FR. SIRICO: THE EASTER BUNNY DIDN'T DIE FOR OUR SINS
Here this righteous one understands his agony to have meaning and purpose. What distinguishes human from animal suffering is that only the human has the capacity to ask why. Why am I suffering? Why is the other suffering? Why is there suffering at all?
A search for the meaning in our pain can remove the despair that is so often a part of suffering.
The saliency of these questions is seen in the uniqueness of the human person who not only reflects on his or her existence or experience, but can also to reflect upon that reflection. That is where that "why?" arises: in our uniqueness, indeed, in our transcendence.
CLICK HERE TO GET THE OPINION NEWSLETTER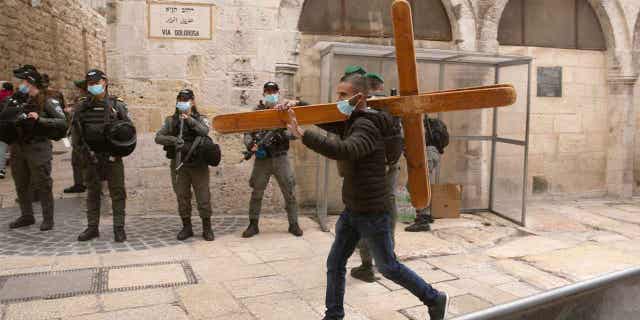 A Christian man carries a cross along the Via Dolorosa ahead of the Good Friday procession in Jerusalem's Old City, on April 2, 2021. Israeli police on Thursday, Feb. 2, 2023 arrested an American tourist after he allegedly knocked down and broke a statue of Jesus in a church in Jerusalem's Old City. Police said the man's mental health was being assessed. (AP Photo/Maya Alleruzzo) (AP Photo/Maya Alleruzzo)
CLICK HERE TO GET THE FOX NEWS APP
Yet, the answer to that uniquely human question is not found in a proposition, like: "Humans suffer for A, B, and C reasons, hence: X, Y, and Z is the answer." Rather, the resolution to the paradox is encountered in that one who spoke from the midst of his suffering, a suffering he saw also across the face of his mother standing beneath him. In that circumstance, he summoned a sense of purpose in his plea for the very ones who were the cause of his agony. With a love so total and mission so clear, he could say, "Father, forgive them…" (Luke 23:34). Here is where Christ's suffering is cosmic, taking into itself all suffering, and accomplishing something with it.
It is almost as though Plato could foresee this dynamic of innocence thought to be unrighteous who would '…be scourged, tortured, bound… and at last, after suffering every evil, …be crucified' though eventually being vindicated (The Republic, Book II, 360-361). This vindication validates the whole of his message.
It is not the preserve of Christian myth-making, but the structure of human reality, that tells us the way purposeful sacrifice and even suffering, willingly undertaken, can bring redemption. And that is a message worth proposing to the those in our current culture who so often shun almost any form of discomfort and delayed gratification, failing to see that personal sacrifice can have nobility even when others only see shame and who instead flee to safe spaces of refuge from the discomfort that truth may immediately impose; but that Truth can also one day ultimately resolve.