U.S. resettlement agencies involved in aiding approximately 72,000 Afghan evacuees brought to the U.S. in 2021 and 2022 experienced racism, sexism and verbal abuse from some of those evacuated, according to a State Department Inspector General report.
The review by the IG looked into the resettlement of tens of thousands of evacuees who were granted humanitarian parole to enter the U.S. after the withdrawal from Afghanistan in 2021. The inspector general's office found that the nine groups faced a slew of issues and challenges with such an undertaking.
"[Resettlement agency] officials told OIG that the [Afghan Placement and Assistance Program] involved some of the most significant challenges that they had ever faced," the report said.
The agencies, non-profits that are also involved in supporting regular refugee resettlement, identified a host of issues — including the fast pace of arrivals compared to the 11,840 refugees they resettled in FY 2020. Additional issues included the COVID-19 pandemic and complications related to housing, staffing, and cultural orientation.
DHS OIG FAULTS AFGHAN EVACUEE VETTNG, WARNS NATIONAL SECURITY THREATS MAY HAVE ENTERED US
Among those cultural issues, agencies described "inappropriate behavior" from some parolees which they attributed to a lack of cultural orientation.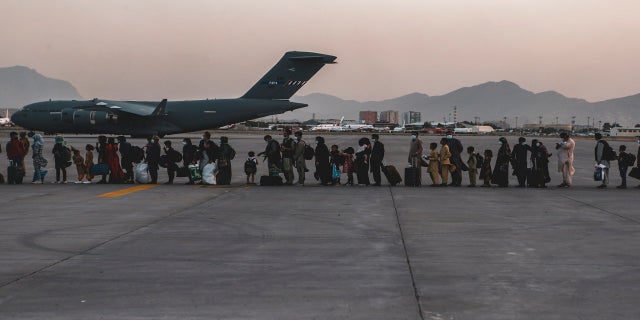 In this image provided by the U.S. Marine Corps, evacuees wait to board a Boeing C-17 Globemaster III, at Hamid Karzai International Airport, Kabul, Afghanistan, on Monday. (AP/Sgt. Isaiah Campbell/U.S. Marine Corps)
"For example, some RA staff reported experiencing racism and sexism from Afghan clients unaccustomed to the norms of U.S. society," the report said.
Agencies reported that some parolees refused to work with female case managers or those from minority groups. One agency reported that "a few local offices had issues of verbal abuse from Afghans, mostly those who were upset or frustrated by the process."
"Many parolees had very high expectations and did not understand the role of local affiliates and would become frustrated with services and housing," the report said.
Nine groups were involved in the resettlement and received per capita grants of $2,275, with $1,225 of that marked for direct assistance. The resettlement was coordinated by the Bureau of Population, Refugees and Migration (PRM).
The report also highlighted "unrealistic expectations" from some parolees regarding the resettlement process. For instance, a number of agencies said that some had been told they would receive "welcome money" when they arrived. Others had unrealistic expectations regarding housing and would therefore reject housing offered to them as insufficient or of inferior quality. Some who had worked as professionals or held advanced degrees in Afghanistan "often believed that they would be set up in positions within their chosen field."
The agencies recommended that PRM take measures including "standardized minimum requirements for cultural orientation that emphasize self-sufficiency, manage expectations, and convey U.S. societal expectations for behavior regarding gender, race, and sexual issues."
Video
The report also noted challenges related to mental and physical health issues, with some arriving with COVID-19, or who had experienced trauma or family separation.
PENTAGON IG REPORT SAYS 50 AFGHAN EVACUEES BROUGHT TO US HAD 'POTENTIALLY SIGNIFICANT SECURITY CONCERNS'
The report concluded that the resettlement was "an unprecedented and demanding effort that presented substantial challenges for the nine RAs that implemented the program."
However, it found that many of the challenges were outside of the control of the PRM and also found that the agencies praised the funding provided via the program and what they said was an "unparalleled coordination between federal agencies" in aiding the resettlement program.
CLICK HERE TO GET THE FOX NEWS APP
The report is more positive than previous reports from different inspectors general, which faulted the vetting process for the evacuation and warned that national security threats may have entered the U.S.
On Thursday the White House released its review of the 2021 withdrawal, in which it defended President Biden's decision to withdraw and called his decision "the right thing for the country." The review does acknowledge that the evacuation of Americans and allies from Afghanistan should have started sooner, but blames the delays on the Afghan government and military, and on U.S. military and intelligence community assessments.