The U.S. Navy announced Monday that one of its guided-missile destroyers sailed near a Chinese manmade island in the South China Sea, drawing accusations from Beijing that the ship "illegally trespassed" in the area.
The "freedom of navigation operation" carried out by the USS Milius near Mischief Reef – which a U.S. admiral said last year was one of at least three islands China has built and militarized in the area – came as China sent nearly a dozen warships and 70 fighter jets toward Taiwan.
"Unlawful and sweeping maritime claims in the South China Sea pose a serious threat to the freedom of the seas, including the freedoms of navigation and overflight, free trade and unimpeded commerce, and freedom of economic opportunity for South China Sea littoral nations," the U.S. Navy 7th Fleet said in a statement Monday.
"By engaging in normal operations within 12 nautical miles of Mischief Reef, the United States demonstrated that vessels can lawfully exercise high-seas freedoms in those areas," it added.
CHINESE MILITARY DRILLS NEAR TAIWAN CONTINUE FOR THIRD DAY WITH LARGEST FORCE YET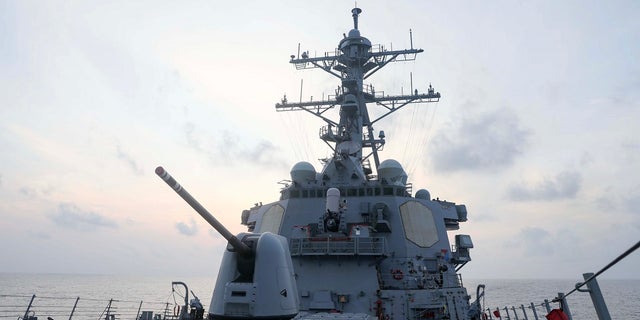 The Arleigh Burke-class guided-missile destroyer USS Milius sails in an undisclosed location on Monday, April 10. (U.S. Navy photo by Mass Communication Specialist 1st Class Greg Johnson)
The 7th Fleet said under international law, "features like Mischief Reef that are submerged at high tide in their naturally formed state are not entitled to a territorial sea."
The USS Milius' actions prompted criticism from China's military, which said Monday that the destroyer "illegally trespassed into the waters… without the approval of the Chinese government" and that its naval and air forces monitored the ship.
"China has indisputable sovereignty over the South China Sea islands and their adjacent waters," said Air Force Senior Col. Tian Junli, a spokesman for China's Southern Theater Command. "The troops of the PLA Southern Theater Command will always stay on high alert and resolutely safeguard China's national sovereignty and security, as well as peace and stability in the South China Sea."
CHINA CONDUCTS SIMULATED STRIKES ON TAIWAN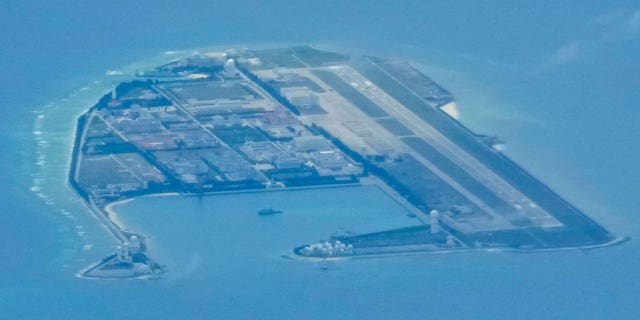 Chinese structures and buildings are seen at the manmade island of Mischief Reef in the South China Sea in March 2022. (AP)
Last year, U.S. Indo-Pacific commander Adm. John C. Aquilino told The Associated Press that missile arsenals, aircraft hangars, radar systems and other military facilities have been built by China on Mischief Reef and two other nearby islands.
"The function of those islands is to expand the offensive capability of the People's Republic of China beyond their continental shores," he said. "They can fly fighters, bombers plus all those offensive capabilities of missile systems."
CLICK HERE TO GET THE FOX NEWS APP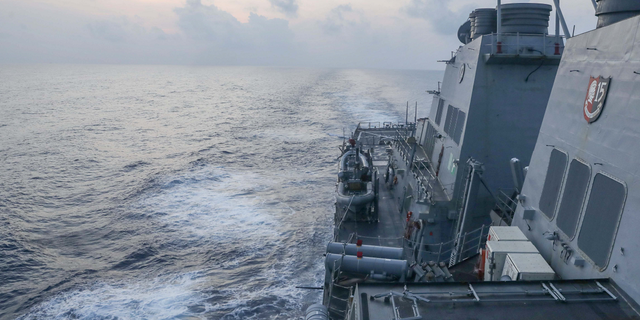 The 7th Fleet said Monday that operations carried out by ships like the USS Milius in the South China Sea demonstrate "that the United States will fly, sail, and operate wherever international law allows – regardless of the location of excessive maritime claims and regardless of current events." (US Navy)
Aquilino said military and civilian planes traveling in those areas could get within range of the Chinese missile defense systems on the islands.
"So that's the threat that exists, that's why it's so concerning for the militarization of these islands," he told the AP. "They threaten all nations who operate in the vicinity and all the international sea and airspace."