South African authorities have detected "movement" underground at a shuttered gold mine where they believe at least 31 illegal miners died in a suspected gas explosion last month, raising the very slim possibility that there may be survivors, officials said.
Officials also said it's likely that there were more illegal miners underground than initially thought and the death count will be higher than 31.
But a search operation at the disused Virginia gold mine in the central city of Welkom has not yet been launched because of the dangerously high levels of methane gas still present in the mine, which means there could be more explosions.
MISSING TITAN SUBMERSIBLE FOUND: SEE THE KEY VESSELS THAT AIDED THE DESPERATE SEARCH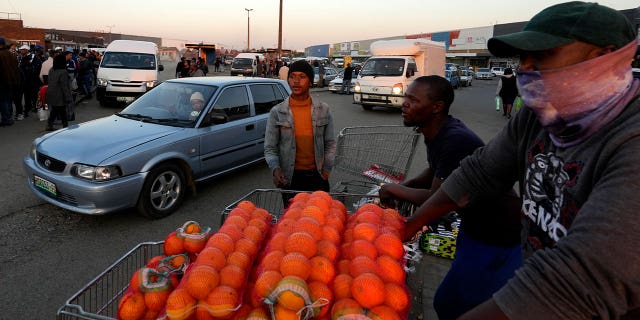 A street vendor sells oranges at a taxi rank in Welkom, South Africa, on June 23, 2023. At least 31 people were believed to have died in a gas explosion in a disused mine shaft in South Africa. (AP Photo/Themba Hadebe)
Fatal accidents involving illegal miners often go unreported in South Africa because any survivors are reluctant to contact authorities as they might be arrested. The incident at the Welkom mine was also complicated by the fact that the illegal miners are from the neighboring country of Lesotho, and it took weeks for their families to report them missing to Lesotho authorities and for those authorities to contact their South African counterparts.
Illegal miners do take food, water and other supplies with them as they expect to be underground for some time.
But given that the explosion was suspected to have happened over a month ago, the chances of there being survivors are minimal and the mineral resources department could not confirm what the movements detected were until it had more information, Shabangu said.
One of the worst also happened in Welkom in 2009, when 82 miners, mostly from Zimbabwe, Mozambique and Lesotho, died after inhaling toxic gas following a fire in a disused shaft of a different gold mine in the city.
CLICK HERE TO GET THE FOX NEWS APP
On Monday, South Africa's Minister of Mineral Resources and Energy, Gwede Mantashe, visited Welkom and said it was likely that there was "more than 31" deaths in the latest incident.