The United Nations has secured insurance coverage to start a ship-to-ship transfer of 1.1 million barrels of crude from a rusting tanker moored off the coast of war-torn Yemen — oil that could cause a major environmental disaster.
The United Nations Development Program described the insurance as a "pivotal milestone" in a yearslong effort to evacuate the cargo of the FSO Safer, which is at risk of rupture or exploding.
The U.N. agency has been trying to start a salvage operation to avert what it says could amount to "one of the world's largest, man-made disasters in history." It secured tens of millions of dollars in pledges for the operation, which started late in May with experts pumping inert gas to remove atmospheric oxygen from the oil chambers of the vessel.
"Insurance became a critical element of enabling this salvage operation to proceed. Without it, the mission could not go forward," said Achim Steiner, a UNDP administrator.
The U.K.-based insurance broker Howden group, which was appointed by the UNDP to identify the insurable risks and arrange coverage, said Monday it secured "successful binding of insurance coverage that enables the UN to proceed with FSO Safer Ship-to-Ship transfer."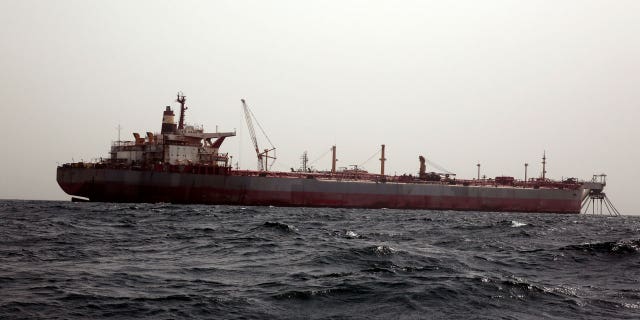 Safer tanker is seen on Monday, June 12, 2023, off the coast of Yemen. Safer has posed an environmental threat since 2015, as it decayed and threatened to spill its contents of 1.14 million barrels into the Red Sea and Indian Ocean.  (AP Photo/Osamah Abdulrahman)
The first phase of the salvage operation would see oil being transferred from the Safer to the Nautica, a super tanker the U.N. purchased for the operation. In the second phase, the U.N. will facilitate the installation of a replacement storage vessel, according to a deal the U.N. struck with the Houthi rebels, who control the area where the tanker is moored.
The tanker was built in Japan in 1980, and the Yemeni government purchased it in the 1980s to store up to 3 million barrels of oil pumped from fields in the eastern province of Marib.
The Safer is 1,181 feet long with 34 storage tanks. The vessel is moored 31 miles northeast of Yemen's strategic port of Hodeida.
The tanker has not been maintained since 2015, and in recent years, seawater entered its engine compartment, causing damage to pipes and increasing the risk of sinking. Experts have said maintenance is no longer possible because the damage to the ship is irreversible.
Rust has covered parts of the tanker and the inert gas that prevents the tanks from gathering inflammable gases has leaked out, prompting the U.N. to warn that tanker could release four times more oil than the notorious Exxon Valdez disaster did, off Alaska in 1989.