Classified military documents regarding the ongoing war in Ukraine have leaked online, U.S. government officials confirmed.
Documents from the military containing sensitive information concerning U.S. and NATO material support of the Ukrainian military for the fight against Russia began appearing on Twitter and Telegram.
"We are aware of the reports of social media posts, and the Department is reviewing the matter," said Pentagon deputy press secretary Sabrina Singh.
UKRAINE READIES SPRING OFFENSIVE EXPECTED TO BE LARGEST MOBILIZATION SINCE WAR WITH RUSSIA BEGAN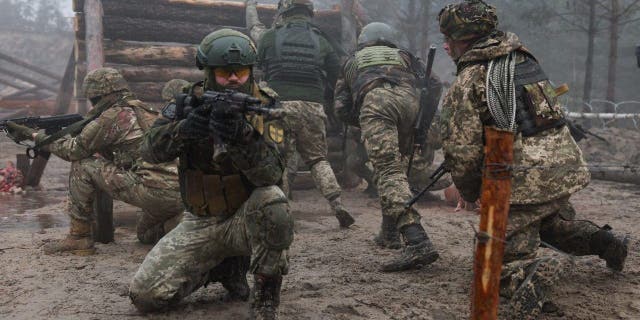 Ukrainian soldiers from various brigades take part in a military drill on psychological combat training at an undisclosed location close to the border with Belarus in Ukraine. (REUTERS/Violeta Santos Moura)
Analysts have claimed the documents appear at least slightly doctored, exaggerating Ukrainian casualties and downplaying Russian losses.
The military information appeared as a series of photographs capturing a view of different logistical maps and charts. Data shown relates to such things as weapons deliveries and accounting of soldiers.
Mykhailo Podolyak, adviser to Ukrainian President Volodymyr Zelenskyy, dismissed the leak as inconsequential Russian disinformation games.
"The published data are related exclusively to the information and operational game that the Russians started in order to introduce confusion, seize the initiative and discredit the very idea of ​​offensive. It is obvious," said Podolyak.
RUSSIA WARNS NATO AS BELARUS SEES NUCLEAR UPGRADE ON PLANES, MISSILES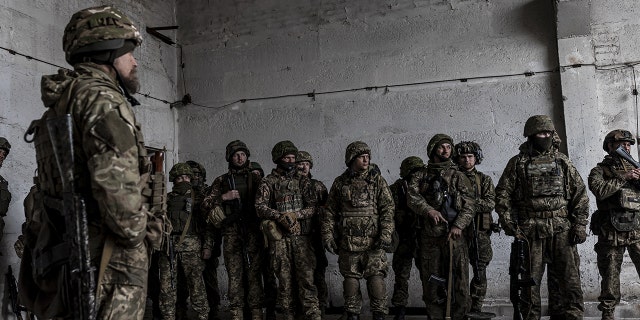 Ukrainian soldiers of the Aidar battalion training at an undetermined location in Donetsk oblast. (Diego Herrera Carcedo/Anadolu Agency via Getty Images)
"Firstly, by gaining access to real plans, you will not publicly admit it. To prepare in secret counter activities. And therefore, secondly, it is possible to organize a 'drain' of fictitious data only within the framework of a special informational counter-game," he added.
No information on battle strategies or the timeframes for offensive movements appears in the leak.
The leaked documents are also over a month old, from around March 1.
"There is not the slightest doubt that this is another element of the hybrid component of the war. Russia is trying to influence Ukrainian society with information and sow fear, panic, distrust, and doubt. Very typical behavior," Podolyak continued.
UKRAINE PREPARES FOR RUSSIAN SPRING OFFENSIVE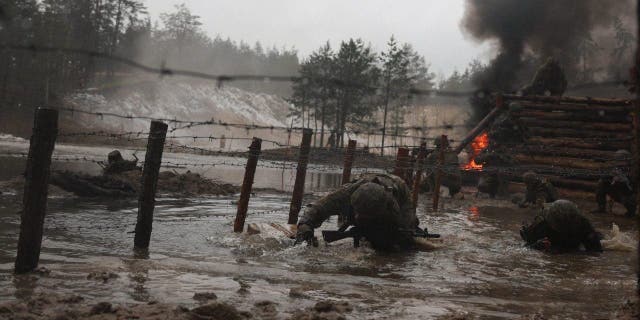 Ukrainian soldiers from various brigades take part in a military drill on psychological combat training at an undisclosed location close to the border with Belarus. (REUTERS/Violeta Santos Moura)
"The essence is simple: to convince Ukraine that Russia allegedly controls the situation, knows everything about Ukrainian plans, and destroys the Ukrainian army," the Ukrainian presidential adviser concluded. "But all this, I emphasize once again, is a pure and banal propaganda fiction: one has only to open a real news report from the front, and we will see that only Russia suffers situational defeats along the entire front line and does not have any significant successes."
The Russia-Ukrainian conflict is poised to see the largest mobilized effort since the war began, as Kyiv prepares for an anticipated spring offensive.
Analysts from the Institute for the Study of War believe that, based on information released from Russia and Ukraine, previous war movements and historical patterns of ground warfare, Kyiv is readying its troops for another significant offensive push.
CLICK HERE TO GET THE FOX NEWS APP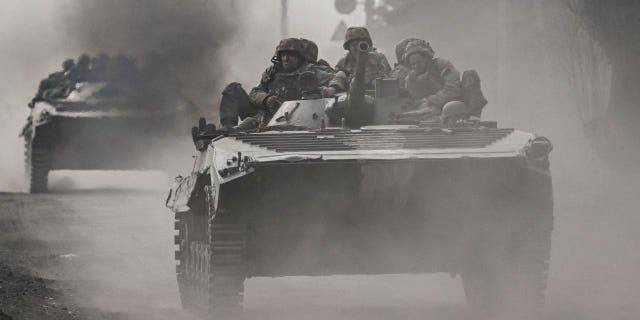 Ukrainian servicemen head toward Bakhmut in BMP infantry fighting vehicles in eastern Ukraine. (ARIS MESSINIS/AFP via Getty Images)
"We are now on the eve of a Ukrainian counteroffensive," George Barros, a Russia analyst and leader of the Geospatial Intelligence Team for the Institute for the Study of War, told Fox News Digital.
Fox News' Caitlin McFall and Constance McDonough contributed to this report.