Ukraine's counteroffensive claimed another victory Monday as troops retook a fourth village from Russian forces in the country's southeast.
Deputy Defense Minister Hanna Maliar claimed on Telegram that Ukrainian forces had retaken the village of Storozhov, in the eastern Donetsk region.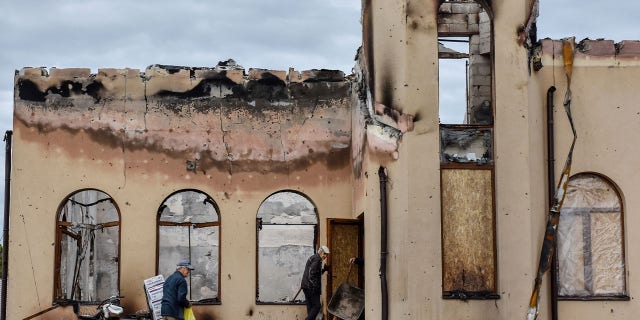 FILE:  Local resident receives humanitarian aid (food) at a destroyed building a day after the Russian shelling of Evangelical Christian Baptists prayer house in Orikhiv.  (Andriy Andriyenko/SOPA Images/LightRocket via Getty Images)
A day earlier, Ukrainian officials said their troops took three other small villages nearby — Blahodatne, Makarivka and Neskuchne — south of the town of Velyka Novosilka. These gains are still small and difficult to verify.
Recent fighting on the western edge of the 600-mile front line has been complicated by a dam breach that sent floodwaters through a part of the Dnieper River separating the two sides.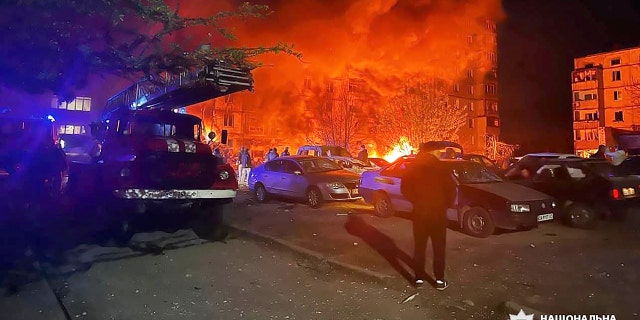 In this photo provided by the National Police of Ukraine, firefighters work to extinguish a fire after a Russian attack at an apartments' buildings area in the town of Uman, 200 kilometres (125 miles) south of Kiev, Ukraine, Friday, April 28, 2023.  (National Police of Ukraine via AP)
Despite their small size, the capture of the villages involved an incursion into the first line of Russian defenses and could allow Ukrainian forces to try a deeper thrust into occupied areas.
Russian forces control far less Ukrainian land than they did before a Ukrainian counteroffensive last year that retook the northern city of Kharkiv and southern city of Kherson, among other places.
FOLLOWING KAKHOVKA DAM COLLAPSE IN UKRAINE US COMBAT VETS ORGANIZATION SAVING RESIDENTS AMID FLOODING
The reported Ukrainian advance comes as authorities on both sides of the front line pressed on with rescue and relocation efforts for civilians in the Kherson region driven from their homes by flooding from the breach of the Kakhovka dam last week.
With many homes and shops submerged in polluted river water, the U.N. and other aid groups say access to fresh drinking water is crucial and that water-borne diseases pose a big risk. Thousands of people have been evacuated, though some remain.
CLICK HERE TO GET THE FOX NEWS APP