An Uber driver donated his kidney after hearing one of his passengers was in need of an organ transplant nearly three years ago, and now the pair are looking back at their chance meeting as a moment of divine intervention.
Tim Letts, 33, and William Sumiel Jr., 73, joined "Fox & Friends" on Friday, April 7, to discuss the car ride that changed both their lives.
The pair were both living in New Jersey in October 2021 when Sumiel's arranged ride from the vascular center he was receiving dialysis treatment, which was located in Vineland, a city in Cumberland County.
INDIANA BOY, 4, RECEIVED LIFE-SAVING LIVER TRANSPLANT, STARTS HOT WHEELS TOY DRIVE TO HONOR HIS DONOR
Sumiel told "Fox & Friends" that the vascular center where he was being treated is "about a 40-minute ride" from his home in Salem, New Jersey.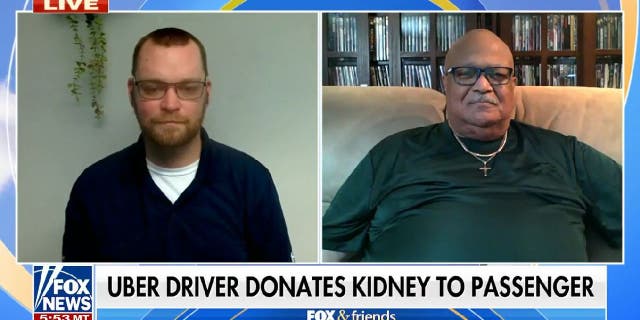 Tim Letts (left) worked as a weekend Uber driver in 2021. One day, he met William Sumiel, Jr. (right), who was in need of a kidney transplant. After hearing his story, Letts decided to put his name in as a potential organ donor. (Fox News Channel)
"The ride was fantastic," Sumiel recalled. "I met this gentleman. He talked back when you start [a] conversation. A lot of Uber drivers don't. And so, it inspired me, by friendliness, to tell him about my situation."
At the time, Sumiel disclosed the challenges he faced with dialysis and that he was on a kidney transplant list.
Sumiel said Letts told him, "'God must have put you in my car.'"
SINGLE MOM FINDS LIFE-SAVING KIDNEY DONOR FROM STRANGER ON SOCIAL MEDIA
Eventually, Letts said he was in good health and could be a potential match, according to Sumiel.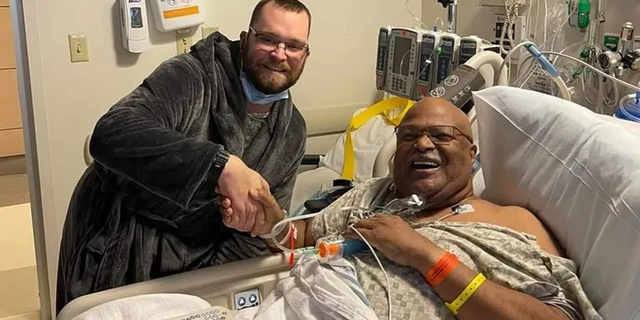 Part-time Uber driver Tim Letts (left) donated a kidney to William Sumiel, Jr. (right) after meeting him during an arranged rideshare in 2021. (William Sumiel, Jr.)
"We got to my house. And Tim says, 'If you'll take my name and number, I'd like to donate a kidney to you.'" Sumiel said, noting his shock. "I was so nervous. I could hardly read his name and number."
Sumiel shared contact information for the transplant center he was registered with, and Letts followed through with what he said in his car. Within weeks, the pair found out they were a match.
FRIENDS SHORTEN KIDNEY PATIENTS' LONG WAITS FOR TRANSPLANTS TO MERE MONTHS BY DONATING ORGANS
"I always considered donating an organ," Letts, who's a U.S. Army veteran, told "Fox & Friends."
"I come from a relatively healthy bloodline. I'm pretty healthy," he continued. So, I [didn't] see that being much of a challenge."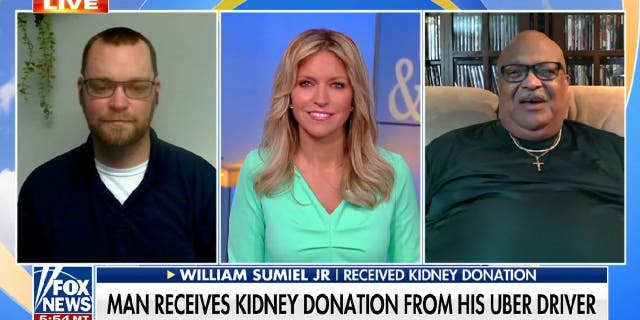 Tim Letts (left), a U.S. Army veteran, said he's generally been in good health and always wanted to be an organ donor. William Sumiel, Jr. (right) said he's grateful for Letts' generous donation. (Fox News Channel)
The kidney transplant surgery reportedly took place in 2022.
Letts told "Fox & Friends" he felt motivated to help Sumiel because he could tell Sumiel "gives a lot of quality time of his life to other people."
CLICK HERE TO SIGN UP FOR OUR LIFESTYLE NEWSLETTER
"If a person like that can't have somebody stand in their corner, then kind of what's the point of it all?" Letts questioned. "Mahatma Gandhi says to 'be the change you want to see in the world,' and Maya Angelou says to 'be a rainbow in someone's cloud,' and those things, they mean the world to me."