Former President Donald Trump on Monday celebrated the firing of Don Lemon by liberal news network CNN, a culmination of the tumultuous relationship between the two over the years.
"Good News: 'The dumbest man on television,' Don Lemon, has finally been fired from Fake News CNN. My only question is, WHAT TOOK THEM SO LONG?" Trump wrote on Truth Social after news of Lemon's termination broke.
CNN announced earlier in the day that it had parted ways with Lemon, who claimed he was informed by his agent rather than the management at the liberal network.
CNN FIRES DON LEMON, LEAVING LONGTIME ANCHOR 'STUNNED'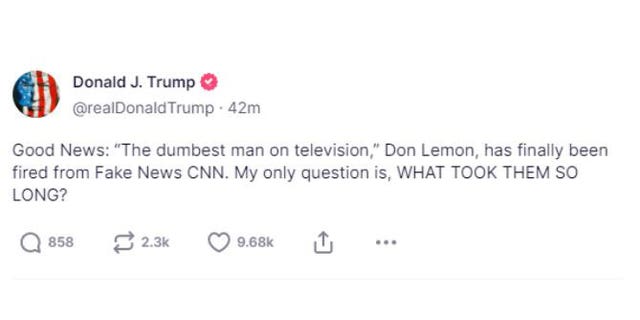 Former President Donald Trump celebrated the firing of CNN's Don Lemon in a post on Truth Social on Monday, April 24, 2023. (Screenshot/Truth Social)
Lemon had faced increased scrutiny in recent months following his controversial comments in February that 51-year-old GOP presidential candidate and former U.N. Ambassador Nikki Haley, was past her "prime" as she advocated for politicians over 75 to take a mandatory cognitive test.
He was forced to undergo "training" following the comments, according to CNN, and apologized to the network's staff in a morning editorial call. He was also scolded by CNN president Chris Licht during the call.
Trump's reference to Lemon as "the dumbest man on television," was just the latest in an off-and-on feud between the two that included numerous clashes over the years.
NIKKI HALEY TAUNTS CNN'S DON LEMON OVER FIRING: 'A GREAT DAY FOR WOMEN EVERYWHERE'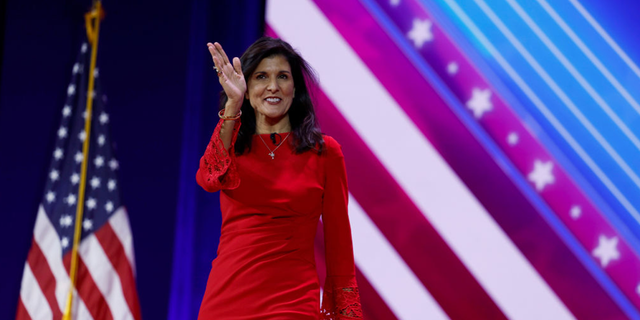 Republican presidential candidate and former U.N. Ambassador Nikki Haley taking the stage at CPAC 2023. (Getty)
Trump originally coined the nickname for Lemon in 2017, referencing a previous instance he referred to the former host by the same name.
"I seldom, if ever, watch CNN or MSNBC, both of which I consider Fake News. I never watch Don Lemon, who I once called the 'dumbest man on television!'" he wrote on Twitter, referencing a report by The New York Times that he watched hours of television a day.
In 2020, Trump called Lemon "not a smart person" following a segment where the former host mocked the former president and his supporters.
"So I watched this guy, he's a terrible … he's not a smart person, at all. But I watch that phony laugh. That wasn't a laugh. He was trying to act, puts his head down, always laughing so hard," Trump told Fox News' Sean Hannity as part of an exclusive interview at the time. "There's nothing funny about what was said."
BIDEN'S 2024 CHALLENGERS USE DEMOCRATS' 'DEMOCRACY' SLOGAN AGAINST THEM, SAY PRIMARY IS 'RIGGED'
Last October, Lemon claimed Trump "didn't have the courage" to come on CNN and answer his questions, and claimed he and the audience were ready to "move on" from the presence of Trump in political discussions.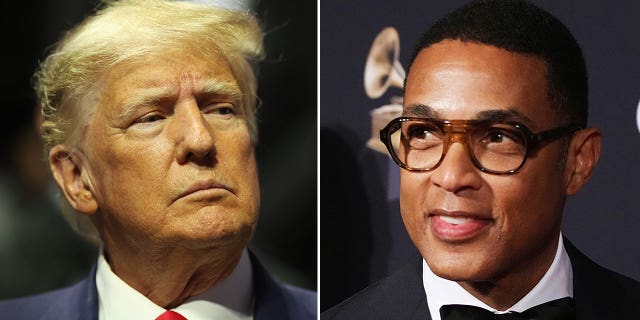 Former United States President Donald Trump stands on the floor during the Division I Men's Wrestling Championship held at the BOK Center on March 18, 2023, in Tulsa, Oklahoma. (Photo by Shane Bevel/NCAA Photos via Getty Images) Don Lemon attends the Pre-GRAMMY Gala & GRAMMY Salute To Industry Icons Honoring Julie Greenwald & Craig Kallman at The Beverly Hilton on February 04, 2023, in Beverly Hills, California. (Photo by Jeff Kravitz/FilmMagic) (Shane Bevel/Jeff Kravitz)
In June 2021, Lemon urged the media to leave Trump alone and stop covering him but proceeded launch more rants against the former president, calling him the "disgraced" former president just hours after making the plea.
More than two weeks later, every installment of Lemon's then-show, "Don Lemon Tonight," opened with the former anchor attacking Trump, whether in his monologue or during his hand-off with his then-primetime colleague Chris Cuomo.
CLICK HERE TO GET THE FOX NEWS APP
Fox News' Joseph A. Wulfsohn contributed to this report.