Former President Donald Trump has a commanding polling lead in the crowded race for the 2024 Republican presidential nomination, but his fundraising is also robust.
The former president hauled in more than $35 million during the April-June second quarter of 2023 fundraising, Trump's campaign confirmed to Fox News on Wednesday.
That's nearly double the $18.8 million the Trump campaign brought in during the January-March first quarter of fundraising.
The massive haul appears to be an indicator that the former president's mounting legal troubles have helped fuel his 2024 White House campaign.
Trump pleaded not guilty in early April in New York City to charges brought by the Manhattan District Attorney's Office. The former president was indicted for allegedly giving hush money payments to adult film actress Stormy Daniels in 2016 to keep her quiet ahead of that year's presidential election over her claims she had sexual encounters years earlier with Trump. The former president denies sleeping with Daniels and denies falsifying business records to keep the payment concealed.
Trump was indicted and arraigned early last month for his alleged improper retention of classified records. He pleaded not guilty in federal court in Miami, Florida to criminal charges that he illegally retained national security records at his Mar-a-Lago estate in Palm Beach, Florida, following the end of his term as president and that he obstructed federal efforts to recover the documents. In total, Trump faces 37 felony charges.
WHO'S IN AND WHO'S ON THE SIDELINES — YOUR GUIDE TO THE 2024 GOP PRESIDENTIAL NOMINATION RACE
The latest evidence of the former president's fundraising prowess comes as he holds a commanding lead in the latest GOP presidential nomination polls.
Trump, who is making his third straight White House run, stands at 56% support in the latest Fox News national poll of likely GOP primary voters, with Florida Gov. Ron DeSantis at 22% and everybody else in the large field of candidates in the singe digits. Trump's lead has steadily expanded since the late winter.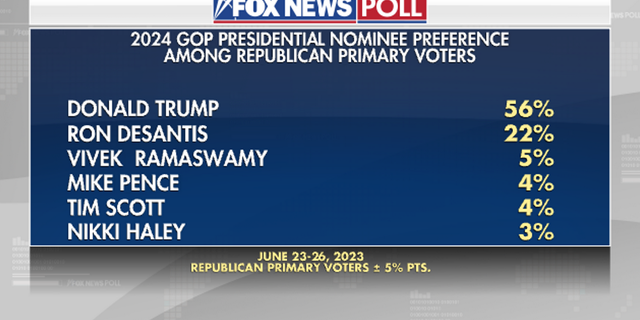 (Fox News )
The former president also enjoys large double-digital leads in the most recent surveys in Iowa and New Hampshire — the two states that lead off the Republican presidential nominating calendar.
Trump aides didn't provide a percentage breakdown of how much of the fundraising went to the campaign and to the PAC. But according to the latest fundraising emails, 90% of donations go to the campaign with the remaining 10% to the PAC.
Save America spends its money on Trump's non-campaign activities, including paying former president's expensive legal bills.
News of Trump's second quarter fundraising was first reported by Politico.