From shootings to riots, Antifa and feminist experts warn that radical transgender activists are growing increasingly violent and extreme, with some using the term "Trantifa" to describe the phenomenon.
While Antifa is the far-left "anti-fascist" militant movement often associated with black clothing, face-masks and violent protest, the new term "Trantifa" has been "coined on social media to highlight the strong transgender presence within the anarchist outfit," according to The Daily Mail, which used the definition of "far-left transgender activists willing to intimidate, harass and even use violence to advance their radical new ideas about gender."
UN investigator Reem Alsalem, who has served as the United Nations Special Rapporteur on violence against women and girls since August 2021, is one of multiple experts on the topic who sounded the alarm about extreme transgender activism to the U.K. outlet.
"There is an increasing trend that I have been observing," she said. Alsalem pointed to attacks on activist Riley Gaines, who has spoken out against biological men being allowed to compete in women's sports. Alsalem describe how Gaines was "ambushed and hit" by "screaming trans activists" in San Francisco after trying to give a speech out about this cause.
ATHLETE RILEY GAINES PROTESTED AT UNIVERSITY OF PITTSBURGH: 'I'M DOING SOMETHING RIGHT'
Townhall senior writer Julio Rosas, who testified at a House hearing on left-wing violence in May in part because of his reporting on several riots involving Antifa, is another figure with expertise on the subject.
"Trans activists gravitate towards these very far-left groups, because they share their anarcho-communist type ideology," Rosas told The Daily Mail. "They view the US as systemically racist, that it's subjugated queer people, and that states passing laws against child mutilations is part of a trans genocide. And they're fighting back."
When the Trans Radical Activist Network tried to go forward with a "Trans Day of Vengeance" in the wake of the shooting, Twitter said the tweets advertising the event violated their rules for inciting violence and the protest was ultimately canceled.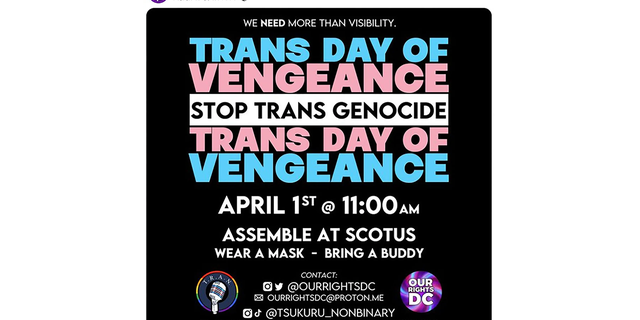 Poster advertising the "Trans Day of Vengeance" that was taken down by Twitter. The Trans Radical Activist Network (TRAN) denied it was encouraging violence. (TRAN Twitter/Screenshot)
A top Wyoming Democrat shared a Facebook post suggesting Antifa and gun violence is needed to protect transgender people less than a week after the Nashville school shooting. The meme showed a person wearing a transgender flag outfit and holding an assault rifle with the caption, "Auntie Fa says protect trans folks against fascists [and] bigots."
CLICK HERE TO GET THE FOX NEWS APP