A former top Biden administration official is being scrutinized as the latest example of the "revolving door" of political appointees shuttling between government and outside special interests by allegedly lobbying her former agency shortly after leaving her position.
Clare McCann, who served as a senior policy adviser in the U.S. Department of Education for over a year, is now a "higher education fellow" with Arnold Ventures, a limited liability corporation. In that capacity, she wrote to the department, pushing for it to implement policy changes that could have a profound effect on online education.
However, McCann, who first had been appointed in the spring of 2021, left her Biden administration post last August, just seven months earlier. Her quick turnaround from working for the Department of Education to seeking to influence its policies from the outside caught the attention of a conservative watchdog group.
"When politicians wonder why Americans don't trust Washington, people like Clare McCann are exactly why," Tom Jones, president of the American Accountability Foundation (AAF), told Fox News Digital. "She served in a senior role in the Department of Education in one of its most politicized offices for a year and a half and then parlayed that job into a position with a special interest group to lobby on the issues she used to regulate. The revolving door at the Department of Education needs to be closed immediately, and people who have abused the system need to be held accountable."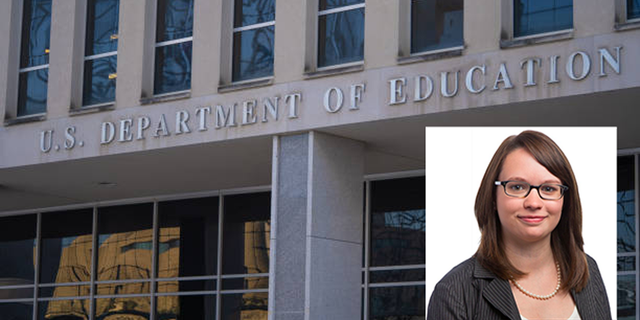 The U.S. Department of Education building in Washington, D.C., along with a photo of Clare McCann, who served as a senior policy adviser in the department and currently works at Arnold Ventures. (iStock/Evgenia Parajanian // Screenshot from Twitter account of Kelly McManus)
BIDEN ADMINISTRATION GUTTING ONLINE EDUCATION WITH NEW 'HARMFUL' GUIDANCE, WARN EXPERTS, LAWMAKERS
AAF filed a Freedom of Information Act request with the Department of Education, seeking McCann's communications while in government that are relevant to her alleged lobbying work.
Specifically, McCann and a colleague at Arnold Ventures authored a 14-page comment submitted to the department on March 16, in which they argued for regulators to implement measures that would allow the Biden administration to crack down on private companies that contract with colleges and universities to help the schools run their online education programs.
The department's guidance currently under consideration says that online program managers (OPMs), which are outside contractors that recruit students for and operate schools' online academic programs, are officially considered third-party servicers, or entities involved with the administration of "any aspect" of an institution's federal student financial aid.
As a result, these companies can be subjected to stricter federal oversight in a manner that, critics argue, will hurt not only the schools and contractors but also ultimately the students they serve.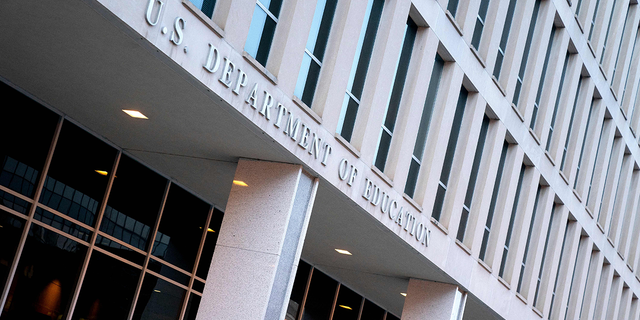 The U.S. Department of Education building in Washington, D.C.  (STEFANI REYNOLDS/AFP via Getty Images)
GOP SENATORS ACCUSE EDUCATION DEPARTMENT OF ALLOWING 'TAXPAYER-FUNDED ANTISEMITISM' ON COLLEGE CAMPUSES
Contrary to AAF's charge, a spokesperson for the Arnold Ventures philanthropy issued a statement to Fox News Digital rejecting the notion that McCann had done anything wrong.
"Ms. McCann co-signed a letter in response to the department's request for public comment about its proposed guidance to third-party servicers and institutions," the spokesperson said. "Ms. McCann did so in full compliance with her post-employment obligations. . . . While the Biden administration's ethics pledge does prohibit acting as a registered lobbyist for the remainder of the administration, the submission of a public comment is categorically not 'lobbying' under 2 U.S.C. § 1602(8)(B) and therefore cannot give rise to a lobbyist registration obligation for Ms. McCann."
According to the administration's "ethics pledge," which President Joe Biden signed as an executive order on his first day in office, political appointees who leave government service agree not to lobby the Executive Branch "for the remainder of the administration or two years following the end of my appointment, whichever is later."
The Department of Education similarly rejected the notion that McCann had violated the administration's ethics pledge.
"Public comments on a Federal Register notice that are directed to the designated agency official do not violate the ethics pledge, nor do they change the fact that this administration continues to hold its employees to the highest ethics standards ever," a department spokesperson told Fox News Digital.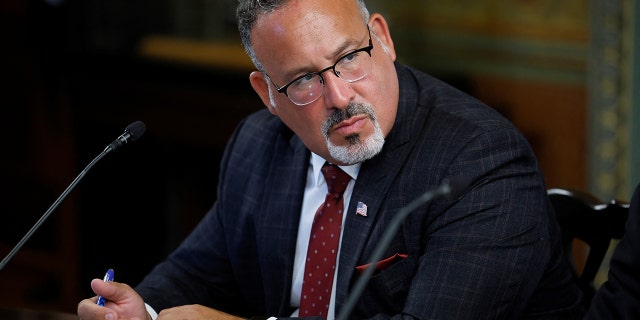 Secretary of Education Miguel Cardona in the Eisenhower Executive Office Building in Washington, D.C., Aug. 8, 2022.  (REUTERS/Evelyn Hockstein)
NEW ONLINE PLATFORM HELPS CONNECT PARENTS WITH TEACHERS OF THEIR CHOICE
According to experts who spoke to Fox News Digital, McCann's activity was technically not lobbying and therefore wouldn't violate the ethics pledge.
"Generally, submitting comments in a rulemaking does not violate the Biden ethics pledge. It likewise would not have violated the Trump ethics pledge," said Robert Kelner, chair of law firm Covington and Burlington LLP's Election and Political Law Practice Group. "There are rare kinds of rulemakings that relate to just one or two companies that could be an exception, but I've never come across one."
Lisa Gilbert, executive vice president of Public Citizen, added that because a comment goes into the public record and doesn't necessarily involve any personal contact, it wouldn't constitute lobbying, comparing it to a former official writing an op-ed in a newspaper.
Still, the idea of a "revolving door" of D.C. elites shuffling from government positions to jobs as lobbyists, consultants and strategists able to influence public policy — and vice versa — has garnered bipartisan outcry. Groups like the Revolving Door Project and others say that their explicit mission is to ensure that Executive Branch appointees use their positions "to serve the broad public interest, rather than to entrench corporate power or seek personal advancement."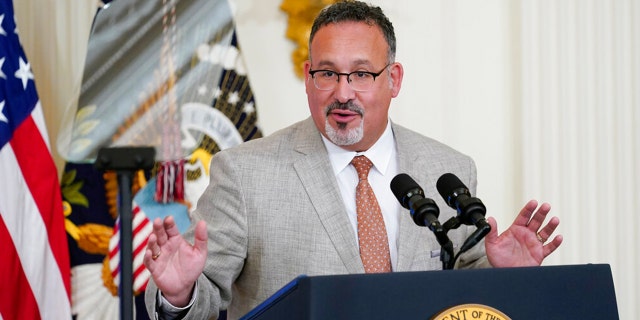 Education Secretary Miguel Cardona speaks during the 2022 National and State Teachers of the Year event in the East Room of the White House in Washington, April 27, 2022.  (AP Photo/Susan Walsh, File)
BIDEN EDUCATION OFFICIAL CLAIMS DEMOCRACY, FATPHOBIA BASED ON WHITE SUPREMACY
Arnold Ventures is headed by Texas billionaire John Arnold, a former Enron executive and hedge fund manager who has pushed tens of millions of dollars to left-wing organizations and initiatives.
Before working for Arnold Ventures and the Biden administration, McCann worked for New America, a left-wing think tank, and the Obama administration as a senior policy adviser in the Department of Education.
The Department of Education issued its controversial guidance last month, initially giving colleges and universities until May 1 to report details of their OPM agreements to the government, and 30 days to submit comments on the changes. Following widespread outcry, however, the department said that in response to "confusion," the guidance would not take effect until Sept. 1, rather than immediately as of last month. It also pushed back the end date of the public comment period through March 29, about two weeks after Arnold Ventures submitted its own comment on the subject.
OPMs have long been the target of congressional Democrats and consumer groups, which believe that the companies can, through their contractual arrangements, drive up the price of higher education and draw students to low-value academic programs.
In the Arnold Ventures comment, McCann and a colleague argue that OPM-university arrangements must be upended "to preserve the integrity of the student aid programs and to ensure compliance and consistency with the law." They added that the Department of Education "will make clear that no form of incentive compensation for recruiting students or securing financial aid is permissible — as Congress intended to be the case many years ago."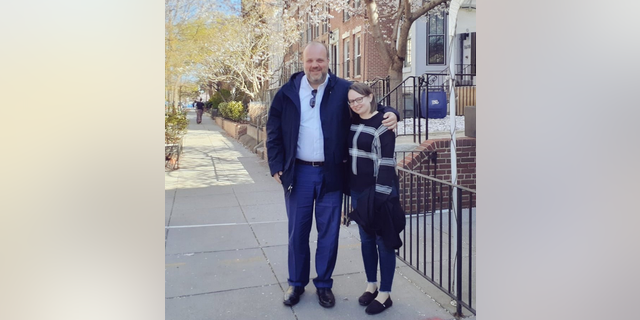 Clare McCann, right, served as a senior policy adviser in the U.S. Department of Education. She currently works at Arnold Ventures, where she's lobbying her former department. (Screenshot)
BIDEN'S EDUCATION SECRETARY LOBBIES COLLEGES TO DROP OUT OF US NEWS RANKING IN NAME OF EQUITY
However, many colleges and universities do not have the in-house funding and expertise to develop the online programs they need and require outside help, according to experts familiar with the issue.
Critics have also slammed the Department of Education's guidance as over-regulation, noting that the department has broad investigative powers over third-party servicers, which are also subject to regular audits by federal regulators, that will now apply to OPMs.
"The growth of technology and its applications in providing students with a well-rounded education is exciting and should be commended," Rep. Virginia Foxx, R-N.C., chairwoman of the House Committee on Education and the Workforce, recently told Fox News Digital. "More options for students mean more opportunities for success. For the department to conflate access to online education with rising federal student loan debt diminishes that fact and ultimately hurts the partnerships between institutions, innovators and the students they serve."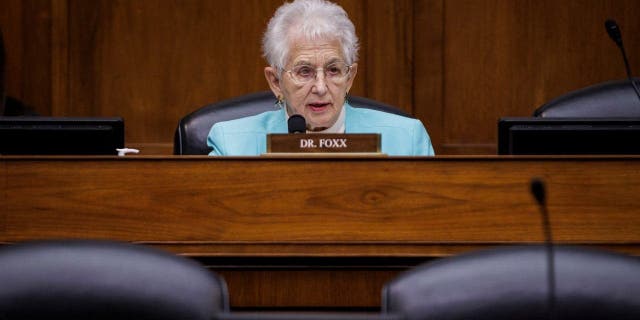 Representative Virginia Foxx, a Republican from North Carolina, speaks during a hearing in Washington, D.C., on Sept. 29, 2022. (Samuel Corum/Bloomberg via Getty Images)
PRESIDENT BIDEN'S STUDENT DEBT RELIEF IS 'COMFORTABLY WITHIN' LAW, DOJ ARGUES TO SCOTUS
"The department seems to be more interested in controlling the actions of private companies and creating unnecessary headaches for institutions than it is ensuring students have every tool to succeed academically," Foxx continued. "I urge the Biden administration to reverse course on this harmful guidance."
Third-party servicers are legally required to sign a contract with their educational partner to be "jointly and severally liable" to the Department of Education for any federal violations, raising new hurdles as OPMs and schools would need to redo, or even cancel, all their contracts to account for the new changes. Some see this process as necessary for the sake of transparency and to stop private companies from exploiting and profiting off student education. Others view it as disruptive to the service of providing online education, arguing that it will have a downstream negative effect on student learning and the quality of higher education.
CLICK HERE FOR THE FOX NEWS APP
OPMs are not the only ones affected by the Department of Education's proposed rules, which critics argue will have a broader negative impact than government officials may realize.
Local police departments helping to compile and analyze campus crime statistics, and hospitals providing clinical experiences and "the related educational programing for nurses and other medical professionals" are among the outside entities helping schools through contractual agreements that are being considered third-party servicers, according to the American Council on Education.