On this date in history, June 27, 1985, Route 66 — the iconic 2,200-mile American byway from Chicago, Illinois, to Santa Monica, California — came to an end after 59 years.
This occurred after the American Association of State Highway and Transportation Officials (AASHTO) decertified the road and voted to remove its highway signs, according to History.com.
Route 66 stretched through eight states, with its beginnings traced to the 19th century.
Those states are Illinois, Missouri, Kansas, Oklahoma, Texas, New Mexico, Arizona and California.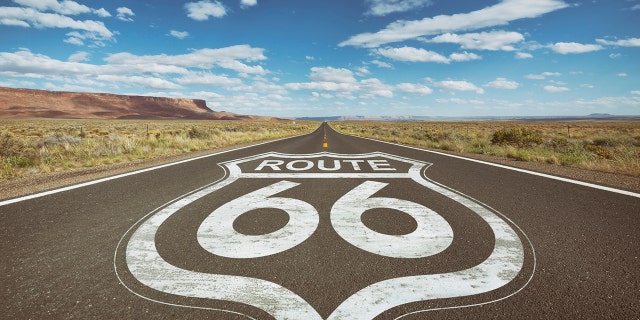 Route 66 traversed eight states: Illinois, Missouri, Kansas, Oklahoma, Texas, New Mexico, Arizona and California. (iStock)
Lt. Beale felt certain that this link would become "the great emigrant road to California," and the federal government subsequently underwrote the $200,000 cost.
This provided the impetus for both "the creation of the transcontinental railroad and the establishment of Route 66," the park website also says.
The idea of building a highway along this route originated in Oklahoma in the mid-1920s, proposed as a link from that state to cities like Chicago and Los Angeles, said History.com.
"The Mother Road," as it was referred to by John Steinbeck in his 1939 dustbowl saga "The Grapes of Wrath," was commissioned on Nov. 11, 1926, and ultimately stretched 2,448 miles from Chicago to Los Angeles, according to Route66roadtrip.com.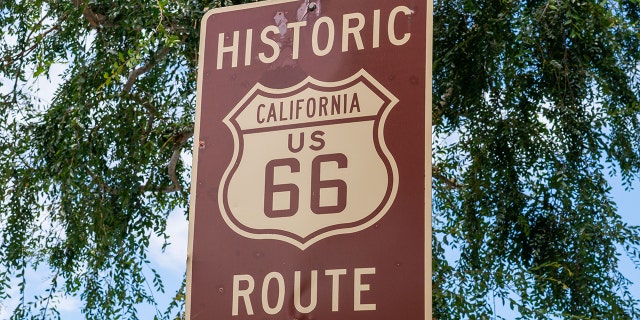 An historic Route 66 sign near a Shakey's Pizza Parlor in Hollywood, California.   (AaronP/Bauer-Griffin/GC Getty Images)
It charted a diagonal course through the heart of America, uniting existing rural roads into one single numbered route and linking rural communities in the aforementioned eight states, according to the Illinois Route 66 Scenic Byway's official website.
Route 66 better allowed farmers to more easily transport grain and other types of produce for distribution.
Less than a year later, on June 27, 1985, Route 66 was formally decertified, and the signs were removed becoming nothing more than a memory.
Route 66 was designated as a scenic byway by the United States Department of Transportation in 2005, The Detroit Bureau also said.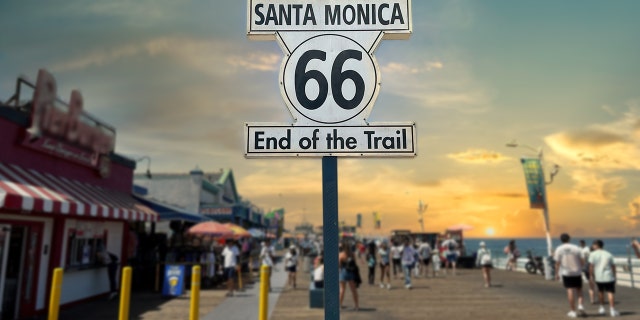 Santa Monica, California, is the end of the road for Route 66. (iStock)
Often called the "Main Street of America," Route 66 became a pop culture reference through several decades.
ON THIS DAY IN HISTORY, JUNE 9, 1891, CELEBRATED COMPOSER COLE PORTER IS BORN IN INDIANA
Other fast facts about Route 66, from Route66roadtrip.com:
1. Route 66 was replaced by five Interstates: I-55 from Chicago, I-44, I-40, I-15 and the I-10 into Los Angeles.
4. There is a stretch of Route 66 near Tijeras, New Mexico, that — when driven eastbound — plays "America the Beautiful." If you drive the speed limit of 45 mph for the quarter-mile stretch along the rumble strips, you can hear the song play through the vibrations in your car's wheels.
CLICK HERE TO GET THE FOX NEWS APP
5. In 2026, the nation will be celebrating the "Route 66 Centennial … 100 years of the Mother Road serving the traveling public."