Tennessee's GOP-dominated House on Thursday voted to expel Democratic Rep. Justin Jones from the Legislature for his role in a protest calling for gun control following last week's shooting at a private Christian school in Nashville that killed six people, including three children.
Fox 17 Nashville reported that Jones was sanctioned for using a bullhorn when he joined with protesters, which state House leaders called "disorderly behavior."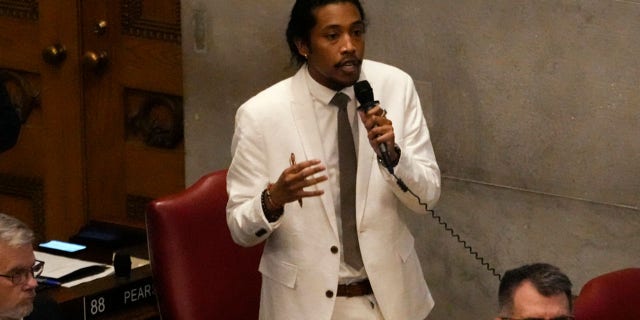 Tennessee state Rep. Justin Jones, D-Nashville, delivers remarks on the floor of the House chamber in Nashville on Thursday. (AP Photo/George Walker IV)
House lawmakers had also considered ousting Democratic Reps. Gloria Johnson and Justin Pearson. Later on Thursday, the legislature declined to expel Johnson. The 65-30 vote fell just one vote shy of the number needed to oust Johnson. A vote against Pearson was upcoming.
Last week, the trio of Democratic lawmakers chanted back and forth from the chamber floor with gun-control supporters packed in the gallery.
NASHVILLE KILLER AUDREY HALE SLEPT WITH JOURNALS ON SCHOOL SHOOTINGS UNDER BED, COURT DOCS REVEAL
Thursday's 72-25 vote against Jones marked an extraordinary move from lawmakers that has been executed only a handful of times since the Civil War. Most state legislatures possess the power to expel members, but it is normally reserved as a punishment for lawmakers accused of serious misconduct, not as a weapon against political opponents.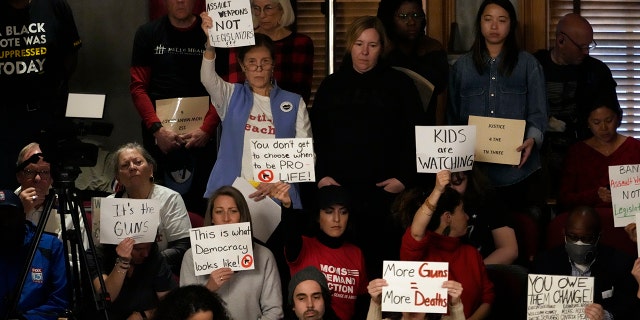 Gun reform and "Tennessee Three" supporters raise signs in the gallery of the House chamber in Nashville, Tennessee, on Thursday. (AP Photo/George Walker IV)
"We are losing our democracy. This is not normal. This is not OK," Pearson told reporters. The three "broke a House rule because we're fighting for kids who are dying from gun violence and people in our communities who want to see an end to the proliferation of weaponry in our communities. And that leads to our expulsion? This is not democracy."
Ahead of the expected vote, White House press secretary Karine Jean-Pierre called the expulsion "shocking, undemocratic, and without precedent."
Thousands of people flocked to the Capitol to support the Democrats, cheering and chanting outside the House chamber so loudly that the noise drowned out the proceedings.
The trio held hands as they walked onto the House floor on Thursday morning, and Pearson raised his fist to the crowd during the Pledge of Allegiance.
NASHVILLE POLICE FIND SUICIDE NOTE, YEARBOOKS, WEAPONS, AMMO AT SCHOOL SHOOTER AUDREY HALE'S HOME: REPORT
Offered a chance to defend himself before the vote, Jones said the GOP responded to the shooting with a different kind of attack.
"We called for you all to ban assault weapons, and you respond with an assault on democracy," he said.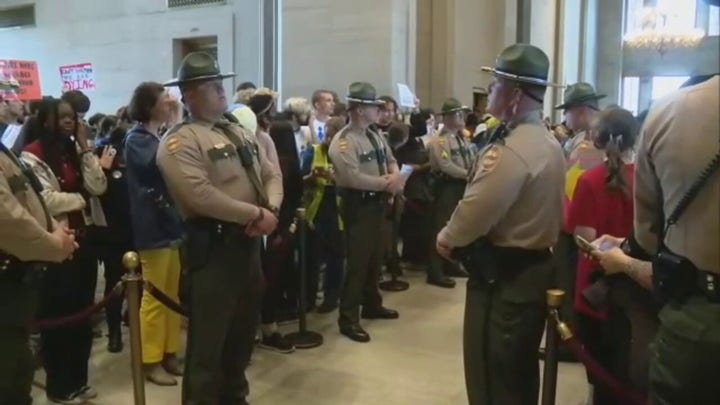 Video
The calls for expulsion, which requires a two-thirds majority, stem from the attack at the Covenant School. Johnson, Jones and Pearson chanted back and forth from the chamber floor with gun-control supporters who packed the gallery.
Republican Rep. Gino Bulso said the three Democratic representatives "effectively conducted a mutiny."
NASHVILLE SHOOTING: FORMER TEAMMATE TOLD SHERIFF'S OFFICE SHE RECEIVED 'VERY WEIRD MESSAGE' FROM SUSPECT
"The gentleman shows no remorse," Bulso said, referring to Jones. "He does not even recognize that what he did was wrong. So not to expel him would simply invite him and his colleagues to engage in mutiny on the House floor."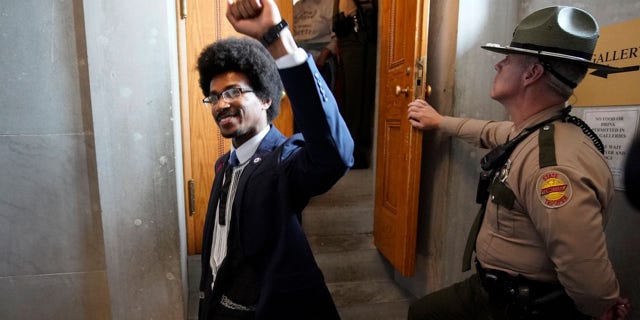 Tennessee state Rep. Justin Pearson, D-Memphis, raises his fist after visiting with supporters in the gallery of the House chamber in Nashville on Thursday. (AP Photo/George Walker IV)
Any expelled lawmakers would be eligible for appointment back to their seats. They would also be eligible to run in the special election. And under the Tennessee Constitution, lawmakers cannot be expelled for the same offense twice.
Republican Rep. Sabi Kumar advised Jones to be more collegial and less focused on race.
"You have a lot to offer, but offer it in a vein where people are accepting of your ideas," Kumar said.
Jones said he did not intend to assimilate in order to be accepted. "I'm not here to make friends. I'm here to make a change for my community," he replied.
Many of the protesters traveled from Memphis and Knoxville, areas that Pearson and Johnson represent, and stood in a line that wrapped around the Capitol building to get inside.
CLICK HERE TO GET THE FOX NEWS APP
Protesters outside the chamber held up signs that read, "School zones shouldn't be war zones," "Muskets didn't fire 950 rounds per minute" with a photo of George Washington and "You can silence a gun … but not the voice of the people."
The Associated Press contributed to this report.