Three Tennessee lawmakers who faced expulsion votes after participating in protests over last month's school shooting in Nashville will visit the White House to meet with President Joe Biden on Monday.
Press secretary Karine Jean-Pierre announced the visit on Wednesday. She said Biden was "proud" and "appreciative" to see the three state representatives calling for stronger gun restrictions, particularly a ban on so-called assault weapons.
The president spoke with the lawmakers to thank them "for speaking out and for standing their ground, and being very clear about what's needed to protect their communities," Jean-Pierre said.
The expulsion votes added a level of political drama and controversy to the violence at The Covenant School, where three children and three adults were killed.
Two of the lawmakers — Rep. Justin Pearson and Rep. Justin Jones, both Black — were expelled by the Republican-controlled legislature. The third, Rep. Gloria Johnson, who is white, was not.
BIDEN RIPPED FOR MEETING PROTESTING TN DEMS, NOT SHOOTING VICTIMS' FAMILIES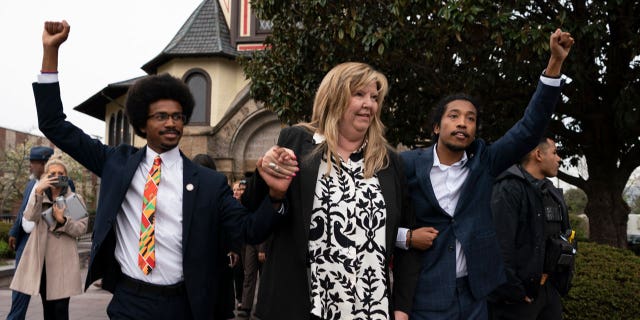 From left, expelled Rep. Justin Pearson, D-Memphis, Rep. Gloria Johnson, D-Knoxville, and expelled Rep. Justin Jones, D-Nashville raise their fists as they walk across Fisk University campus after hearing Vice President Kamala Harris speak on April 7, 2023, in Nashville, Tennessee.  (AP Photo/George Walker IV)
CLICK HERE TO GET THE FOX NEWS APP
Pearson and Jones have since been reinstated by local officials, returning them to their positions on an interim basis.
The state has set Aug. 3 as the special election date for the seats filled by Jones and Pearson, preceded by a June 15 primary election. Both lawmakers have said they intend to run.
Julia Bruck, the Tennessee secretary of state office's spokesperson, said local officials believe the Nashville special election will cost about $120,000 to administer, while the Memphis one will cost between $375,000 and $500,000.
Vice President Kamala Harris visited Nashville earlier this month to support the "Tennessee Three" and their calls for greater gun control.
"Let's not fall for the false choice — either you're in favor of the Second Amendment or you want reasonable gun safety laws," Harris said. "We can and should do both."