The U.S. Supreme Court on Monday declined to hear a challenge to the legality of an Indiana requirement that abortion providers bury or cremate embryonic or fetal remains following the procedure, sidestepping another dispute involving a contentious Republican-backed state policy concerning abortion.
The justices turned away an appeal by an Indianapolis abortion clinic and two women who underwent abortions at the facility of a decision by the Chicago-based 7th U.S. Circuit Court of Appeals to reinstate the state's requirement after a federal judge had invalidated it.
A law signed in 2016 by Republican then-Governor and future U.S. Vice President Mike Pence imposed a requirement that clinics cremate or bury the tissue from abortions or miscarriages rather than using the standard method of incineration for human medical waste.
GOP SENATORS PUSH TO RAISE PRISON TIME FOR SCOTUS PROTESTERS AFTER GROUPS MOBBED CONSERVATIVE JUSTICES' HOMES
The law, which the state's Republican Attorney General Todd Rokita said in court papers aimed to ensure the "respectful disposition of human remains," also lets patients dispose of the remains on their own.
The plaintiffs argued that the law unconstitutionally compelled them to express the state's message that an embryo or fetus is a person and ran afoul of their moral or religious beliefs by treating embryonic tissue in the same manner as the remains of a deceased person.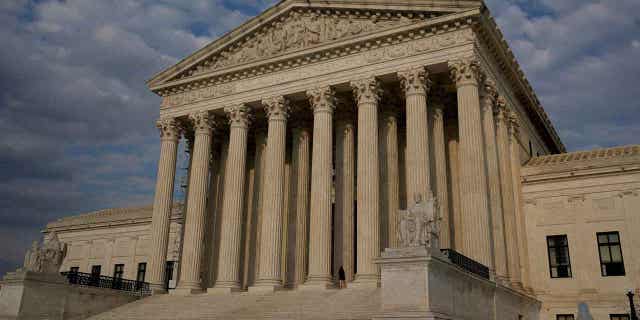 The U.S. Supreme Court building is pictured in Washington D.C., on April 6, 2023. The Supreme Court declined to hear the challenge of an Indiana law that requires abortion providers to bury or cremate fetal remains. (REUTERS/Elizabeth Frantz)
U.S. District Judge Richard Young found that the provision violated the challengers' religious freedom and free speech rights under the U.S. Constitution's First Amendment. But the 7th Circuit last year overturned that decision.
SUPREME COURT JUSTICE ALITO SAYS HE HAS A 'PRETTY GOOD IDEA' ON WHO LEAKED DOBBS DRAFT DECISION
The Supreme Court upheld Indiana's measure in 2019 in a separate challenge, concluding that the state had a legitimate interest in ensuring the proper disposal of fetal remains and it did not implicate the right of women to obtain an abortion.
There has been a fierce battle over reproductive rights in the United States since the conservative-majority Supreme Court's decision last June to overturn the landmark 1973 Roe v. Wade ruling that had legalized the procedure nationwide. Since then, numerous Republican-governed states have put in place outright bans on abortion or prohibitions after a certain length of pregnancy. Indiana's ban is currently blocked after decisions by lower court judges.
The Supreme Court on April 21 blocked restrictions set by lower courts on a widely used abortion pill while litigation continues in lower courts in a challenge by abortion opponents to the drug's federal regulatory approval.
CLICK HERE TO GET THE FOX NEWS APP
The abortion clinic Women's Med, along with patients and staff, sued state officials in 2020 over the Indiana bury or cremate law as well as new disclosure requirements for abortion providers enacted that year.
The 7th Circuit concluded that there is no constitutional violation because the law applies only to hospitals and clinics not individuals. Women themselves "may choose to take custody of the remains and dispose of them as they please," that court added.