A Department of Defense spokesperson told Fox News the U.S. is monitoring the recent Sudanese clashes and "conducting prudent planning" as violence in the North African country escalates.
The conflict between the paramilitary Rapid Support Forces and Sudan's armed forces began on April 15. At least 270 people have died, while injury estimates are as high as 2,600.
"The U.S. military maintains a constant state of readiness to support any number of missions around the world," Defense Department Spokesperson Lt. Col. Phillip Ventura said to Fox News.
"Within Sudan, the Department of Defense's mission is primarily focused on providing security at the U.S. Embassy," the statement added. "While operational security prevents us from going into detail, the Department of Defense, through the Marine Corps Embassy Security Group, provides ongoing security for diplomatic facilities worldwide."
BLOODY SUDAN CONFLICT CONTINUES DESPITE TRUCE, INTERNATIONAL PRESSURE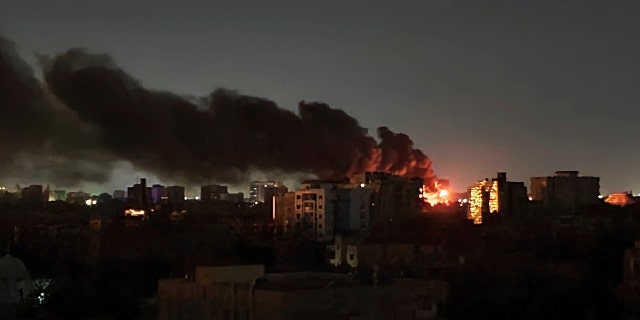 Smoke rises over the horizon as a fire burns after a strike in Khartoum, Sudan, Sunday, April 16, 2023. Washington's top diplomat said Tuesday, April 18, 2023, that a U.S. Embassy convoy came under fire in Sudan and denounced "indiscriminate military operations" as the country's armed forces and a powerful rival unleashed heavy weapons in urban areas for a fourth day.  (AP Photo/Abdullah Moneim)
The White House echoed that it is monitoring the conflict, but also censured the violence.
"The United States condemns in the strongest terms violence between the Sudanese Armed Forces…and the Rapid Support Forces," White House Press Secretary Karine Jean-Pierre said on Wednesday, adding that the violence "recklessly" endangers Sudanese people.
Jean-Pierre encouraged Sudanese leaders to "engage in dialogue without delay" for the safety of their country.
180 DEAD, ALMOST 2K INJURED AS SUDAN CONFLICT RAGES ON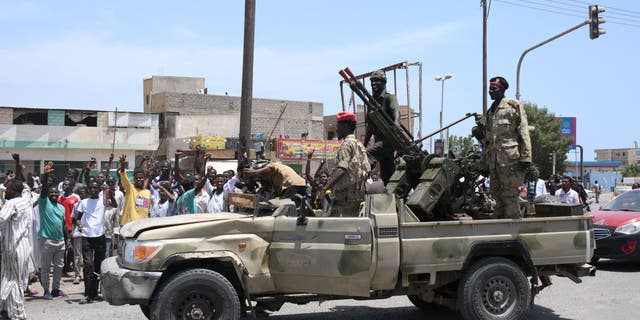 Sudanese greet army soldiers, loyal to army chief Abdel Fattah al-Burhan, in the Red Sea city of Port Sudan on April 16, 2023. 
An attempt at a ceasefire between the two armed forces failed on Wednesday. The 24-hour ceasefire was supposed to begin at 6 p.m. on Wednesday night, but eyewitnesses told Reuters that there was still fighting.
The conflict has disheartened hopes for democracy in Sudan after decades of dictatorships. Bombardments were reported in central Khartoum, the country's capital, as residents struggle with power outages and a dwindling food supply.
The Sudanese Doctors' Union reported that nine hospitals have been damaged so far, and 16 have been evacuated.
CLICK HERE TO GET THE FOX NEWS APP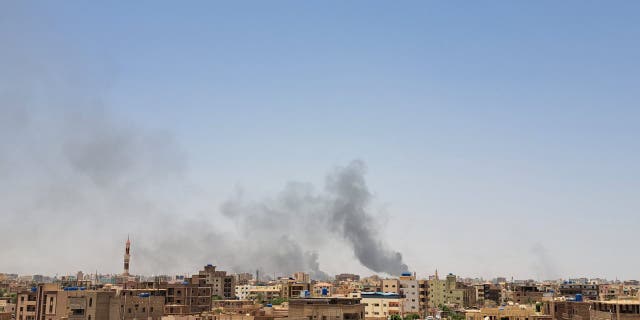 KHARTOUM, SUDAN – APRIL 15: Smokes rise after clashes erupted in the Sudanese capital on April 15, 2023 between the Sudanese Armed Forces and the paramilitary Rapid Support Forces (RSF).  (Photo by Stringer/Anadolu Agency via Getty Images)
"The hospitals are completely collapsed, devoid of all necessities. It's past catastrophic," Sudan's Red Crescent spokesperson Osama Othman said.
Reuters contributed to this report.