Looking for a way to shake up your normal, everyday salad?
Try a strawyberry salmon salad that is perfect for springtime.
Salmon is an excellent protein choice as it is both delicious and filled with numerous health benefits. Not only is salmon packed with protein, but it is also loaded with healthy fats like omega-3, according to Healthline.
Spring is also the perfect time for strawberries, as they are in season and a juicy additive to a number of desserts, smoothies, salads and more.
CLICK HERE TO SIGN UP FOR OUR LIFESTYLE NEWSLETTER
This meal incorporating both salmon and strawberries is not super complicated; you can make it time and time again.
Save this salad and double or triple it for Memorial Day weekend or any other spring and summer events or holidays you'll enjoy with family and friends.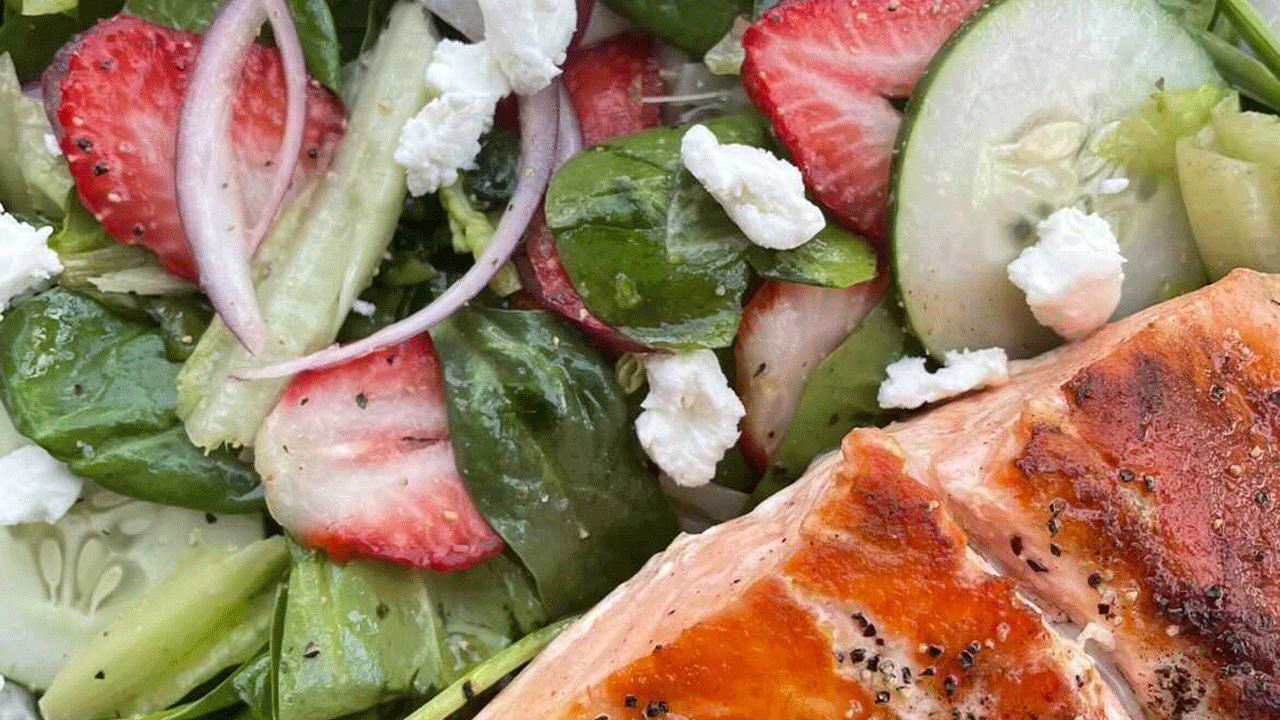 This strawberry salmon salad recipe is perfect for both spring and summer. (Gabriele Regalbuto/Fox News Digital)
Ingredients for strawberry salmon salad and lemon vinaigrette
Spinach
Romaine lettuce (optional)
Goat cheese
Salmon
Lemon
Strawberries
Red onion
Cucumber
Olive oil
Balsamic vinegar
Salt
Black pepper
Dried oregano
Rosemary stem (optional)
For this recipe, the salmon is the main ingredient, and you'll want all other ingredients to complement the flavor.
To start, remove the salmon from refrigeration and set it out on the counter. Sprinkle a dash of salt over the salmon and allow the salt to seep into the fish for both flavor and a juicy texture later. While your salmon is salting, prepare the rest of your ingredients.
Add as many sliced strawberries as you'd like into your salad. (Friso Gentsch/picture alliance via Getty Images)
Wash strawberries and romaine lettuce if you so choose to use it. If not, prepare your bed of spinach on a plate or in a bowl. If you use romaine lettuce to add a crunchy texture, now is the time to add it. Slice your strawberries thin and add to your bed of lettuce.
For an aesthetically pleasing and Instagram-worthy salad, it is recommended that you cut your red onion into thin slices. If you don't prefer larger pieces of onion, feel free to chop them at this step.
Add the onions and sliced cucumber to your lettuce.
On the side, prepare your lemon vinaigrette dressing. Use this recipe to dress salad for one. Double the ingredients for each additional person you intend to serve.
Lemon vinaigrette dressing recipe
2 tablespoons olive oil (or oil of your choice)
2 tablespoons fresh lemon juice
1 tablespoon balsamic vinegar
1 dash of salt
1 teaspoon of black pepper
1 teaspoon of dried oregano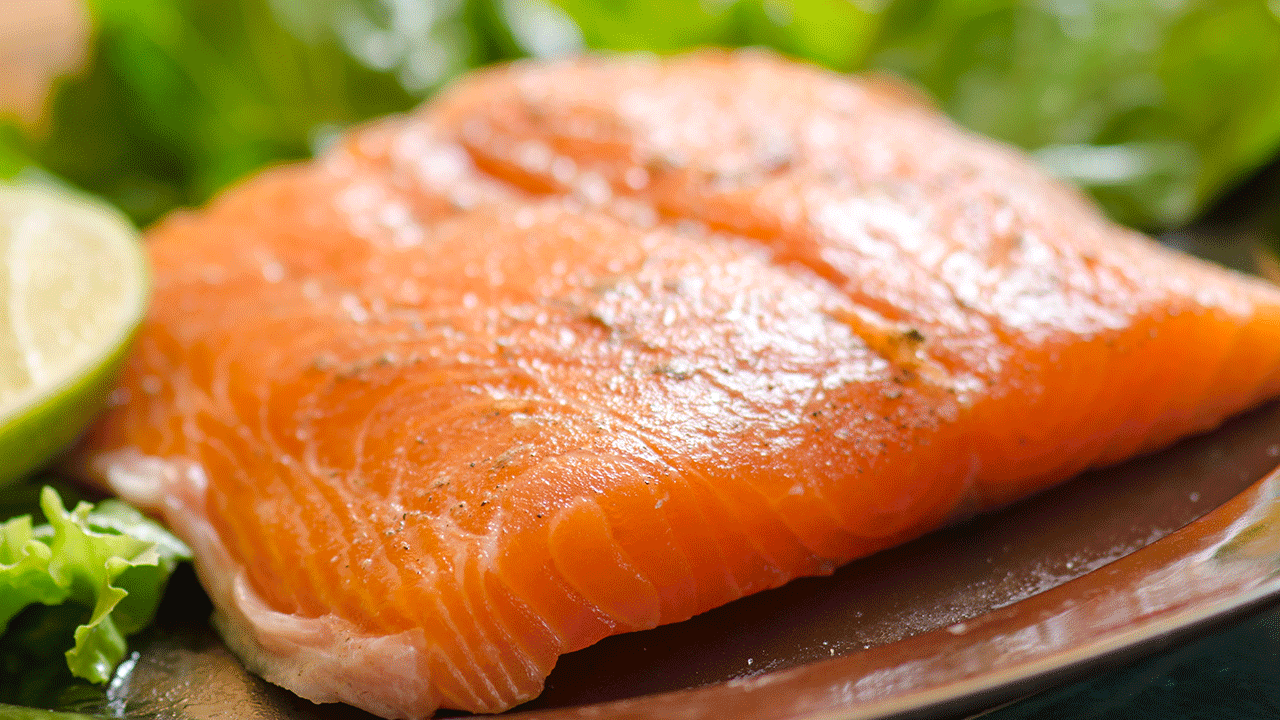 If you want to add a little extra flavor to your fish, add a stem of rosemary to the pan while you cook your salmon. (Roberto Machado Noa/LightRocket via Getty Images)
Using one tablespoon at a time, pour the dressing onto your bed of lettuce and mix in. With washed hands, mix your lettuce and veggies together. Using your hands will coat each ingredient with dressing. If you prefer to use utensils, you can mix with salad hands or silverware.
For salmon to be cooked on a stovetop, heat butter in a pan over medium heat. Once hot, add your salmon pieces (skin or skinless) to the pan and cover with a lid.
You'll want all the heat to remain in the pan while the salmon cooks.
For a little extra flavor, put a stem of rosemary in the butter while the salmon cooks. 
To ensure the salmon cooks through, flip the fish after 10 minutes to the other side and cook for another five minutes.
Before removing from the pan, touch each side of the salmon to the hot pan to brown a bit.
JERK CHICKEN SALAD WITH GRILLED PINEAPPLE: TRY THE RECIPE
For a little extra flavor, put a stem of rosemary in the butter while the salmon cooks and pour your melted butter by the spoonful over the salmon in the pan.
CLICK HERE TO GET THE FOX NEWS APP
Top your bed of lettuce with the fish and drizzle the remaining dressing overtop.
Pull apart pieces of goat cheese, scatter it all over your salad — and serve.