Spanish Prime Minister Pedro Sánchez's chances of getting reelected after a July election have received a potentially important boost following an agreement between more than a dozen small leftist parties to run on a joint ticket, a deal that is expected to provide key support for Sánchez's Socialists in any post-election negotiations to form government.
The deal signed late Friday ended days of intense negotiations and was sealed at the last moment with an agreement between Deputy Prime Minister Yolanda Díaz's newly formed alliance, Sumar, and the Socialists' small but influential far-left coalition partner, United We Can, or Podemos.
Podemos and 14 other groups would form part of the Sumar alliance for the election, Sumar said.
SPANISH PM BACKS COLOMBIAN PRESIDENT'S PEACE PLAN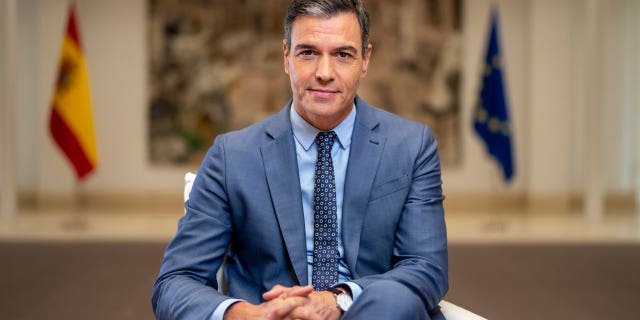 Socialist Spanish Prime Minister Pedro Sánchez's re-election prospects may be improved after more than a dozen small leftist parties have agreed to run on a unity ticket. (AP Photo/Bernat Armangue, File)
The May vote saw Spain swinging strongly to the right, turning the leading opposition conservative Popular Party, or PP, into the country's main political force.
Most polls tip the PP to win in July but predict it will need the support of the extreme right party Vox.
But the new deal among the country's small leftist parties could help Sánchez work out a new coalition government, especially given that Díaz and Sánchez are two of the country's most popular politicians.
Sumar didn't run in the May elections.
CLICK HERE TO GET THE FOX NEWS APP
The Socialists have led the minority coalition government since 2019, but internal arguments with United We Can and several controversial laws have taken their toll.