A conservative, Christian liberal arts college in New York City is on the brink of financial collapse and is pleading for funding to help the school survive another year.
"This is not just a Christian college somewhere," said David Innes, a politics professor who chairs the Politics, Philosophy, and Economics Program at The King's College told Fox News. "It is a unique college with this unique, rigorous training in this unique city. That is worth paying for."
Originally founded in New Jersey in 1938 but now located in lower Manhattan, The King's College is one of the few Christian, conservative colleges in the city. The small evangelical school hopes to mold future leaders who will use their religious beliefs to influence society, but is challenged with attracting devout Christians willing to live in New York.
NYC-BASED CHRISTIAN COLLEGE ON THE BRINK OF BANKRUPTCY. WATCH: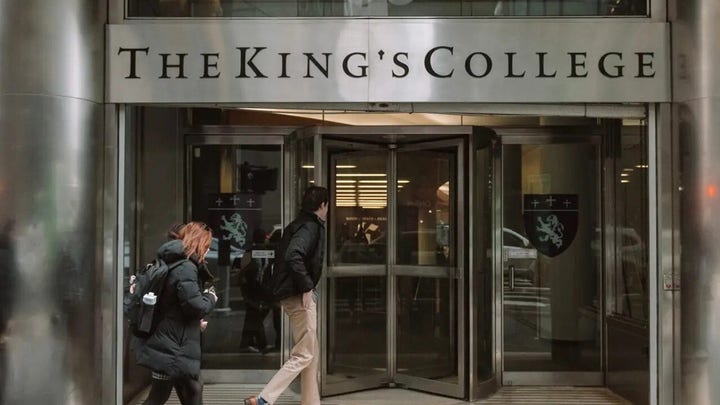 Video
WATCH MORE FOX NEWS DIGITAL ORIGINALS HERE
"Being a Christian college in a city is rare," Innes said. "And we're not just in a city, we're in New York City."
Innes quoted the college's former president, Stanley Oakes, after the school moved to New York.
"'Where we're located, within several blocks, you can reach all the seven deadly sins,'" he recounted. "Not that we throw students into that. But we don't hide from the temptations."
Students attracted to The King's College are "Christian students of particular ambition," Innes said. "They are ambitious for Christ, they're ambitious to do good for their neighbors, to cultivate themselves as best they can and then go out and lead in strategic institutions."
The school's location is a key factor in preparing students to succeed in high-powered roles that impact the nation's culture, Innes said.
"The Christian community needs educated people who understand the times they are in, people who understand the enduring problems that make human life together difficult," he said. "Being formed in this tough place polishes you and prepares you to step into these strategic roles."
STUDENTS AT EXPENSIVE NEW YORK UNIVERSITY OCCUPY CAMPUS, DEMAND A-GRADES FOR EVERYONE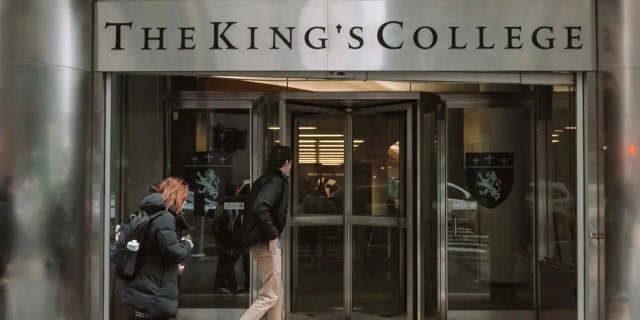 A fundraiser was started in an attempt to save The King's College, a small Christian, conservative school in lower Manhattan.     (The King's College )
The private college enrolled over 600 students at its peak a few years ago, but that number has nearly cut in half since the pandemic. As of a few weeks ago, administrators were telling students that King's may not be able to reopen in the fall and provided them with lists of potential transfer schools, according to the New York Times.
Graduates from the school have gone on to work for elite financial and media companies, attended top-tier law schools and have served in government.
In addition to a curriculum rooted in a Christian worldview, the college leans politically conservative, Innes said. Its teachings are undergirded in the "three liberties" Oates espoused.
"Political liberty, economic liberty and spiritual liberty," said Innes, the school's politics professor of 18 years. "That's going to take you into what these days is called a conservative direction."
THESE UNIVERSITIES ARE AT WAR WITH CONSERVATIVE SPEAKERS
The King's College has faced financial hardship a number of times since its founding, relocating and even closing its doors in 1994 only to re-emerge five years later in New York's financial district with 17 students. Since then, the college has grown steadily, acquiring more real estate to accommodate larger class sizes.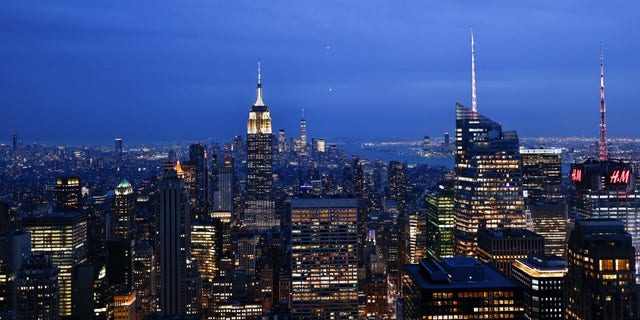 The King's College is located in New York City to "polish" and "prepare" students to step into leadership roles at powerful institutions, Innes said.  (Fox News Photo/Joshua Comins)
The pandemic brought the school back to the edge of financial ruin, however. Its website cites a slow COVID-19 recovery, a worsening economic environment and high costs of operating in the city as causes for their financial strain.
CLICK HERE TO GET THE FOX NEWS APP
"King's is facing financial troubles as it always has from the beginning," Innes said. "Private colleges are not self-sustaining. They depend not only on tuition but on fundraising, and New York City is a very expensive city."
The professor said the school has historically relied on a few key donors to keep operations running, but those donors have halted contributions.
A "Save King's" fundraising campaign was launched and has raised nearly $500,000 of the $2.6 million needed for the school to continue into the next school year.
"It's important for people to support conservative colleges these days," Innes told Fox News. "They are falling by the wayside."
To watch the full interview with Innes, click here.