Shannen Doherty is "doing OK" after revealing that her cancer has spread to her brain, a representative for the actress told Fox News Digital.
The 52-year-old "Beverly Hills, 90210" alum shared a video on Monday in which she was seen preparing to undergo a CT scan with the caption, "January 9, 2023." On Tuesday, Doherty posted a video of herself crying as she was being fitted with a mask ahead of radiation treatment.
In the caption of the second video, she announced that her cancer had spread. Doherty's doctors found metastases, which she called mets, on her brain on Jan. 5, and the actress began radiation on Jan. 12.
"January 12, 2023. On January 5th, my ct scan showed Mets in my brain. Yesterdays (sic) video was showing the process of getting fitted for the mask which you wear during radiation to your brain," Doherty explained in the caption of her second post.
The "Charmed" actress's post was flooded with supportive comments from her celebrity friends and fans.
"You are a warrior," Sarah Michelle Gellar wrote.
"This is a lot," Selma Blair said. "This is a lot to take on, still again. And I am wishing for all the wise peace you have learned to find you in the terror moments. To know we are holding you. Love. All love."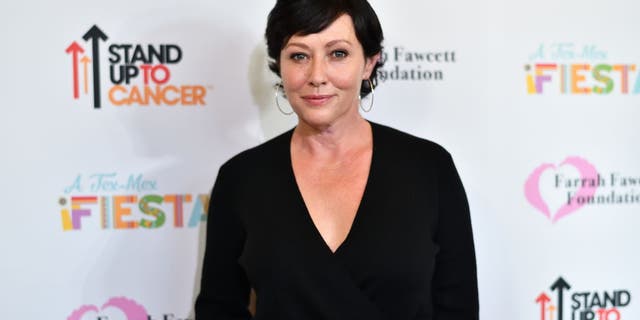 Doherty was first diagnosed with breast cancer in 2015. She revealed that her cancer had returned and was in stage four in 2020. (Earl Gibson III/Getty Images)
"God give you strength," wrote Dean Cain, who played one of Doherty's love interests in "90210."
"Thinking of you and sending positive thoughts," Kyle Richards wrote with a red heart and prayer hands emoji.
Harry Connick Jr. commented, "praying for you."
She wrote on Instagram, "Test and results. One Tumor marker test came back good. Other… elevated. Just means I get monitored and another test."
"But even after that call, I'm staying positive and taking stock of my life. It certainly helps put things in perspective and reminds you of what you learned thru (sic) the cancer journey. And I sometimes, need a refresher."
By 2020, the "Heathers" star's cancer was back and in stage 4, spreading beyond its original location.
"I want people to not hear stage 4 cancer and think of the person that is gray and falling over, and they can't move, and they're going into hospice, and they can't work," she previously said in an interview with "Entertainment Tonight." "You get written off so quickly, even though you're vital and healthy and happy and wanting to go out there and work."
CLICK HERE TO GET THE FOX NEWS APP
In March, the Tennessee native seemed to be doing well.