Serbian prosecutors on Friday opened legal proceedings against three Kosovo police officers arrested earlier this week, defying U.S. and other demands for their immediate and unconditional release.
Serbian officials have said the three Kosovo Albanians were arrested by Serbian security on Wednesday deep inside Serbia and close to the border with Kosovo, and that they were heavily armed when seized. Kosovo officials insist they were "kidnapped" inside Kosovo and taken to Serbia by force.
The dispute adds to tensions between the two countries that have flared into recent violent clashes in the Serb-majority north of Kosovo, stirring fears of a renewal of the 1998-99 conflict in Kosovo that left more than 10,000 people dead, mostly Kosovo Albanians.
US ALLY REPORTEDLY CALLS BIDEN FOREIGN POLICY IN KOSOVO 'NAIVE' AMID RISING TENSIONS WITH SERBIA
Gabriel Escobar, a U.S. envoy for the Balkans, said the three should be released because they most likely were abducted inside Kosovo, or they "inadvertently crossed the boundary."
"They had no intention to be in Serbia," he said.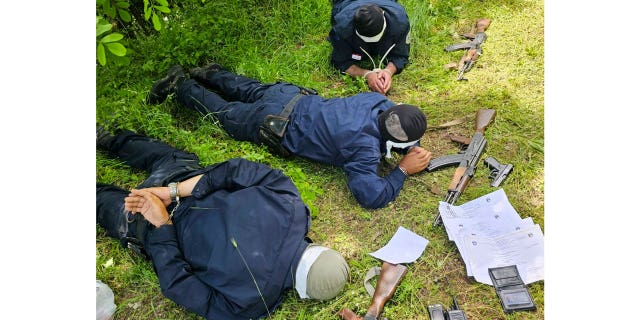 Serbia has begun legal proceedings against three Kosovo Albanian police officers arrested near its border. (Serbian Ministry of Interior via AP)
In a statement Friday, the NATO-led peacekeepers in Kosovo, or KFOR, said that "based on available input, it remains unclear where the Kosovo Police officers were at the time of the arrest."
The latest incident further raised tensions between Serbia and its former province. Serbia had put its troops on the border on the highest state of alert amid a series of recent clashes between Kosovo Serbs on one side, and Kosovo police and NATO-led peacekeepers on the other.
Tensions flared anew late last month, including with violent clashes, after Kosovo police seized local municipality buildings in northern Kosovo, where Serbs represent a majority, to install ethnic Albanian mayors who were elected in a local election in April after Serbs overwhelmingly boycotted the vote.
The tensions persisted Friday with three shock grenades exploding near Kosovo police stations in the north of the country, and with Kosovo Serbs staging protests in front of municipality buildings.