A bipartisan pair of senators is poised to introduce legislation this week banning U.S. lawmakers and members of the executive branch from owning stock while in office.
Sens. Josh Hawley, R-Mo., and Kirsten Gillibrand, D-N.Y., are set to introduce the legislation in the Senate. It would prohibit those affected from owning stocks in individual companies, even through a blind trust, the Wall. Street Journal reported Wednesday.
The law would apply to U.S. senators, representatives, Capitol Hill aides, the president, vice president, and employees of the executive branch.
"Politicians and civil servants shouldn't spend their time day-trading and trying to make a profit at the expense of the American public, but that's exactly what so many are doing," Hawley said in a statement to Fox News Digital. "My bill with Senator Gillibrand is common sense: ban elected and executive branch officials from trading or holding stocks, and put the American public first."
"Members of Congress and their spouses shouldn't be using their position to get rich on the stock market," he said when introducing a similar bill in January.
THERE'S A CASE FOR AN INSIDER TRADING INVESTIGATION INTO PAUL PELOSI: LEGAL EXPERT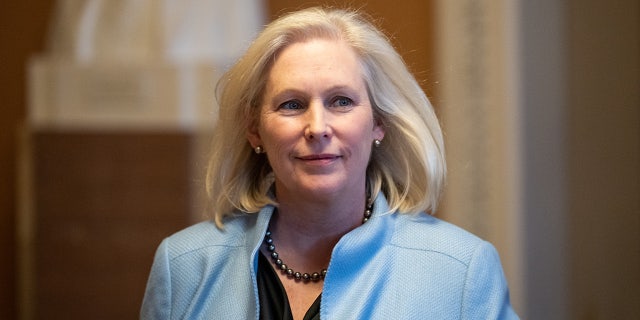 Sen. Kirsten Gillibrand joined Sen. Hawley in pushing for a crackdown on insider trading within Congress. (Bill Clark/CQ-Roll Call, Inc via Getty Images)
The series of bills comes after revelations last year that former speaker Nancy Pelosi's husband, Paul Pelosi, traded between $1 million and $5 million of stocks for semiconductors just days before Congress allocated $52 million to the industry. The stocks were later sold at a loss to remove the appearance of impropriety.
The newly proposed law would allow lawmakers to own mutual funds and broad industry and index funds, according to WSJ.
Fox News' Lawrence Richard contributed to this report.