FIRST ON FOX: The Senate Intelligence Committee is demanding the Pentagon hand over copies of all the classified documents leaked by Massachusetts Air National Guardsman Jack Teixeira.
The 21-year-old serviceman was accused by the Department of Defense of leaking "sensitive and highly-classified material" into a chat on the encrypted communications platform Discord. It then made its way onto other social media platforms. Teixeira was charged on Friday.
In a letter addressed to Defense Secretary Lloyd Austin and Director of National Intelligence Avril Haines, Senate Intelligence Committee Chairman Mark Warner, D-Va., and ranking member Sen. Marco Rubio, R-Fla., said the leak prompted concerns about "serious deficiencies" in the government's security protocols.
"According to public reporting, A1C Teixeira began sharing classified information and classified documents within a social media platform as early as December 2022 —nearly four months before the government's discovery," the letter, obtained by Fox News Digital, read. "These disclosures indicate serious deficiencies in the government's insider threat and security vetting protocols."
JACK TEIXEIRA CHARGED IN PENTAGON LEAK INVESTIGATION: READ THE DOCUMENTS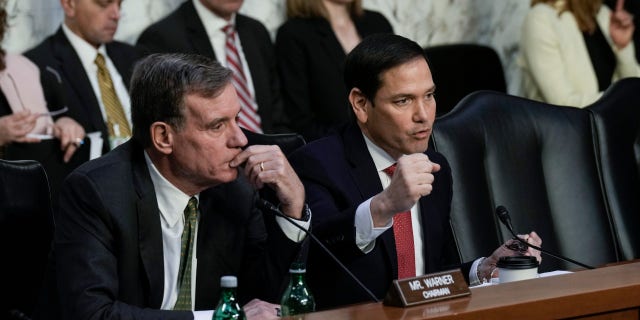 Committee chairman Sen. Mark Warner, D-Va., left, looks on as ranking member Sen. Marco Rubio, R-Fla., questions witnesses during a Senate Intelligence Committee hearing concerning worldwide threats on Capitol Hill in Washington, D.C., on March 8, 2023. (Drew Angerer/Getty Images)
Despite the documents' reported presence online much earlier, the leak was confirmed by the government just this month.
Presenting a detailed list of questions, Warner and Rubio pressed the Defense officials to explain the delay in the Pentagon's "identification of the unauthorized disclosures" and for more information on the Air National Guard's vetting process and the extent to which the suspect went through it.
WHO IS JACK TEIXEIRA, THE AIR NATIONAL GUARDSMEN ALLEGEDLY BEHIND LEAKED CLASSIFIED DOCUMENTS?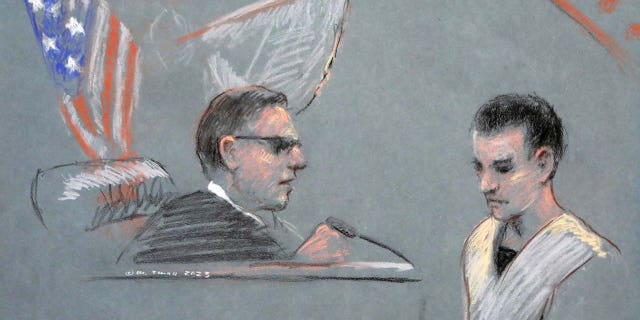 In this courtroom sketch, Jack Teixeira, a U.S. Air Force National Guard airman accused of leaking highly classified military intelligence records online, makes his initial appearance before a federal judge in Boston on April 14, 2023. (REUTERS/Margaret Small)
The senators also called for "a full accounting of any classified information" Teixeira leaked as well as "copies of all classified documents or other classified information displayed on the Discord server."
The senators are seeking details on what agencies were affected, what they are doing to mitigate the massive leak and what their plans are to "appropriately restrict access to intelligence derived from sensitive sources and methods to those individuals with a strict and enduring need-to-know."
FBI ARRESTS MASSACHUSETTS AIR NATIONAL GUARDSMAN JACK TEIXEIRA IN PROBE OF CLASSIFIED DOCUMENT LEAKS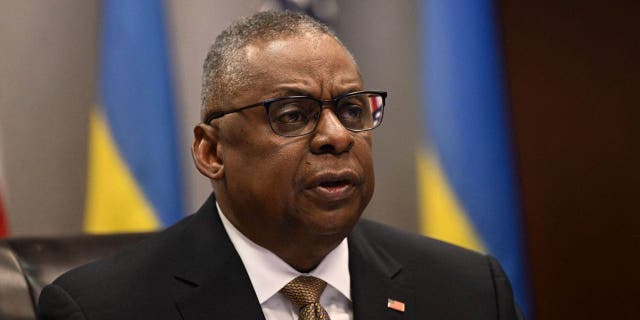 Defense Secretary Lloyd Austin speaks before a virtual meeting of the Ukraine Defense Contact Group at the Pentagon in Washington, D.C., on March 15, 2023.  (ANDREW CABALLERO-REYNOLDS/POOL/AFP via Getty Images)
And regarding Teixeira himself, Warner and Rubio want to know whether the 21-year-old's access to classified information was in line with what was necessary for him to perform his duties as an Air National Guardsman and whether he "had any associations with groups or individuals involved in the unauthorized disclosure that were disclosed as part of his vetting process or should have been disclosed."
CLICK HERE TO GET THE FOX NEWS APP
"Particularly given the public nature of the unauthorized disclosures and detailed media reporting on the content of the intelligence, we request that you keep us fully and currently informed on this matter," Warner and Rubio wrote.
The Biden administration is holding an all-senators briefing on the Pentagon leak on Wednesday afternoon.