Flyers at the University at Buffalo are showcasing animosity toward former University of Kentucky swimmer Riley Gaines ahead of her April 13 appearance on campus, suggesting what could be another contentious college appearance for the athlete.
The advocate for biological women in sports took to Twitter, where she shared images of flyers posted around the campus, mocking her opposition to biological males competing in women's sports.
"Some pictures of me around @UBuffalo campus in light of my appearance next week. I'll never understand people putting this much effort into something/someone they don't like. All for saying men and women are physiologically different…." she captioned the April 4 tweet.
LIA THOMAS EXPOSED 'MALE GENITALIA' IN WOMEN'S LOCKER ROOM AFTER MEET, RILEY GAINES SAYS: DROPPED 'HIS PANTS'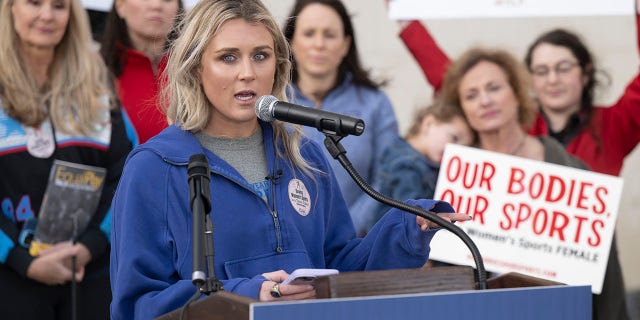 Former University of Kentucky swimmer Riley Gaines speaks during a rally on Thursday, Jan. 12, 2023, outside the NCAA Convention in San Antonio.  (AP Photo/Darren Abate)
One flyer superimposed the markings of Stephen King's IT character onto Gaines' face and tacked on the writing, "Chapter Two: Transphobia Returns."
Another mocked Gaines by writing under her image: "You're being 'silenced?' Damn! You must be joking! We can't stop hearing from you people!"
The third photo featured the same image of Gaines, but instead came with a caption that read, "See her talk about how she wasn't able to beat a trans woman one time so now she's trying out being a conservative pundit."
The 12-time All-American and five-time SEC champion has previously championed for sports to be separated on the basis of biological sex, particularly following locker room and competition controversies surrounding transgender University of Pennsylvania swimmer Lia Thomas, against whom Gaines competed in a national swimming competition. The swimmers tied for fifth place.
TRANS ACTIVIST WHO INTERVIEWED BIDEN HAS A 'FETISH,' DEMEANS WOMEN ONLINE: RILEY GAINES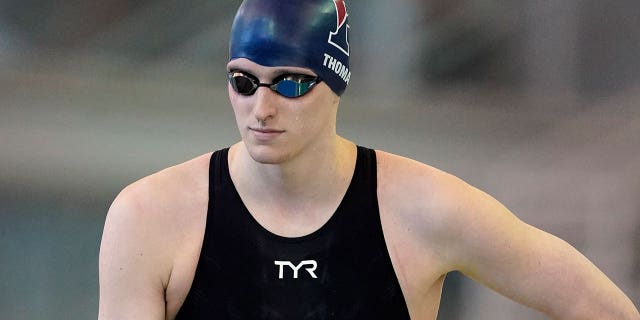 Pennsylvania's Lia Thomas prepares to swim the women's 500-yard freestyle final at the NCAA swimming and diving championships (AP Photo/John Bazemore)
Gaines stirred up controversy by alleging Thomas had exposed "male genitalia" in the women's locker room after a meet last year. She has also advocated for the NCAA to establish separate locker rooms for trans athletes and criticized the Biden administration for failing to take action to defend biological women's rights in sports.
In the comments section of Gaines' post from last Tuesday, conservative commenters showed their support.
"If you're taking flak, you're over the target @Riley_Gaines. Keep fighting the good fight!" actor Dean Cain wrote.
Conservative author Oli London chimed in, writing, "Horrible how anti-women these people are they think it's okay to mock women who speak their minds. These people are very deranged."
RILEY GAINES REJECTS SFSU'S STATEMENT SUGGESTING STUDENTS PROTESTED 'PEACEFULLY': 'I WAS ASSAULTED'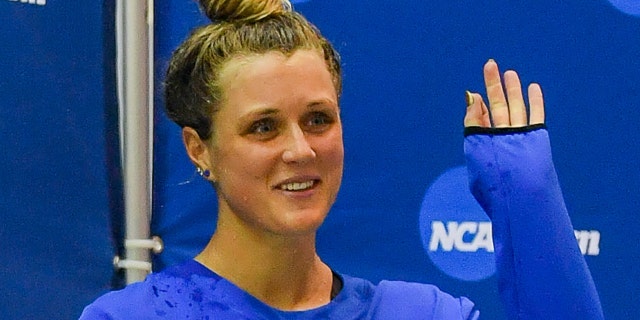 University of Pennsylvania swimmer Lia Thomas and Kentucky swimmer Riley Gaines react after finishing tied for 5th in the 200 Freestyle finals at the NCAA Swimming and Diving Championships on March 18, 2022, at the McAuley Aquatic Center in Atlanta Georgia. (Rich von Biberstein/Icon Sportswire via Getty Images)
Conservative radio host John Whitmer added, "Keep fighting Riley!" and author Mike Kole said, "Ms. Gaines, you have more people on your side than you can imagine. Don't lose hope or faith."
The flyers come after Gaines alleged she was assaulted while speaking on behalf of biological women in sports at San Francisco State University last Thursday.
Gaines claimed she was "ambushed and physically hit" and is seen on-video being escorted out by police. Protesters shouted expletives and called for transgender rights during the incident.
Fox News Digital reached out to the University at Buffalo for comment, but did not receive an immediate response.
CLICK HERE TO GET THE FOX NEWS APP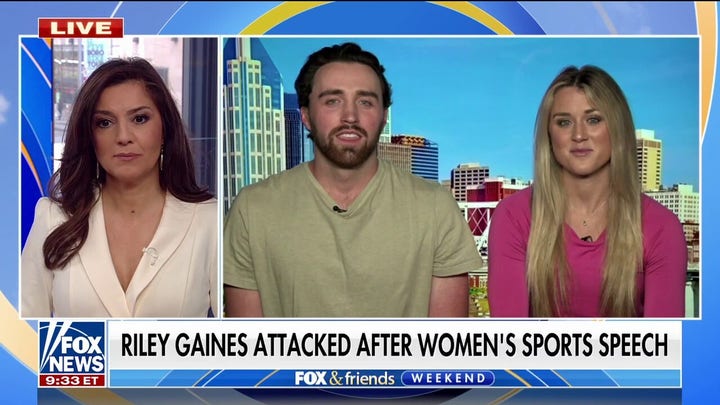 Video
Fox News' Yael Halon contributed to this report.