A squadron of House Republicans stood, glowing, atop a small set of choir risers in the Rayburn Room just off the House floor last Thursday.
House Republicans had just approved the touchstone of their legislative agenda: an energy bill they said would reduce fuel prices and expedite the review process for energy permits.
Four Democrats crossed the aisle to vote with nearly all Republicans to pass the bill. Only Rep. Brian Fitzpatrick, R-Pa., voted nay on the GOP side.
Six burly energy workers with thick fingers, dressed in tan coveralls and hard hats, wedged their way in between the rank-and-file Republicans.
"Finally some real men in Washington," gushed Rep. Lauren Boebert, R-Colo., when the muscular energy workers appeared.
CONSERVATIVE GROUPS REJOICE AFTER HOUSE PASSES MAJOR ENERGY PACKAGE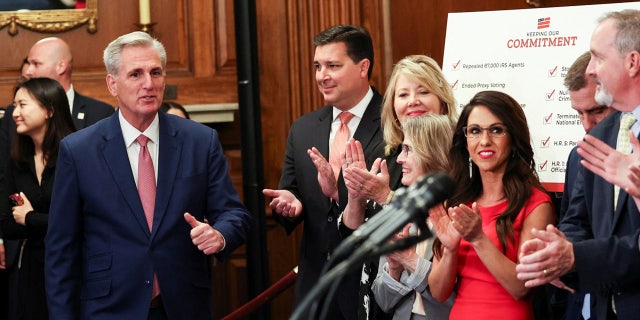 Speaker Kevin McCarthy and House Republicans hold a news conference on the Lower Energy Costs Act at the U.S. Capitol on March 30, 2023. (Reuters/Tom Brenner)
Republicans deemed the energy measure "H.R. 1." In congressional parlance, the lower a number for a House bill, the more important the majority party deems the legislation. Thus, H.R. 1 was at the top of the list for House Republicans.
"We made a commitment to America that we would lower your energy costs," said House Speaker Kevin McCarthy, R-Calif. "We made it H.R. 1 because we care… about the American family. Let them have more cash in their pocket to make their energy costs lower."
Republicans designed the House's passage of the energy package to coincide with the start of the two-week Easter/Passover recess for Congress, the first lengthy break for lawmakers this year. Republicans wanted adoption of the drilling plan to serve as a punctuation point for this congressional work period for Republicans.
The GOP hoped that approval of the measure would give them something to tout to voters when they visited with constituents over the break. They also hoped the bill would show voters that Republicans were making good on their campaign promises.
Republicans also wanted to contrast their efforts to liberal Democrats who excoriated the bill.
REPUBLICANS VOTE TO END BIDEN'S 'WAR ON ENERGY,' ONLY 4 DEMS AGREE
"H.R 1 is dead on arrival in the Senate, not because of politics, but because it's so ridiculous and has been drawn up by a bunch of pro oil senators," warned Senate Majority Leader Chuck Schumer, D-N.Y.
But McCarthy insisted that Senate moderates who caucus with the Democrats – specifically Sens. Joe Manchin, D-W.Va., Jon Tester, D-Mont., and Kyrsten Sinema, I-Ariz. – may see it differently. All face competitive re-election bids next year.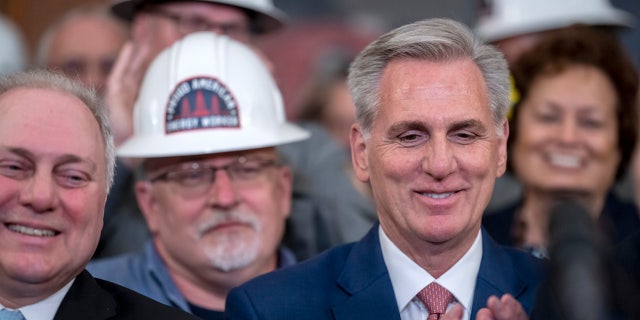 Speaker Kevin McCarthy and House Majority Leader Steve Scalise applaud after Republicans passed a sprawling energy package that would counter virtually all of President Joe Biden's agenda to address climate change, at the Capitol, Thursday, March 30, 2023. (AP Photo/J. Scott Applewhite)
"If Schumer would even ask his own conference, I think there's a lot of people there that want to make American energy, want to make America stronger," said McCarthy.
After the clock struck 12:30 p.m. last Thursday, the House emptied out and lawmakers sprinted to catch planes and trains for the springtime recess. Republicans felt they were well-armed politically for the recess.
That assurance only lasted a few hours.
By 5:30 pm Thursday, all Republicans were talking about was former President Trump.
Word leaked out that Manhattan District Attorney Alvin Bragg would hit Trump with a host of charges in the coming days. Most Republicans pivoted to rally around the former president and explain how the indictment was "politically motivated." They declared it was inappropriate for a local prosecutor to target a former president, let alone a candidate for the 2024 presidential sweepstakes.
TRUMP CRITICS SLAM DA BRAGG'S CASE AS 'WEAKEST OF SAUCES' AFTER FORMER PRESIDENT INDICTED
"They're trying to destroy Donald Trump because they fear him at the ballot box," proclaimed Sen. Lindsey Graham, R-S.C., on Fox.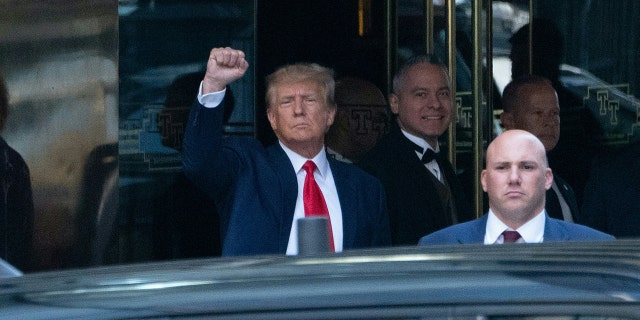 Former President Donald Trump arrives ahead of his arraignment at the Manhattan Federal Court in New York City on April 4, 2023. (Bryan R. Smith/AFP via Getty Images)
"They have weaponized our system of justice," said Rep. Mike Johnson, R-La., on Fox. "I think they have all but ensured that he will get the nomination on the Republican side and very likely win re-election."
"I've said from day one this is a political stunt. I mean, if this were the first case against Donald Trump, if it were the first time anyone had gone after Donald Trump, it might be different," said House Oversight Committee Chairman James Comer, R-Ky., on Fox. "It's another example of why the American people have lost confidence in our judicial system."
Many Democrats clammed up about the indictment. Some top leaders issued statements. But Democrats generally gave Republicans a wide berth to defend the twice-impeached former president.
"This is not the time to wind up and say, 'See! See! I told you so,'" said Rep. Debbie Wasserman Schultz, D-Fla., on MSNBC.
So Democrats mostly stood back. They let Rep. George Santos, R-N.Y., show up outside the courthouse in lower Manhattan to add to the sideshow. Rep. Marjorie Taylor Greene, R-Ga., surfaced to spar with New Yorkers and the press corps over what she said was Trump's innocence.
MARJORIE TAYLOR GREENE LEADS NYC RALLY PROTESTING TRUMP INDICTMENT, AFTER RECEIVING WARNING FROM MAYOR ADAMS
Democrats ate it up.
Energy bill? What energy bill?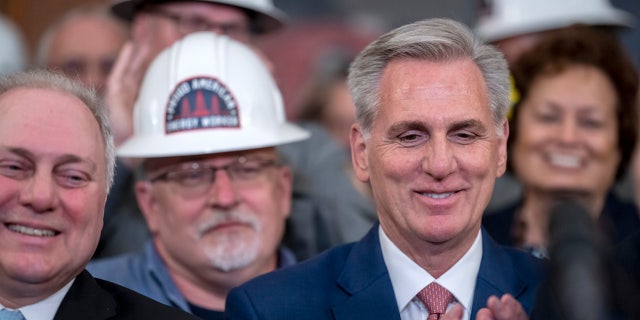 Speaker Kevin McCarthy and his GOP colleagues hoped that approval of their energy measure would give them something to tout to voters when they visited with constituents over the break. The indictment of former President Trump upended that plan. (AP Photo/J. Scott Applewhite)
Republicans can stand foursquare around former President Trump all they want. That may help boost the standing of some congressional Republicans with various quarters of the party and Trump loyalists. But one of the biggest takeaways from the 2022 midterms is that the former president damaged the party.
There were promises of winning 50 House seats. Seizing control of the Senate. Considering President Biden's abysmal approval ratings, Republicans executed one of the poorest performances in decades for the party opposite the president in House contests. Senate candidates like Herschel Walker in Georgia, Don Bolduc in New Hampshire and Mehmet Oz in Pennsylvania prevented the GOP from flipping winnable Senate seats. Republicans concede privately that Trump has weighed down Republicans in three straight elections: 2018, 2020 and 2022.
So Republicans find themselves not discussing energy, inflation and gas prices, but former President Trump. He always commandeers the message.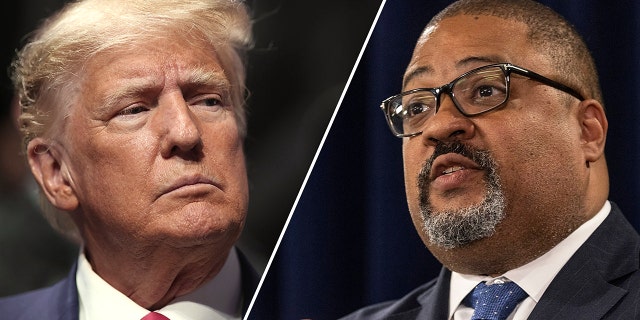 New York District Attorney Alvin Bragg had been investigating former President Donald Trump for alleged hush money payments to adult film actress Stormy Daniels.  (Shane Bevel/NCAA Photos via Getty Images | Victor J. Blue/Bloomberg via Getty Images)
What are Republicans now focusing on? Ways to investigate Bragg. A trio of House committees volleyed letters with Bragg asking about his historic inquiry of the former president. They've asked to see if there is coordination with the Department of Justice. They want Bragg to answer questions about his jurisdiction. Republicans have also threatened to dry up money from the DOJ for prosecutions. Comer hasn't ruled out issuing a subpoena for Bragg.
Bragg's office contends this is an "incursion" into their right to prosecute.
There's also been criticism – even from Republicans – about the pace, scope and success of various inquests GOP-led House committees are conducting into the Biden administration and Biden family.
Energy policy? It seems to have been put aside.
"When that message is hijacked by, quite frankly, something that's really not very successful, it really ruins it for the rest of the Republican Party," said Alison Dagnes, a political science professor at Shippensburg University.
CLICK HERE TO GET THE FOX NEWS APP
As long as former President Trump is in politics, he will dominate all attention.
And try as they might, Republicans can't do much about it.
Energy bills aren't the message; Trump himself is the message.