Pennsylvania Republican Rep. Guy Reschenthaler said he is "not intimidated" after receiving a letter from the Chinese Embassy in Washington that warned against his involvement in a bipartisan congressional trip to self-ruled Taiwan.
"Our congressional visit sends a clear message to the world: America is committed to supporting Taiwan and preserving freedom, democracy and peace across the globe," he said after arriving in Taiwan on Thursday.
"I am not intimidated by China's threats and refuse to kowtow to the Chinese Communist Party. I look forward to meeting with President Tsai Ing-wen and reaffirming our commitment to the people of Taiwan," the House chief deputy whip said.
The letter from Li Xiang, the counselor of the congressional and sub-national affair section of the Chinese Embassy, said Reschenthaler's decision would "seriously violate the one-China principle, the provisions of the three Sino-U.S. joint communique, severely interfere with China's domestic affairs and send a wrong signal to the separatist forces in Taiwan."
CHINESE EMBASSY SENDS THREATENING LETTER TO CONGRESS OVER TAIWAN MEETING, WARNS IT 'WILL NOT SIT IDLY BY'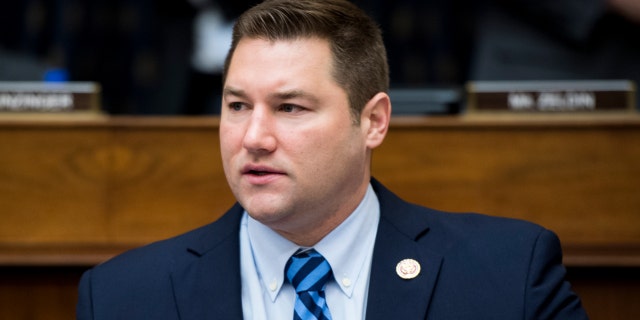 Rep. Guy Reschenthaler, R-Pa., takes his seat for the House Foreign Affairs Committee hearing on "NATO at 70: An Indispensable Alliance" on Wednesday, March 13, 2019. (Photo By Bill Clark/CQ Roll Call via Getty Images)
He wrote to express China's "firm opposition" to the visit.
Li said that members of Congress are "inherently obliged to strictly observe the one-China policy of the U.S. government" and must "refrain from having any official exchanges with China's Taiwan region."
"Otherwise, it is [a serious political provocation], sends out a wrong signal to the 'Taiwan independence' separatist forces and seriously undermines the China-U.S. relations and the peace and stability across the Taiwan Strait," he said, noting that tension across the Taiwan Strait is "escalating and the prospect of peace there is "seriously threatened."
"Former Speaker Pelosi's visit to Taiwan last year triggered a serious crisis in the China-U.S. relationship, and the lessons should be learned," Li said.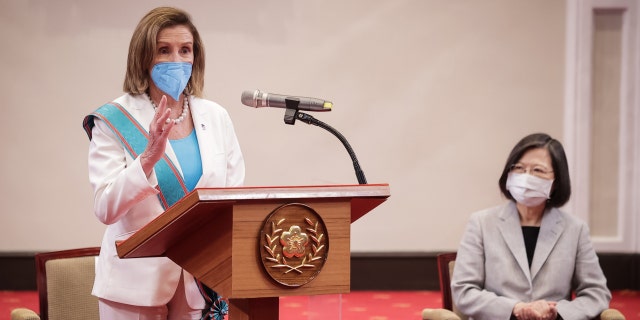 Then-House Speaker Nancy Pelosi (D-CA), left, speaks after receiving the Order of Propitious Clouds with Special Grand Cordon, Taiwan's highest civilian honor, from Taiwanese President Tsai Ing-wen, right, at the president's office on Aug. 3, 2022, in Taipei, Taiwan. (Photo by Chien Chih-Hung/Office of The President via Getty Images)
US SAYS CHINA HAS NO REASON TO STEP UP AGGRESSIVE ACTIVITY DUE TO TAIWAN'S STOPOVERS IN THE US
Li urged the U.S. to "stop all forms of official interaction with Taiwan" to avoid "furthering the tension across the Taiwan Strait."
The Chinese government announced a three-day series of patrols in the Taiwan Strait on Thursday, ordering that any ships in the area stop for inspection or even boarding.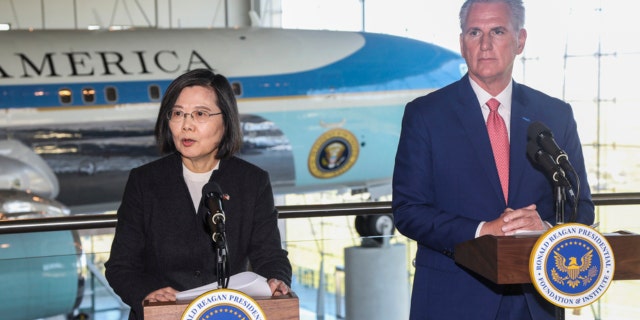 House Speaker Kevin McCarthy, R-Calif., right, and Taiwanese President Tsai Ing-wen deliver statements to the press after a bipartisan leadership meeting at the Ronald Reagan Presidential Library in Simi Valley, California, Wednesday, April 5, 2023. (AP Photo/Ringo H.W. Chiu)
The Embassy sent a similar email to House Speaker Kevin McCarthy and other bipartisan members of Congress who met with Tsai in Southern California.
CLICK HERE TO GET THE FOX NEWS APP
In the meeting, McCarthy and Tsai declared the relationship between the U.S. and Taiwan is strong amid "unprecedented" challenges in the Indo-Pacific region.
The Biden administration maintains that there is nothing provocative about the visit by Tsai.
As part of its recognition of China, the U.S. "One China" policy acknowledges that Beijing lays claim to Taiwan but does not endorse China's claim. The U.S. remains Taiwan's key provider of military and defense assistance – though Washington does not explicitly say whether it will come to Taiwan's aid in the case of a conflict with China.
Taiwan and China split 74 years ago following a civil war and have no official relations.
Fox News' Anders Hagstrom, Aishah Hasnie, Kelly Phares, Brooke Singman and The Associated Press contributed to this report.