It was a global battle of the bands.
Seventy-three-year-old New Jersey native Bruce Springsteen and his E Street band. Versus 73-year-old Long Island, New York, native Billy Joel and his fine musicians.
Two of the best singer-songwriters the U.S. has ever produced.
Facing off on consecutive nights, Thursday and Friday, on neutral turf.
The British venue appropriate. Both Springsteen and Billy Joel are huge fans of, and have played with, members of England's finest – perhaps the world's finest – rock 'n' roll band, The Beatles. (Joel even did a cover of "Hard Day's Night" in his encore.)
Still these two artists have a 50-year-long track record that stands on its own. Both have been turning out albums since the early '70s. Most have gone platinum or gold. Each performer has sold 150 million records… and counting.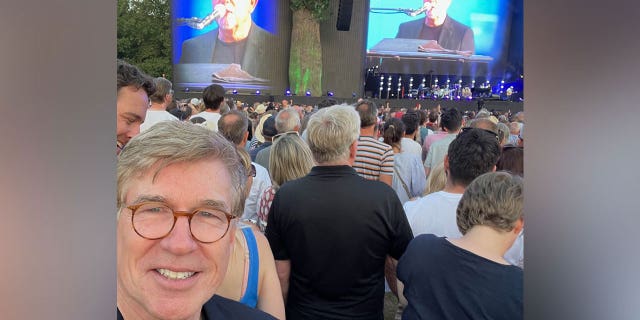 While I'm sorry to say as a Long Island boy I've only seen Joel twice. About the closest he came to noting his time on this planet this week was his closing salute to the London crowd : "See you again… maybe." And of course, his classic, "Only the Good Die Young." (Greg Palkot)
And their New York-New Jersey blue collar roots are well known. Billy Joel played the last concert at Shea Stadium. Bruce Springsteen closed down Giant stadium. Their tributes following 9/11 remembered by all. Springsteen's "My City of Ruins." Joel's "New York State of Mind."
They both looked great for their 73-years. Both wearing "dad jeans" and displaying just a bit of a paunch under their black shirts. Bruce does have more hair. Joel at one point looked up at a jumbo screen version of himself and said, 'Hi Dad… I never thought I'd look like my father.'
And Bruce definitely ran around more, including up and down stairs to work the audience (though his dancing on top of the speaker days are over).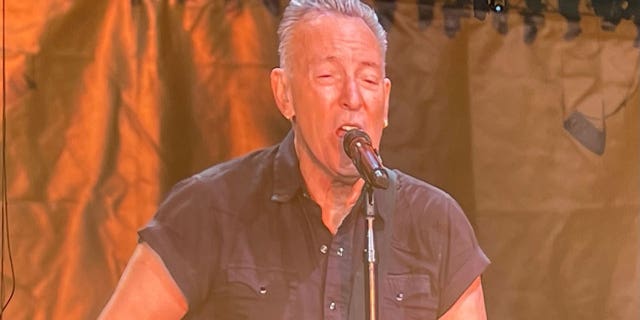 Springsteen treated his audience this week to cuts from his latest two albums. (Greg Palkot)
Both remain in fine voice. (No near-turtle-croaking Dylan for these two.) Joel's is in better "nick," as we say here in the U.K. Springsteen's sometime gruff vocals a product of 50 years of arena screaming.
In fact, Billy's relationship with his songs was pure Brill building, that '50s and '60s factory of hits. When he'd introduce songs like "My Life," "Innocent Man," "Sometimes a Fantasy" and "Don't Ask me Why," he'd say stuff like "This song was from so-and-so album" or "This was an album cut that never was a hit."
Most of Springsteen's songs had no verbal introduction. As if the opening chords and building melody were enough for eager and dedicated fans to recognize huge epic songs like "The Rising," "The River" and "Badlands."
They were, in fact, two completely different concerts. Springsteen's was an epic and sprawling three hours… 28 songs. Joel's set was a more well-honed two hours, and still 23 songs, no doubt polished during his Madison Square Garden residency shows.
As for the audiences, both it must be said, ranked a bit high on the demographic meter. "Boomer or bust" with well-worn tour T-shirts. But with enough adult age and younger children intermixed to give the feel of a broader audience.
And both audiences, equally, in their own way, dedicated to their artist.
Bruce's fans were more dedicated and obsessed. One fellow we spoke with from Newton, Massachusetts, said he'd been to 150 Bruce concerts…11 on this tour. Accompanying the end of each song, fans howled the trademark, "Bruuuuuuuce!' (which always sounds like "Boo!" but we know it isn't).
And neither "Born to Run" or "Piano Man" needed anyone singing on the stage! Especially poignant as this "old world" audience adopted these "new world" bands as if they were their own.
CLICK HERE TO GET THE FOX NEWS APP
Aside from the ubiquitous cellphones in many outstretched hands seeming to record every minute of the concerts, it was a few hours for all to get together, forget about their range of problems and issues big and small, and have one big communal love-in.