A Cary, North Carolina, resident snapped a photo of a rarely-seen white squirrel this week — a photo that generated interest as many people who commented on the local news station's Facebook page said they had never seen one of the creatures before.
"What a beautiful white squirrel. They are rare. I don't think I have ever seen a white squirrel before. That one is so beautiful," one person commented.
"Absolutely amazing," another person said.
KANSAS BOY FINDS RARE PINK GRASSHOPPER WHILE HUNTING FOR BUGS IN FAMILY'S YARD
Rosenberg said the sightings could be the result of people trapping the unusual squirrels and taking them to another location.
'AMAZON SNAKE CAT' PHOTO SEEMINGLY FOOLS INTERNET USERS AFTER GOING VIRAL ON SOCIAL MEDIA
"I get phone calls all the time about people wanting to buy a white squirrel so they could breed and sell them and that's obviously not what we do," Rosenberg said.
The white squirrels found in Brevard are a color variant of the native species, the eastern gray squirrel, according to Rosenberg and the city's website.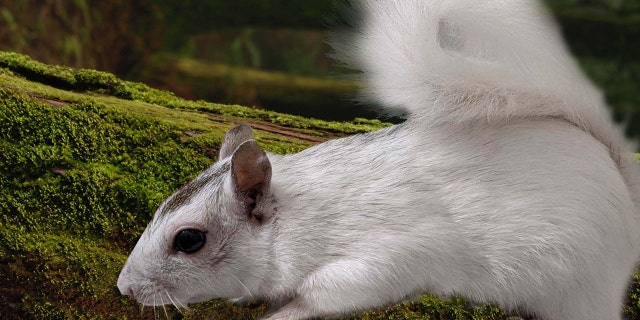 In 1986, the Brevard City Council voted to approve an ordinance declaring and establishing a sanctuary for squirrels, especially the white ones, the city's website states. In this photo is Pisgah Penny, Brevard's Mascot, climbing on a moss tree. (White Squirrel Institute)
The Brevard white squirrels aren't albino, but rather leucistic, which is a condition characterized by reduced pigmentation from a recessive gene, the City of Brevard website states.
They are unique in that their coats are mostly white with a distinctive head patch of dark fur — and they have dark eyes. "Biologists recognize no known species of all-white squirrels in the world," the city's website reads.
"They mix and mingle with our gray squirrels. They don't see differently. People often ask if they get along with gray squirrels. It's about territory, not about color," she added.
The origin of the Brevard white squirrels goes back to a 1940s circus caravan accident from which the unique squirrels had escaped — and a 10-year-old girl named Barbara Mull, Rosenberg said.
VAN GOGH, THE ONE-EARED DOG WHO 'PAINTS' TO END PET HOMELESSNESS, GETS $10K BID ON 'STARRY NIGHT' AT AUCTION
"The guy gave them to him and then he came up to visit Mull in Brevard and gave her the squirrels," Rosenberg said.
RABBIT RUNNING LOOSE IN IOWA NEIGHBORHOOD REPORTEDLY BITES RESIDENTS: 'MISUNDERSTOOD CREATURES'
The original squirrels' names were Snowball and Frisky, Rosenberg said.
ANIMAL SHELTER STAFF RESORTS TO DRAWING PICTURES OF PETS AFTER CAMERA 'BREAKS': 'THIRD DIMENSION IS OVERRATED'
On Feb. 2, the ambassador squirrel also helps Punxsutawney Phil, the legendary groundhog, predict whether there will be an early or late spring — and, as an added bonus, what team will win the upcoming Super Bowl.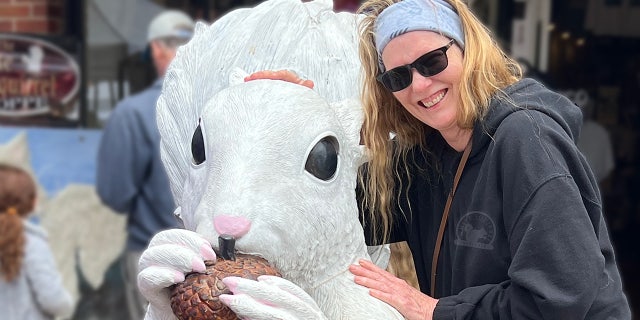 Katy Rosenberg is pictured with a statue of the "mascot" of Brevard, North Carolina. (White Squirrel Institute)
"[Penny's] predecessor and her uncle actually, Pisgah Pete, had an 85% success rate predicting the winner of the Super Bowl," Rosenberg said.
The Institute was created to raise awareness, but also to boost tourism for the town.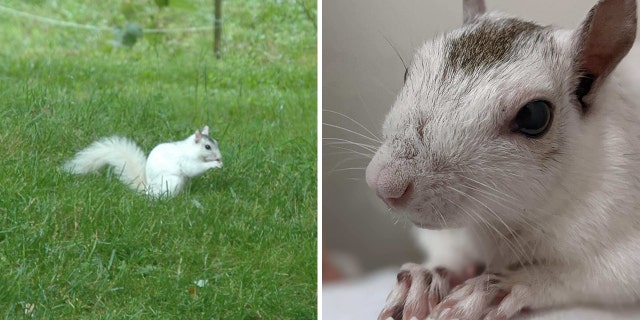 White squirrels can be found in other areas of the United States, according to Rosenberg. (White Squirrel Institute)
Since Rosenberg stepped into the role of director, the mission has shifted to raising money for wildlife rehab and education, she said.
CLICK HERE TO GET THE FOX NEWS APP