EXCLUSIVE: Two liberal organizations describing themselves as "radical feminist" groups have entered a surprising partnership in their effort to protect women's rights.
This week, Women's Liberation Front and Women's Declaration International USA broke with the President Biden and joined congressional Republicans in support of H.R. 734, or the Protection of Women and Girls in Sports Act, a bill that would prevent biological males from participating in women's sports.
Speaking with Fox News Digital on Wednesday, Kara Dansky, the President of Women's Declaration International USA, said her nonpartisan organization was "devoted to advancing the Declaration on Women's Sex-Based Rights, which, according to the group, "reaffirms women and girls' sex-based rights," and challenges the discrimination experienced "from the replacement of the category of sex with that of 'gender identity.'"
"We are a radical feminist organization, and Article Seven of the Declaration on Women's Sex based Rights, which is grounded in a radical feminist critique of gender identity, demands that sports be kept single sex. And we think that Representative Steube's bill is in alignment with Article Seven of the Declaration," Dansky told Fox.
RILEY GAINES SHREDS BIDEN PROMISE TO VETO BILL PROTECTING WOMEN'S SPORTS: 'CATERING TO A RADICAL MINORITY'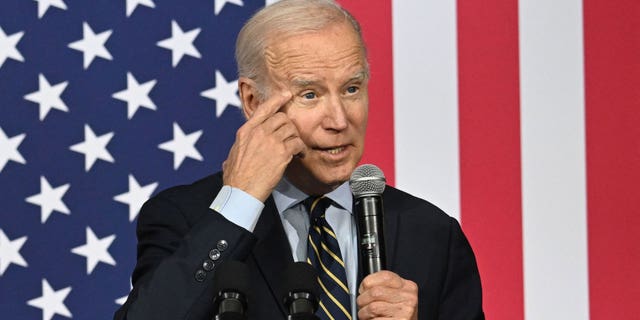 President Joe Biden speaks about the economy at the International Union of Operating Engineers Local 77 facility in Accokeek, Maryland, on April 19, 2023. (JIM WATSON/AFP via Getty Images)
Dansky said she wasn't surprised to hear Biden's vow to veto the bill should it pass through Congress, and emphasized that she is a Democrat while blasting the party over its stance on the issue.
"I am a registered Democrat and always have been, and I think it's the height of hypocrisy for Democratic leadership, including the president, to champion the rights of women and girls to abortion, which we totally support, while simultaneously denying the rights of women and girls to single sex spaces," she said.
Lierre Keith, the board chair of the Women's Liberation Front, echoed Dansky in her determination to protect single-sex sports.
"Women and girls deserve to play in athletic competitions that are fair and safe. Single-sex sports are critical to ensuring equal opportunity, scholarships, and careers, and new 'gender identity' policies threaten to set women back decades in progress," she said in a statement.
BIDEN TO VETO GOP BILL PROTECTING WOMEN'S SPORTS, CALLS IT 'DISCRIMINATION' AGAINST TRANSGENDER STUDENTS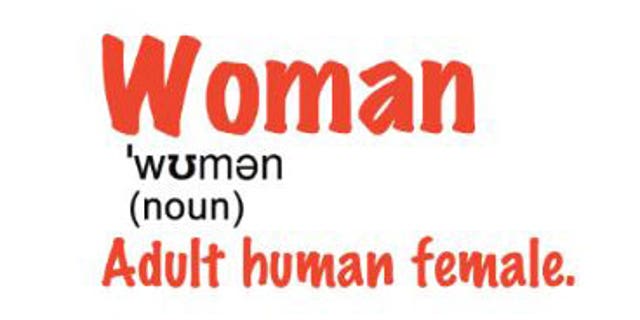 An image of a Women's Declaration International USA postcard describing the definition of a "woman" as an "adult human female." (Women's Declaration International USA)
"Girls who play sports demonstrate higher levels of confidence and positive body-image, achieve better grades in school, and are more likely to graduate. Additionally, even the fastest female Olympians are still out-run by high school boys, and biological differences between males & females are not even remotely changed by hormones or surgery," she said.
Keith added that "most 'gender identity' policies" don't require physical or hormonal changes for men to identify as women and compete in the same sport, and cited polling showing Americans largely disagree with allowing "trans-identified boys and men" to compete against girls and women.
"For all these reasons, we strongly support the Protection of Women and Girls in Sports Act," she said.
Rep. Greg Steube, R-Fla., who introduced H.R. 734 earlier this year, celebrated his partnership with both groups while speaking with Fox on Wednesday, describing it as an "interesting bipartisan conglomerate" coming together to protect women's sports.
WATCH: BIDEN FLUBS JOBS NUMBERS DURING SPEECH TO LABOR UNION, REPEATS 'MISLEADING' DEFICIT CLAIM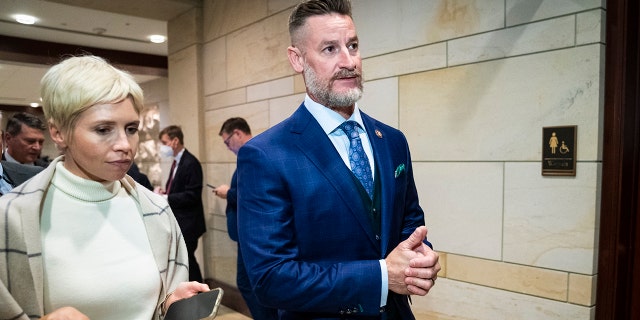 Rep. Greg Steube, R-Fla., heads to a closed-door Republican leadership candidate forum on Nov. 14, 2022 in Washington, D.C.  (Jabin Botsford/The Washington Post via Getty Images)
He predicted the bill would pass the House of Representatives on Thursday when it comes to the floor for a vote, and that a number of Democrats would also support it. He was unsure, however, of the outcome in the Senate.
"I would imagine, depending on how many Democrats end up voting, that will probably give it a lot of support. But I think the other piece that's really important here is after three or four years of working on this, we're finally going to have the opportunity to know where every single member of Congress is on this very important issue," he said.
On Biden's vow to veto the bill, and the possibility there wouldn't be enough votes to override the veto, Steube expressed hope there would be lawsuits because the administration's changes to Title IX didn't pass through Congress and were implemented by executive order. He also tied in the implications for those seeking the White House in 2024.
CLICK HERE TO GET THE FOX NEWS APP
"I'm sure any Republican who's going to be the nominee is going to support this bill coming through. So that's going to be an issue that parents are going to vote for coming to the midterm or to the presidential election, and that 73% of Americans that support protecting women's sports are going to know that this administration is not in touch with America on this," he said.