A low-resolution video has emerged appearing to show Wagner Group mercenary leader Yevgeny Prigozhin in public for the first time since his short-lived mutiny.
The video was posted to Prigozhin's Telegram account Wednesday, showing the mercenary commander addressing his soldiers as they arrive in Belarus.
"Welcome guys. I am happy to greet you all. Welcome to the Belarusian land. We fought with dignity. We have done a lot for Russia," the video captures him telling Wagner Group mercenaries, according to translations from The Hill.
PUTIN HELD MEETING WITH WAGNER CHIEF PRIGOZHIN DAYS AFTER THWARTED MUTINY, SAYS KREMLIN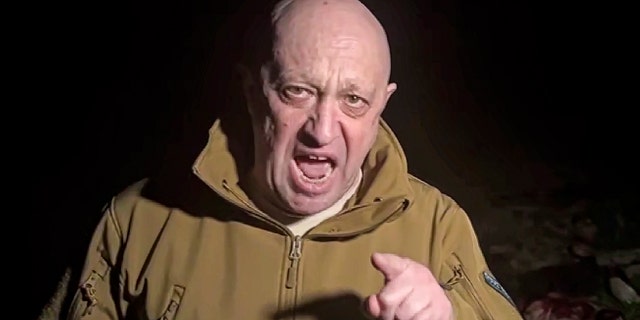 In this handout image taken from a video released by Prigozhin Press Service on May 5, 2023, the head of the Wagner Group, Yevgeny Prigozhin, stands in front of multiple bodies on the ground in an unknown location. (Prigozhin Press Service via AP, File)
BIDEN JOKES PRIGOZHIN SHOULD WATCH WHAT HE EATS AFTER RUSSIAN REBELLION
"We need to wait for the moment when we can show ourselves in full," he added. "That is why a decision has been made that we would spend some time here in Belarus. During that time, we will make the Belarusian army the second-strongest army in the world. We will train, raise our level and set off for a new journey to Africa."
Russian President Vladimir Putin said he offered Wagner mercenaries a chance to serve under the same commander during a meeting just days after their mutinous march on Moscow was thwarted.
Fox News Digital's Chris Pandolfo contributed to this report.