Hundreds of thousands of people remained without power Friday in eastern Canada two days after a storm left parts of Quebec and Ontario coated in ice, causing tree limbs to break and fall on power lines.
The vast majority of the active outages were reported in Quebec.
Authorities also reported a third storm-related death.
185,000 WITHOUT POWER, UP TO 3 FEET OF SNOW REPORTED IN NOR'EASTER'S WAKE
In Saint-Joseph-Du-Lac, Quebec, police Inspector Jean Philippe Labbé said a woman found her husband unconscious in the garage where he was running a generator.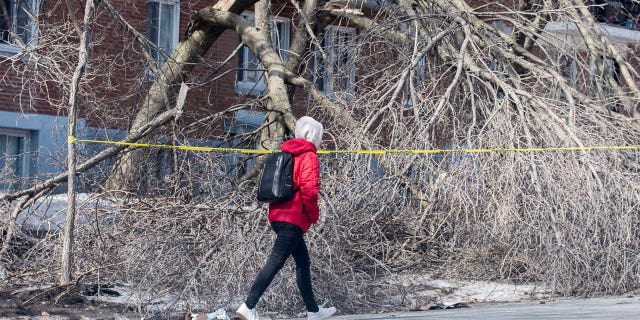 Hundreds of thousands of Canadians have been left without power in the wake of a severe ice storm. (Graham Hughes /The Canadian Press via AP)
Labbé said the 75-year-old died after being taken to hospital. He said firefighters determined carbon monoxide levels in the garage were 20 times the norm.
Montreal's health authority said dozens of people suffered from carbon monoxide poisoning after using outdoor appliances inside during the blackout caused by Wednesday's ice storm.
SCHOOLS CLOSED, POWER OUT AS WINTER STORM TEARS THROUGH NEW ENGLAND, NYC METRO
Officials say they received more than 60 reports of CO poisoning over the course of several hours Friday, while emergency rooms were at 200% capacity.
A death also occurred in Les Coteaux, Quebec, where a man died while attempting to cut down tree branches on his property Thursday. Provincial police said the man was struck by a branch and died at the scene.
CLICK HERE TO GET THE FOX NEWS APP
Ontario Provincial Police said another man died Wednesday after he was struck by a falling tree branch at his home in South Stormont, Ontario.