Oregon Senate Democrats plan to start fining their absent colleagues amid a month-long Republican walkout, a move they hope will pressure boycotting lawmakers to return to the chamber as hundreds of bills languish amid the partisan stalemate.
In a procedural move Thursday, Democrats voted to fine senators $325 every time their absence denies the chamber the two-thirds quorum it needs to conduct business. The amount reflects lawmakers' average daily pay, according to the office of Democratic Senate President Rob Wagner.
"Oregonians work for a living every day, and they don't get paid when they don't show up," Wagner said while addressing the Senate. "We have a huge stack of bills sitting right over there on that cart, just waiting for us to take them up, to debate and to vote."
REPUBLICAN BOYCOTT OVER OREGON'S DEMOCRATIC-LED BILLS ENTERS 5TH WEEK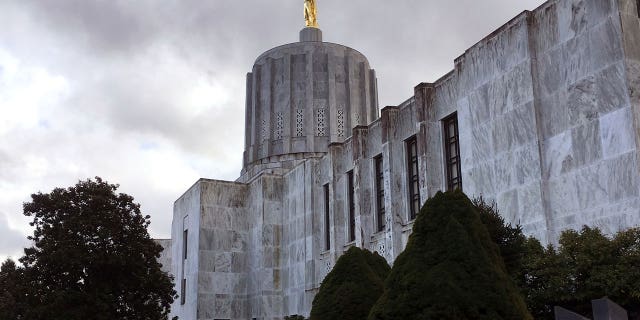 Clouds hover over the Oregon Capitol on Jan. 11, 2018, in Salem. Oregon Senate Democrats plan to start fining their absent colleagues as the state's Republican-led boycott hits a one-month mark. (AP Photo/Andrew Selsky, File)
Most Republican senators haven't shown up for floor sessions since May 3, denying quorum and stalling hundreds of bills, including ones on abortion, gender-affirming care and gun control that have sparked fierce debate in the Legislature.
Knopp has said Republicans will only return to the Senate on the last day of the legislative session, June 25, to pass the budget and "bipartisan" bills.
Democratic Gov. Tina Kotek said Wednesday that her talks to end the impasse have failed and that Knopp wants the bill on abortion and gender-affirming care to be "substantially amended or dead."
But the text of the measure says disqualification applies to "the term following the election after the member's current term is completed." Republicans are taking that as meaning that boycotters who are up for reelection in 2024 could be candidates, since their current terms end in January 2025 — with the disqualification coming for the 2028 election.
CLICK HERE TO GET THE FOX NEWS APP
Secretary of State spokesperson Ben Morris said the department is seeking a legal opinion from the Oregon Department of Justice and will follow its advice. The Justice Department is currently working on the legal opinion, Roy Kaufmann, spokesperson for Attorney General Ellen Rosenblum, said in an email Wednesday.