As millions celebrate their dads and grandfathers this Father's Day, there are millions who won't or cannot.
Fatherlessness is a major problem in the United States.
Some 40% of children do not live with their biological fathers.
The statistics show fatherlessness causes a lot of other problems in children. Depression, drug abuse, teen pregnancy and even criminal behavior and suicide are all higher for children who grow up without fathers.
Then there's the other problem of a dad present in the home but one who is a "no-show" in every other way for his children.
Said Teis, "He's physically present, but he's absent mentally, emotionally and spiritually, and he's not nurturing them."
On a recent episode of "Lighthouse Faith" podcast, Teis talked about the ministry he created called God Is My Dad. It helps children and single mothers navigate the treacherous waters of life with and without a dad.
Dads, said Teis, are "there to affirm their child. A dad provides security for his daughters and teaches them who they should be and how they can be a young lady — and how they should respect themselves." He added, "A dad teaches a boy how to process anger and how to be a man."
What Teis described is a biblical worldview of fatherhood.
WE CAN 'TRUST GOD'S HEART' ON FATHER'S DAY AND EVERY DAY, SAYS WASHINGTON FAITH LEADER
A 2018 Washington Post Op-ed was titled, "Why Can't We Hate Men?"
In 2017, a tweet expressing a Huffington Post editor's New Year's resolution was to "Kill all men."
A T-shirt available for sale says, "So many men, so few bullets."
If those sentiments were expressed about any other group, there would be outrage. But there is none.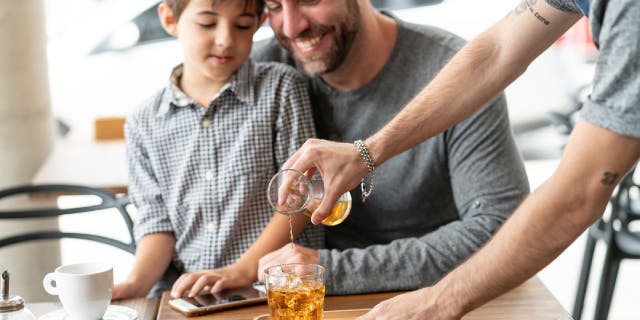 Dads are there to affirm their children, said one Pennsylvania pastor.  (iStock)
How about plain economics?
This year people spent $35.7 billion on Mother's Day. It's projected that Father's Day spending this year will be around $23 billion.
'Two competing scripts for masculinity' 
Author and professor Nancy Pearcey said in an interview that the problem is this: "There are two competing scripts for masculinity."
They are the "God Man" vs. the "Real Man."
Pearcey said, "Men are made in God's image, and they do know innately what it means to be a good man. They do know that their unique masculine strengths are not given them just to get whatever they want … but to provide, protect and take care of the people that they love."
"Evangelical family men who attend church regularly test out as the most loving husbands and the most engaged fathers."

Those accusations ignore the data from social science, said Pearcey.

She said, "So they [the researchers] went out and did the studies, and they found just the opposite, that the media message is completely wrong and that evangelical family men who attend church regularly — so, you know, really committed, authentic Christian men — actually test out as the most loving husbands and the most engaged fathers."

Lauren Green is chief religion correspondent at Fox News Channel and host of "Lighthouse Faith" podcast. She interviewed Pastor Sean Teis and professor and author Nancy Pearcey for their thoughts on fatherhood today and why it's under attack — and how to address a very real concern. (Fox News)

So why the misguided message?
When people in general take a godly directive and twist it to mold to a sinful nature, the results can be worse than if they were not religious at all, she suggested.
Most surveys take the Christian men as a whole and then average out the numbers, rather than look at men who truly practice their faith and submit to the headship of Christ.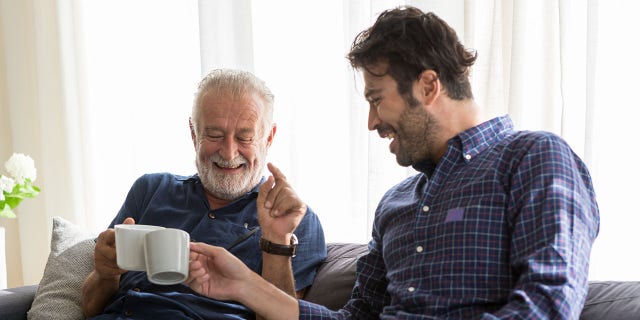 Families in the 21st century have to work harder to help men take their place as men made in God's image, said one professor and author interviewed by Lauren Green.   (iStock)
Pearcey's research revealed that one of the key factors in the rise of "toxic masculinity" is the Industrial Revolution.
As she notes in her new book, "Before the Civil War, 90% of American freemen owned their own farms, shop, or small-craft business."
Generations of boys in America have been separated from that "day-in, day-out" contact with their fathers. 

So fatherlessness often begets fatherlessness.

Teis said that looking to God as his father was the only way he was able to break the cycle and be there for his own son.

CLICK HERE TO GET THE FOX NEWS APP

Both Teis and Pearcey said there are millions of people suffering from what psychologists call "the father wound."

Still, as one theologian said, "There is no earthly pain that heaven cannot heal."