Oklahoma City police have arrested two suspected Bandidos biker gang members as court documents reveal how the group allegedly surrounded a roadside saloon and ambushed a rival leader in a deadly shootout over the weekend.
The Bandidos are an international biker gang that the FBI has described as an "outlaw" organization.
Eric Oberholtzer, 29, the city's chapter president of a group called the Homietos Motorcycle Club, was under investigation for a prior shooting targeting Bandidos members in Texas when he died in a hail of gunfire Saturday, court documents show.
Two members of Bandidos-affiliated groups also died in the crossfire: Andrew Sump, 28, who was identified Thursday after notification of next-of-kin, and Francisco Tanajara, 38.
OKLAHOMA CITY OUTLAW BIKER BOSS JUMPED, KILLED NEARLY YEAR TO DAY AFTER TEXAS GUNFIGHT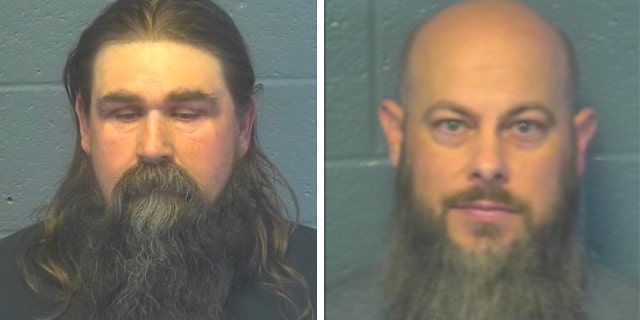 Douglas Jacobs, left, and Nicklus Sweet, two alleged Bandidos biker gang members, have been charged in connection with a bike gang shootout at the Whiskey Barrel Saloon in Oklahoma City that left three men dead and three people wounded. (Oklahoma City Police Department)
Tyler Myers, 34, an alleged Homieto who was hospitalized with multiple gunshot wounds after the fight, was arrested on first-degree murder charges shortly after the attack.
Court documents show that after reviewing surveillance video from the Whiskey Barrel Saloon, police learned that Myers had been attacked from behind and shot in the back in the melee.
"It is believed that [Sweet] and other members of the Bandidos Motorcycle Club came to this bar, with support clubs, for the purpose of attacking the Homietos and acting in concert," one of the documents, obtained by Fox News Digital, reads.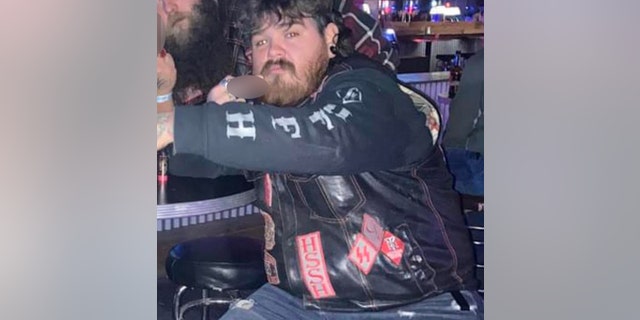 Eric Oberholtzer was the Oklahoma City chapter president of the Homietos Motorcycle Club, according to police in Texas, who were investigating him in connection with a shooting off Interstate 45 before he was killed in a barroom gunfight. (Eric Oberholtzer / Facebook)
OKLAHOMA CITY BIKER GANG SHOOTOUT LEAVES 3 DEAD, 3 INJURED; 1 ARRESTED ON MURDER CHARGES, POLICE SAY
The videos, as described in the filings, show "a large group of motorcycles arrive and surround the bar just prior to the shooting."
The Whiskey Barrel Saloon attack came almost exactly a year after Oberholtzer and other Homieto members allegedly opened fire on a group of Bandidos in Texas. Suspected Bandidos members and others "maintained posts around the building as if for security."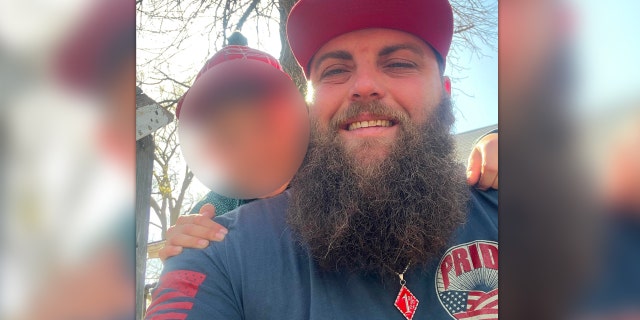 Oklahoma City shooting suspect Tyler Myers wears a "1%er" pendant in a Facebook photo. He was one of six people shot in a biker gang-related shootout over the weekend, according to authorities, and faces a charge of first-degree murder for his alleged role in the brawl. (Tyler Myers/Facebook)
Graphic Content Warning
Violence broke out when seven Bandidos-affiliated men followed Oberholtzer and alleged fellow Homieto Myers into the bar and struck Myers from behind.
The scuffle escalated quickly when men on both sides pulled out guns. Oberholtzer shot Tanajara. Sump shot Oberholtzer.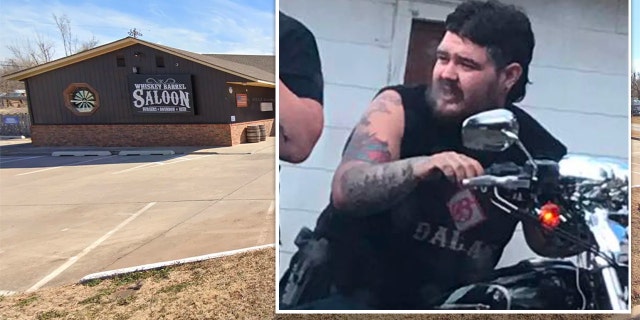 Eric Oberholtzer, the alleged leader of the Homietos Motorcycle Club in Oklahoma City, was killed in an ambush shootout involving the rival Bandidos biker gang Saturday, court documents reveal. (Google Maps, Eric Oberholtzer/Facebook)
Douglas Jacobs, 47, allegedly entered the fray and shot Oberholtzer, who died while trying to change magazines, according to court documents.
The wounded Myers turned around and allegedly fired a killing shot into Sump and stumbled out of the building, where Nicklus Sweet, 42, allegedly crept around the corner and shot him multiple times in the back.
Read the affidavit against Nicklus Sweet (Mobile Users go here)
"[Myers] had his back towards Nicklus Sweet at this point and was completely defenseless," the affidavit reads.
The videos led police and U.S. Marshals to arrest alleged Bandidos Jacobs and Sweet, according to the court filings.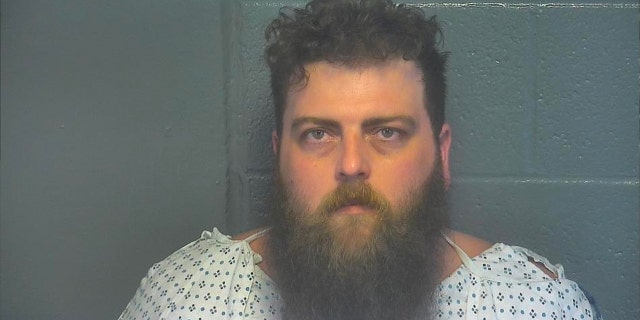 Alleged biker gang member Tyler Myers was arrested after being released from a hospital in connection with a Saturday shootout at the Whiskey Barrel Saloon in Oklahoma City. (Oklahoma County Detention Center)
Jacobs has been charged with first-degree murder, accessory to murder, conspiracy and possession of a firearm during the commission of a felony for allegedly shooting Oberholtzer.
Read the affidavit against Douglas Jacobs (Mobile users go here)
Sweet faces charges including shooting with intent to kill, being a felon in possession of a firearm, accessory to murder and conspiracy after allegedly shooting Myers in the back.
Court records show Sweet has a lengthy rap sheet across several Oklahoma counties, including multiple charges of assault, firearms charges, evading police and vehicular theft.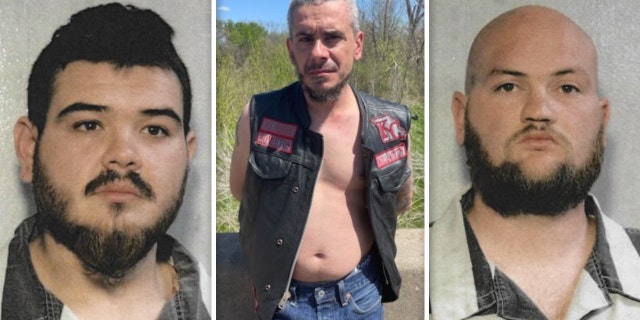 From left, Texas shooting suspects Eric Oberholtzer, Mahir Alihodizic and Christopher Daniel Holt, all alleged members of the Homietos Motorcycle Club arrested in connection with a Texas highway shooting last year targeting rivals. (Madisonville Police)
Tanajara had arrived with the group of Bandidos, but his affiliation was not immediately clear from the court filings. Oberholtzer was chapter president of Oklahoma City's Homietos biker gang, according to police investigating the Texas incident.
SERIAL KILLER BTK REVEALS HE'S BEEN QUESTIONED AGAIN IN 1976 COLD CASE KIDNAPPING OF OKLAHOMA'S CYNTHIA DAWN KINNEY
Read the affidavit against Tyler Myers (Mobile users go here)
Myers was charged with first-degree murder after his release from the hospital and was being held without bail at the Oklahoma County Detention Center.
Jacobs and Sweet were both being held on $20,000,000 bail, according to jail records.
Two others were injured — Clayton Owens, 36, and Felicia Wallace, 35.
Wallace was an innocent bystander who was in the bar working as a DJ or as part of a karaoke event, police told Fox News Digital.
CLICK HERE TO GET THE FOX NEWS APP
A Facebook profile under Owens' name includes an image of a man wearing a patch on his vest that says, "I Support Bandidos MC." Police have not alleged his involvement in the violence, and he had not been charged with a crime as of Thursday.
Police said additional charges are possible and are asking anyone with information to call their tip line at 405-297-1200.