Former President Obama is fundraising for President Biden as his Democratic rivals for the White House in 2024 gain steam.
Obama sent out a fundraising email Thursday supporting Biden and Vice President Harris following his announcement on Tuesday about running for reelection.
"I know firsthand that the presidency doesn't change who you are," Obama wrote. "It reveals who you are."
BIDEN KICKED OFF RE-ELECTION CAMPAIGN WITH UNION BOSS WHO USED HUNTER BIDEN TO GET WH ACCESS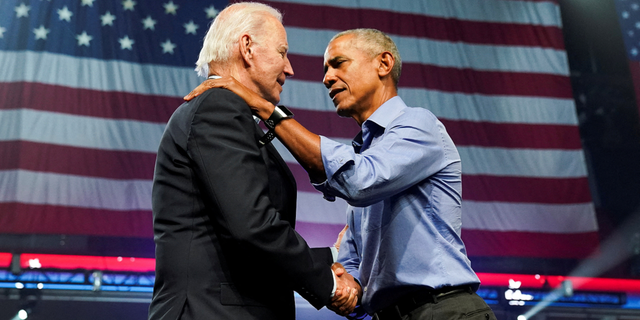 Former President Obama sent out a fundraising email supporting President Biden after the latter announced his re-election ticket with Vice President Kamala Harris on Tuesday. (REUTERS/Kevin Lamarque TPX IMAGES OF THE DAY)
"Over the past two years, we have seen Joe Biden's decency, his empathy, and his belief that everybody counts on full display," the 44th president continued. "That's who he is."
"That's why I'm asking you to support Joe and Kamala's campaign for re-election. I know how important it is to have a surge of support in the first few weeks of a campaign," Obama said. "So please, make a $50 donation to their campaign now."
Obama then encouraged recipients to donate to the Democratic online fundraising apparatus ActBlue in increments of $50.
Obama wrote that the "only way to make our democracy stronger is to fight for it" and that we "can't take it for granted."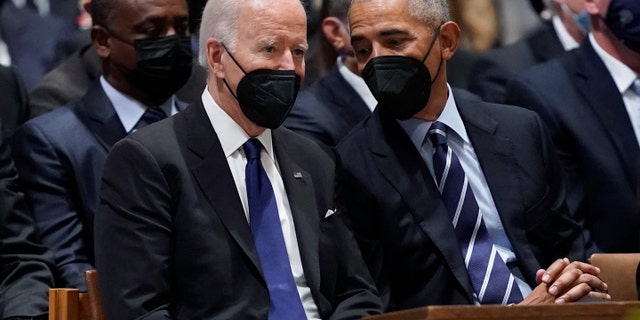 President Joe Biden, left, talks with former President Barack Obama, before the start of the funeral service for former Secretary of State Madeleine Albright at the Washington National Cathedral, Wednesday, April 27, 2022, in Washington. Former President Bill Clinton and former Secretary of State Hillary Clinton are right.  (AP Photo/Evan Vucci)
"And that starts with electing leaders who know you, who see you, and who care about you," Obama wrote. "You know that, Kristen. It's why, two years ago, you sent Joe Biden and Kamala Harris to the White House."
"Since then, they've been fighting for you every day: doing whatever they can to put more money in your pocket, to make our streets safer, and to create more jobs across the country," the former president wrote.
ROBERT F. KENNEDY JR. GAINS SIZABLE CHUNK OF BIDEN VOTERS AT PRESIDENTIAL LAUNCH: POLL
Obama wrote that just "like in every election, the most basic question you should be asking yourself right now is: who will fight for you?"
"The answer is clear," Obama said before asking again for money.
While Obama and Biden have appeared friendly at public events, Politico reported on tensions between the Democratic leaders during the 2020 presidential campaign. One Democrat who spoke to Obama said he warned, "Don't underestimate Joe's ability to f— things up." Obama also reportedly said, "And you know who really doesn't have it? Joe Biden," to another 2020 Democratic candidate.
Fox News Digital also previously reported that Hunter Biden and his inner circle repeatedly criticized Obama and called his top strategist, David Axelrod, a "giant a–hole."
Obama's fundraising email comes as Biden faces down two Democratic challengers who are gaining traction in the polls.
According to a Fox News poll, Democratic presidential candidates Robert F. Kennedy, Jr., and Marianne Williamson combined carry 28 percent of the blue vote.
Kennedy carried 19 percent, while Williamson carried 9 percent.
Biden is sitting at 62 percent support from Democrats, according to the poll.
According to a Suffolk/USA Today poll last week, Biden's support among Democrats sat at 67 percent, having lost 14 percent of his support to Kennedy at his launch.
Williamson, a longshot candidate and spiritual advisor by trade, carried 5 percent of the vote, while 13 percent of voters were undecided.
A five-point shift away from Biden and rising support among Democrats for Kennedy and Williamson shows that support is shifting within in the Democratic Party.
CLICK HERE TO GET THE FOX NEWS APP
Despite multiple candidates in the Democratic primary, the Democratic National Committee (DNC) has thrown its hat behind the president's re-election ticket and is not planning to hold primary debates.
The DNC was not spared from Democrat criticism, though. Williamson and others decried the lack of debates, although it is common for the party in power to avoid primary elections when in control of the White House.