New York Times military correspondent David Philipps ripped his employer over its coverage of the massive intelligence leaks.
On social media, Philipps accused the paper of having a double standard, stating it would've tried to protect the identity of the leaker if he had given his information to the Times, as opposed to "feverishly" tracking him down, as he claimed they've done.
The New York Times reported the identity behind the leak of U.S. military intelligence many have described as the largest information leak in U.S. history. The paper identified the leaker as 21-year-old National Guard airman Jack Teixeira.
PENTAGON DOCUMENT LEAK HAS IMMEDIATE IMPACT ON NATIONAL SECURITY: SUCKS UP 'A LOT OF OXYGEN'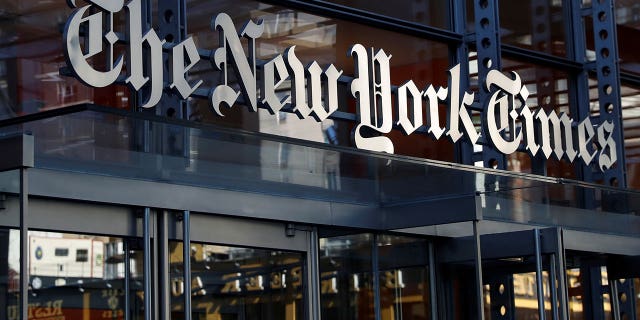 The New York Times was blasted by its own military correspondent recently for its coverage of the intelligence leaker. (REUTERS/Shannon Stapleton/File Photo)
According to reports, Teixeira's arrest came less than two hours after the New York Times identified him as the leaker.
On Twitter, Philipps called out the paper, writing, "The NYT worked feverishly to find the identity of the guy leaking TS docs on Discord. Ironically, if they same guy had leaked to the NYT, we'd be working feverishly to conceal it."
It appears that Philipps deleted the tweet after posting. In a subsequent post, the military correspondent seemed to allude to the missing tweet, writing, "I just deleted a tweet that lacked nuance. Much more nuance coming soon."
WHO IS JACK TEIXEIRA, THE AIR NATIONAL GUARDSMEN ALLEGEDLY BEHIND LEAKED CLASSIFIED DOCUMENTS?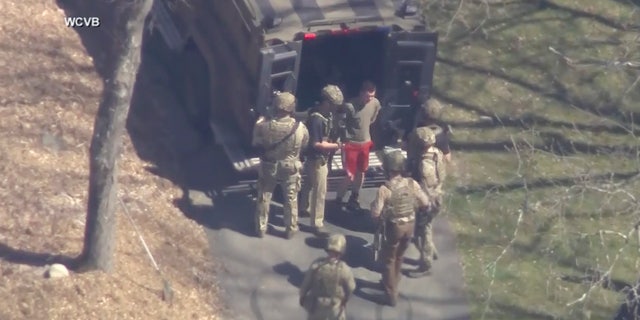 This image made from video provided by WCVB-TV, shows Jack Teixeira, in T-shirt and shorts, being taken into custody by armed tactical agents on Thursday, April 13, 2023, in Dighton, Mass. (WCVB-TV via AP) (WCVB-TV via AP)
Independent journalist Glenn Greenwald saved a screenshot of Philipps' controversial post, and commented, "I had a strong feeling that the NYT's military reporter, @David_Philipps, would end up deleting his tweet (or being told to delete it) given what a revealing admission he made. So I screen-shot it last night just in case. It's actually an amazing and important confession."
Teixeira has been accused of leaking classified materials to online social platform Discord. As Fox News Digital reported, "Photographs showing classified intelligence briefings detailing Ukraine's combat abilities, information about the Ukrainian and Russian militaries, and highly sensitive analysis of U.S. allies and adversaries, including China," were among the materials.
Fox added, "Teixeira joined the Air National Guard in September 2019 and worked as a cybersecurity systems journeyman, a position in which he held the highest level of security clearance granted by the federal government for top secret information."
CLICK HERE TO GET THE FOX NEWS APP
The FBI arrested Teixeira at his Massachusetts home on Thursday. Teixeira is being investigated for what Attorney General Merrick said was the "alleged unauthorized removal, retention and transmission of classified national defense information."
If convicted, the National Guard airman could face up to 15 years in prison.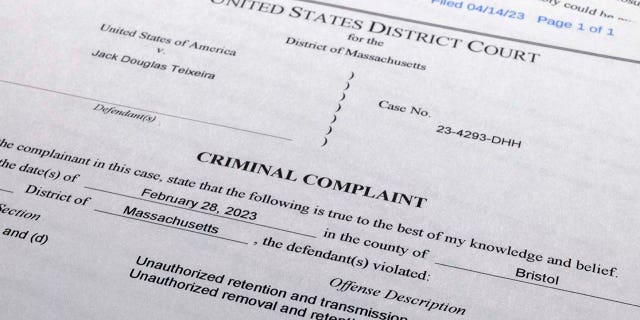 The criminal complaint against Jack Teixeira is photographed Friday, April 14, 2023. The Massachusetts Air National Guardsman appeared in court on Friday in Boston, accused in the leak of highly classified military documents.  (AP Photo/Jon Elswick)