Democrat New York City Mayor Eric Adams faces increasing criticism for the migrant crisis in the Big Apple after he suggested that some private residences should eventually begin taking in migrants.
The Spectator editor-at-large Ben Domenech joined the "Faulkner Focus" on Tuesday to respond to Adams' idea for the city to start paying homeowners and landlords to house migrants in spare rooms.
"It's as if all of these sanctuary cities are being called on their bluff," said Domenech.
NEW YORK CITY MAYOR ERIC ADAMS ENACTS 'HOMELESS BILL OF RIGHTS' TO STRENGTHEN LEGAL PROTECTIONS FOR HOMELESS PEOPLE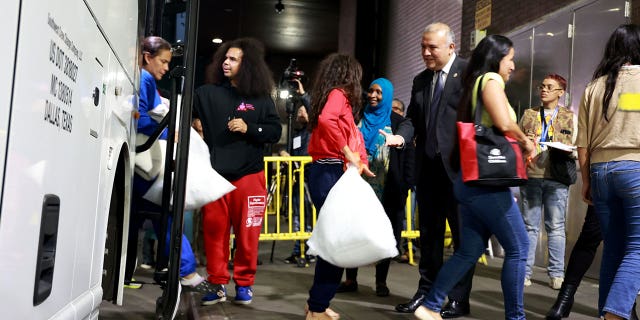 Mayor's Office of Immigrant Affairs Commissioner Manuel Castro, center, a former illegal immigrant himself, welcomes migrants as they arrive at the Port Authority Bus Terminal in Midtown Manhattan, New York City. (Luiz C. Ribeiro)
Domenech called out liberal leaders like Adams who champion their sanctuary city status but do not know what to do when the problem actually hits their city.
"When they're actually called to provide those types of services, they have to run pell-mell to find some new solution because they don't have the capability to do it, to handle this challenge that's on their doorstep," he told host John Roberts.
Adams' comments came on the heels of reports about migrants causing problems at hotels and outrage from New Yorkers when migrants were brought to school gymnasiums.
The New York Post reported that the city's Office of Management and Budget pays about $380 a night for a household to eat, sleep and get services at hotels that act as shelters.
Under Adams' new plan, houses of worship would be significantly cheaper at about $125 per night.
CLICK HERE TO GET THE FOX NEWS APP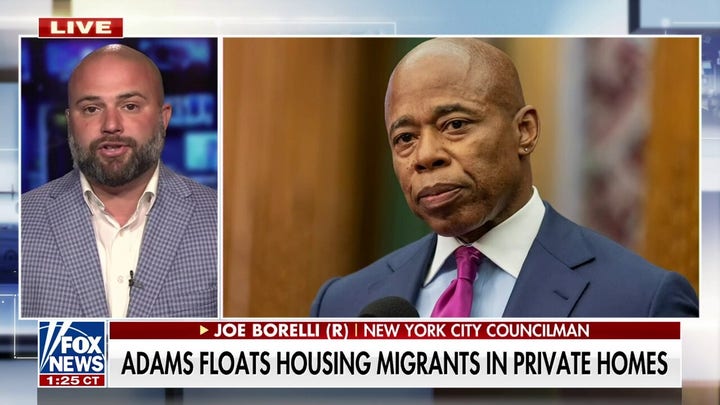 Video