Five men in New York City were indicted on Tuesday for allegedly operating a scheme that involved drugging suspects before robbing, or even killing them, according to the Manhattan District Attorney.
Manhattan DA Alvin Bragg, alongside Mayor Eric Adams and New York City Police Commissioner Keechant Sewell announced the indictment of Jayquan Hamilton, 35, of Brooklyn; Robert Demaio, 34, of Brooklyn; Jacob Barroso, 29, of New Britain, Connecticut; Andre Butts, 27, of Brooklyn; and Shane Hoskins, 30, of New York City.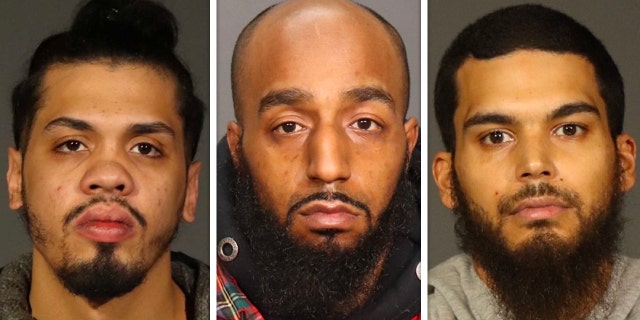 The NYPD released these images of three of the suspects, Jayqwan Hamilton, Robert Demaio and Jacob Barroso on Friday, March 31, 2022.  (NYPD)
All five suspects face charges of first-degree robbery, fourth-degree conspiracy and several other counts of identity theft and grand larceny.
BANK ACCOUNTS OF NEW YORK 'ROOFIE MURDER' VICTIMS DRAINED VIA FACIAL RECOGNITION TECHNOLOGY
According to a press release from Bragg's office, the five men are accused of drugging individuals they met outside of bars and nightclubs so they could steal their cell phones, credit cards and other personal information.
Hamilton, Demaio and Barroso also face charges of second-degree murder.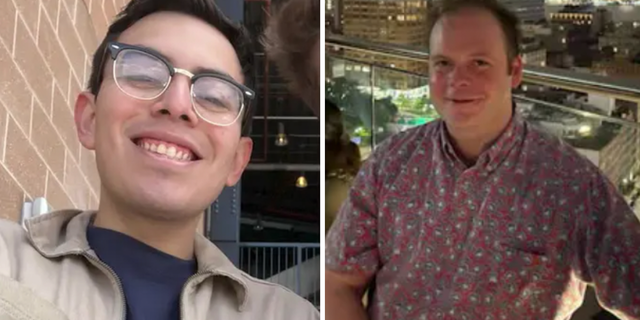 John Umberger, who died in May in Manhattan after going out to a gay bar. (Photo provided by Linda Clary) Julio Ramirez was discovered dead in the back of a cab in Manhattan in April.  (Fox 5/Linda Clary )
The press release said that from March 2021 to July 2022, the five men worked a scheme to forcibly steal property from their victims using drugs.
NEW YORKERS ENDURE RANDOM ATTACKS AS TOP COP FOCUSES ON TRUMP INDICTMENT
They would identify people walking out of bars or nightclubs with the intent of either incapacitating them or inhibiting their perception of their surroundings, the DA said, before taking their cell phones and credit cards, then conducting money transactions and dividing the proceeds.
For instance, on April 8, 2022, Hamilton, Barroso, Butts and Hoskins allegedly approached a 22-year-old at a nightclub in midtown, entered the victim's apartment, offered the victim and another individual drugs, then stole a cell phone, laptop, wallet, credit card and prescription medications.
In another incident on April 21, 2022, Hamilton and Barroso met Julio Ramirez outside of the Ritz Bar.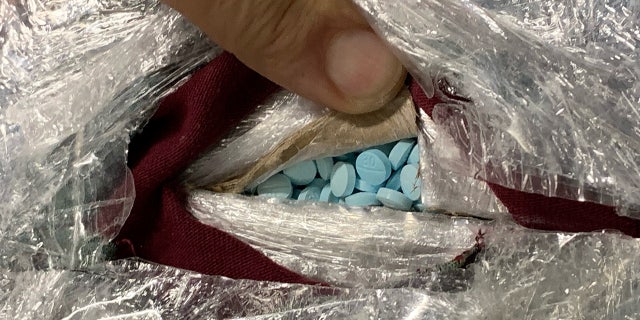 The investigation resulted in the seizure of about 32,000 fentanyl pills with a street value of $1 million. (NYC Special Narcotics Prosecutor's Office)
"Less than an hour later, they left him incapacitated in a cab," the release read, adding that Ramirez died of a combination of drugs that included heroin, fentanyl and P-fluorofentanyl.
NYC POLICE ARREST 2 MEN IN CONNECTION WITH MANHATTAN NIGHTCLUB ROBBINGS, DRUGGINGS
The suspects then are accused of taking several things from Ramirez, including a cell phone, before Demaio, who was charged as an accomplice, allegedly made several unauthorized transactions amounting to $3,200.
Hamilton and Butts were also accused of purchasing sneakers with credit card information stored on Ramirez's phone.
The two men also allegedly met John Umberger on May 28th as he left The Q in New York City.
Nearly an hour and a half later, Umberger was dead in his apartment with a combination of fentanyl, P-fluorofentanyl and other drugs in his system.
Hamilton is accused of taking thousands of dollars from Umberger's credit card accounts, while he and Butts allegedly made over $3,500 in unauthorized purchases.
The investigation is ongoing, and the DA's office encourages anyone who believes they fell victim to similar incidents to call the helpline at 212-335-9040.
"Our entire city continues to mourn the tragic losses of Mr. Ramirez and Mr. Umberger," Bragg said. "In addition to the pain their deaths have caused for their family and loved ones, I know that many other New Yorkers have feared for their own safety when going out to meet up with friends."
CLICK HERE TO GET THE FOX NEWS APP
The DA's office also said it has an ongoing investigation into a separate string of fatal overdoses, which ultimately lead to the December 2022 indictment of Kenwood Allen.