Australian politician says male colleague used to 'breathe on' her neck in parliament
Top Australian politician alleges she faced sexual harassment by male colleague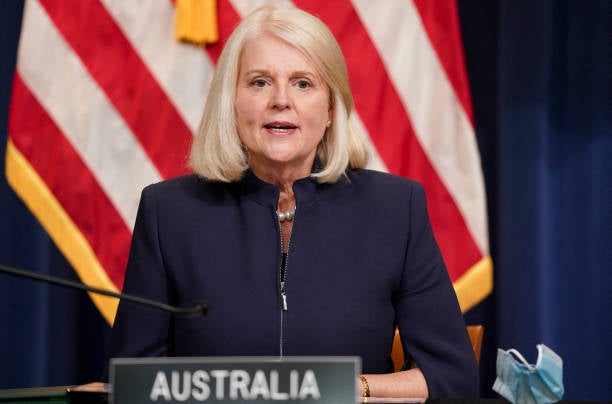 A top Australian politician alleged she faced sexual harassment by a male colleague inside the country's parliament.
Karen Andrews, a senior conservative politician from the opposition Liberal party who served as Australia's home affairs minister in the past, accused an unnamed male colleague on Tuesday of "breathing on the back of her neck" during Question Hours.
"I'd just be sitting there minding my own business and I would have the back of my neck breathed on and if I asked a question, it would be: 'That was a great question, thrusting and probing'," Ms Andrews, who served as cabinet minister under former prime minister Scott Morrison, told ABC.
"But do you know what the issue is? Well, there would be people that would say: 'Can't you take a joke?'... and sometimes I do call it out, but sometimes I just go: 'I can't be in every fight'."
Australia's new sex discrimination commissioner said she was appalled to hear the allegations.
"It appals me that any woman, any person, would have to experience that breathing down the neck," Dr Anna Cody told Radio National.
"There is a change that needs to happen and I think there is a commitment to doing that change," she said.
Labor frontbencher Julie Collins also denounced the incident, adding she "was not aware" of the alleged conduct but was "very sorry that that has happened".
"It shouldn't happen to anybody in any Australian workplace," she told ABC TV.
"And the Australian parliament should be setting the [standard].
"We need better from everybody that works in that building. And that's why we're so determined to improve the conditions for the people that work in the Parliament House. But we shouldn't have that type of behaviour. That is just appalling."
Shadow foreign affairs minister Simon Birmingham from the Liberal party said this was the first time he heard of Ms Andrew's complaint.
"I, first and foremost, urge people across the parliament to use appropriate processes," he was quoted as saying by The Guardian.
"If there are issues that people need to discuss with the leadership within their own parties or otherwise, of course, they should feel free to do that as well."
This is not the first time issues of sexual harassment inside the Australian parliament have been raised.
In June this year, David Van, a lawmaker from Ms Andrews's Liberal party, was expelled after allegations of "inappropriate touching" surfaced against him.
The allegations against him were made by former Liberal senator Amanda Stoker and independent senator Lidia Thorpe. Mr Van continues to be a lawmaker independent of party affiliation in the Australian parliament.
Earlier in 2021, a report aimed at clearing up work culture in Australia's parliament and government offices found a third of employees were sexually harassed at their workplace, according to a Bloomberg report.
Join our commenting forum
Join thought-provoking conversations, follow other Independent readers and see their replies