NEW YORK CITY – New Yorkers criticized the Manhattan district attorney for downgrading some serious criminal charges as he arrested former President Trump amid concerns over the city's violent crime.
"If you want to prosecute crime, prosecute crime — real crime," Taysha told Fox News. "This is not a real crime."
NEW YORKERS CRITICIZE MANHATTAN DA BRAGG AMID CITYWIDE VIOLENT CRIME. WATCH: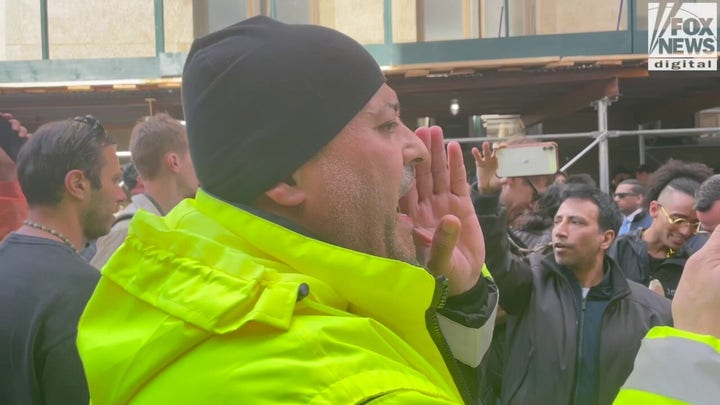 Video
WATCH MORE FOX NEWS DIGITAL ORIGINALS HERE
But another long-time New York resident supported Manhattan District Attorney Alvin Bragg. He said Trump's supporters have preached for the prosecution of criminals to the full extent of the law, which should include the former president.
"If they want criminals in jail, throw Trump in," Rick said. "Trump is a criminal."
DA ALVIN BRAGG'S CHIEF PROSECUTOR SAID CRIMINALS AREN'T 'BAD DUDES,' RIPPED 'RACIST' JUSTICE SYSTEM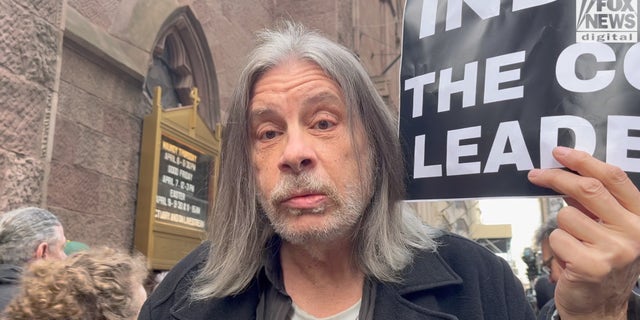 A 30-year New York resident says Bragg is working for the city by indicting Trump.  (Megan Myers/Fox News Digital)
Trump on Tuesday pleaded not guilty to charges related to hush money payments to Stormy Daniels to keep her quiet before the 2016 election about her claims that the two had sexual encounters — a claim the former president has denied.
Some criminal experts have said the 34 counts of falsifying business records in the first degree against Trump is a weak case, including Andrew McCabe. The former FBI deputy director, a key figure in the Russiagate investigation who Trump later fired, called the indictment a "disappointment."
Bragg campaigned on soft-on-crime policies "unless it was an ultra violent crime," Alan said. "Is this a violent crime?"
The Manhattan district attorney has faced criticism for downgrading some violent criminals' charges since he took office in January 2022. Last year, 52% of felony arrests were downgraded to misdemeanors compared to 39% in 2019. Felony cases resulting in convictions also fell by 18 percentage points, according to Manhattan District Attorney's Office data.
"The criminals know that they can get away with this under Alvin Bragg," Ariel said. "They know at most they will get a slap on the wrist."
NEW YORKERS IN FRONT OF TRUMP TOWER CLASH OVER FORMER PRESIDENT'S ODDS OF A FAIR TRIAL AHEAD OF ARRAIGNMENT
Susan told Fox News she is fed up with the city's violent crime.
"People are afraid to come out," Susan said. "They are afraid to take the train."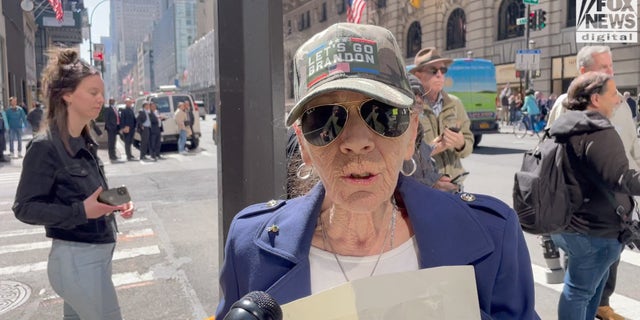 Susan, a long-time New York resident, says she is fed up with the city's crime surge and Bragg's lack of action to address the violence.  (Megan Myers/Fox News Digital )
Felony assaults, rapes and robberies increased between 2020 and 2022, though murders slightly dropped during the two-year period, according to the New York City Police Department. In February, overall index crime decreased by 5.6% compared to the same time last year.
Still, some New Yorkers remained concerned.
"The crime is off the chain here," Taysha said.
But Bragg's "not focused on that," she continued. "His job, as he sees it, is to get Trump."
DUELING PROTESTS CAUSE CHAOS OUTSIDE THE MANHATTAN COURTHOUSE WHERE TRUMP WAS ARRAIGNED. WATCH: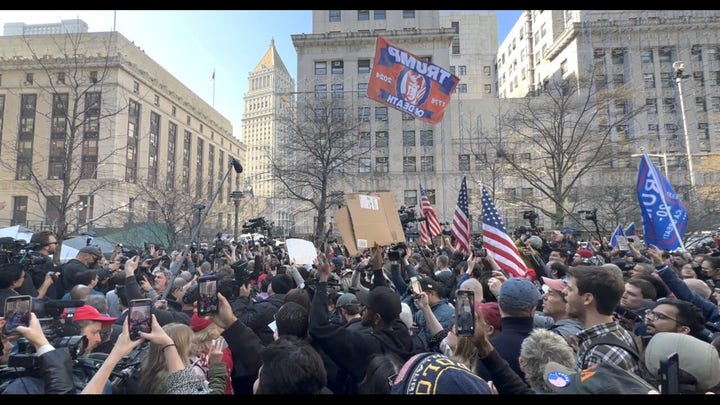 Video
Bragg, who convinced a New York grand jury to indict Trump, spearheaded the investigation that led to the historic arraignment of the former president on Tuesday. At a press conference following the arraignment, Bragg said "no matter who you are, we cannot and will not normalize serious criminal conduct."
MANHATTAN DA BRAGG DEFENDS TRUMP INDICTMENT ON ALLEGED 'CATCH AND KILL' SCHEME, CLAIMS 'ADDITIONAL EVIDENCE'
"I'm grateful for him," Lisa said of the New York prosecutor. "He's the first person whose been willing to take that next step. We need more courageous people in this country to take those steps."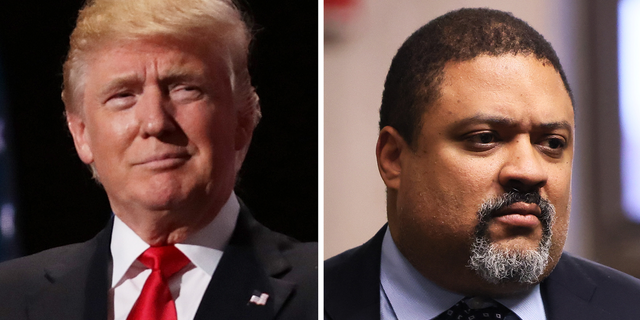 Bragg says New York City shouldn't normalize serious criminal conduct after Trump arraignment on Tuesday.  (Photo by Michael M. Santiago/Getty Images)
CLICK HERE TO GET THE FOX NEWS APP
But Edward said indicting Trump was politically motivated.
"Alvin Bragg is a disgrace," Edward told Fox News. "This is just geared to ruin the election for Trump."
To hear more from New Yorkers, click here.
Isabelle McDonnell contributed to this report.