Rep. Marjorie Taylor Greene, R-Ga., caused a stir when she held up several graphic photos from Hunter Biden's laptop during a committee hearing Wednesday with IRS whistleblowers alleging misconduct in investigations into the Biden family.
The House Oversight Committee interviewed two IRS whistleblowers alleging political misconduct throughout the Hunter Biden investigation — Special Agent Joseph Ziegler, whose identity was revealed during the hearing, and his IRS supervisor Gary Shapley.
Shapley previously blew the whistle on alleged political influence surrounding prosecutorial decisions throughout the years-long federal probe into President Biden's son.
Ziegler testified Wednesday that Hunter Biden itemized a $10,000 deduction on his 2018 tax return for a supposed golf club membership that was really a sex club membership and that he wrote off payments to prostitutes as business expenses.
"So, when Hunter Biden paid for this woman to do this with him, to travel across state lines from California to Washington, D.C., on June 15, this is a violation of the Mann Act. This was prostitution," Greene said.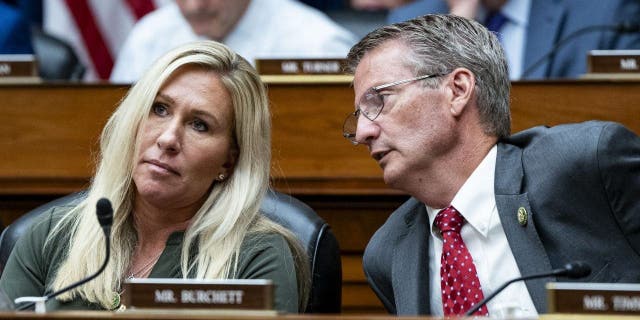 Rep. Marjorie Taylor Greene, R-Ga., talks with Rep. Tim Burchett, R-Tenn., during a House Oversight and Accountability Committee hearing in Washington, D.C., on Wednesday. (Haiyun Jiang/Bloomberg via Getty Images)
"This is evidence of Hunter Biden making sex — excuse me, this is my time – making pornography," she said holding up another photo, as Democrats objected.
One member interjected that showing the pictures was "unbecoming of this hearing," and another asked, "Should we be displaying this … in the committee?"
The whistleblowers allege that officials at the Justice Department, FBI and IRS interfered in the investigation into Hunter Biden and that decisions in the case were influenced by politics.