A driver in the U.K. shocked fellow motorists at a gas station last month when he hopped out of his BMW completely naked to fill up his tank.
"I thought 'I swear that guy was naked'. I got in my car and had a look. His reg plate said 'naked' as well. He was filling up his car b—ock naked. He was casual about it," witness Quinn Kelly told SWNS of the scene.
Kelly said he had just finished paying at a gas station in Bacup, Lancashire, on May 23 when he did a double-take and realized 44-year-old Stuart Gilmour was indeed fully nude – except for a pair of walking boots. Kelly then took a video of the scene.
"I stopped at the garage to pick up some bits. I came out after paying, and I got a glance of him from the corner of my eye, he was behind the pillar," Kelly recounted.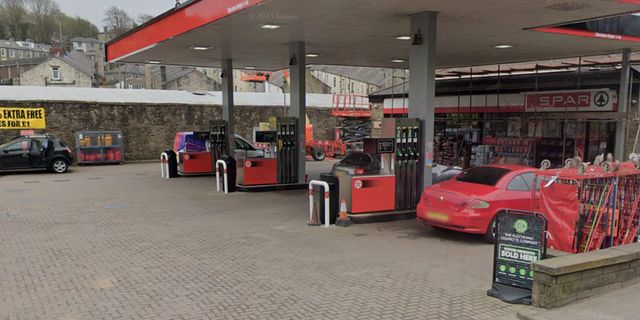 Spar convenience store location in Bacup, U.K. (Google Earth )
Kelly posted the video of Gilmour, who is from Manchester, at the gas station to social media, where hundreds of people liked the post, and Gilmour ultimately spotted himself online.
MAN ON REDDIT UPSET HE CAN'T SLEEP IN THE NUDE WITH NEW NEIGHBORS NEARBY: 'ONLY SO MUCH I CAN DO'
"I don't take any notice when people take photos," Gilmour told SWNS. "All I'm doing is filling my car up like anyone else. I'm in a public space, so they're legally allowed to, and it's not something you see every day, so I don't let it bother me."
CLICK HERE TO GET THE FOX NEWS APP
"Everyone just has a giggle about it, asks for a photo and asks what it's about," he added to SWNS. "I like promoting that it's good for your mental health and it's a natural way to be when the weather is good enough."