MLB officials have postponed Wednesday night's game between the New York Yankees and the Chicago White Sox over air quality concerns following the blanket of smoke that has impacted the northeastern part of the country as a result of the ongoing wildfires in Canada.
A single-admission doubleheader between both teams has been scheduled to start at 4:05 p.m. ET first pitch on Thursday. The second game will start no later than 7:05 p.m. ET.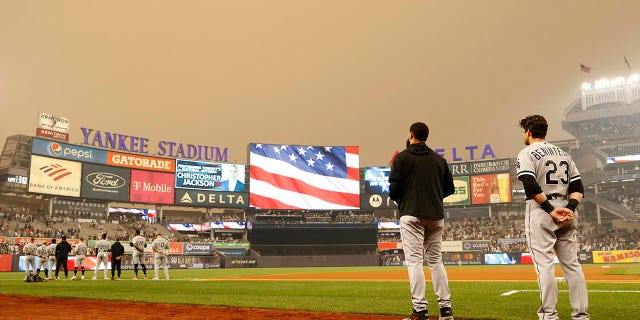 The Chicago White Sox stand for the national anthem prior to the first inning of the game against the New York Yankees at Yankee Stadium in the Bronx borough of New York City on Tuesday. (Sarah Stier/Getty Images)
The first of the three-game series between the Yankees and the White Sox was played in New York on Tuesday night despite New York City Mayor Eric Adams announcing an "Air Quality Health Advisory."
CANADIAN WILDFIRE SMOKE SURROUNDS YANKEE STADIUM AS NEW YORK ISSUES HEALTH ADVISORY OVER POOR AIR QUALITY
The Yankees' Triple-A affiliate and the New York Mets' affiliate in Syracuse both postponed their games on Tuesday night "due to poor air quality and an abundance of caution for potential health concerns." They did so again on Wednesday night.
The Philadelphia Phillies also rescheduled their game with the Detroit Tigers on Wednesday night for the same reasons.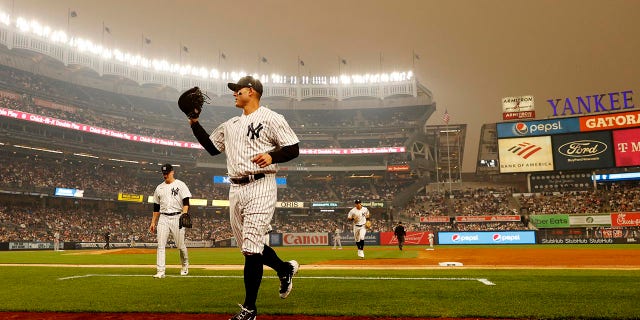 Anthony Rizzo of the New York Yankees jogs to the dugout during the second inning of the game against the Chicago White Sox at Yankee Stadium in the Bronx borough of New York City on Tuesday. (Sarah Stier/Getty Images)
CLICK HERE TO GET THE FOX NEWS APP