Madeline Kingsbury's active Army infantryman brother was overseas when his dad called him with the troubling news that his sister was missing.
Stephen Kingsbury's 26-year-old sister hasn't been seen or heard from since she dropped off her kids at daycare with the children's father around 8 a.m. on March 31, and she sent her sister a "goofy" text to her sister around 8:15 a.m. the same day.
"Madeline is always in constant communication with family," Stephen told Fox News Digital in an email. "I came home to support my family and contribute in any way possible in efforts to locate Madeline and bring her home."
On Saturday, the Kingsbury family shared a 2021 video with Fox News Digital of Maddi, as she's known by family and friends, singing to her newborn son a couple of days after Stephen returned to Winona, Minnesota.
FATHER OF MADELINE KINGSBURY'S CHILDREN NOT SPEAKING TO MISSING WOMAN'S FAMILY
Minnesota mom Madline Kingsbury, 26, was last seen dropping her children off at daycare around 8 a.m. on March 31 (madeline kingsbury/fFacebook)
Madeline's disappearance is "suspicious" and "involuntary," Winona Police Chief Tom Williams said, but law enforcement haven't publicly named a suspect or suspects.
Law enforcement has been tightlipped about the case, because they said providing details "would jeopardize our ability" to find Kingsbury and, "if warranted, hold accountable the person or persons responsible."
Meanwhile, the Kingsbury family remains focused on finding Maddi, which is Stephen's new mission.
MADELINE KINGSBURY: COURT DOCS, MINNESOTA POLICE CONTRADICT CLAIMS FROM FATHER OF MISSING WOMAN'S KIDS
As an active military service member for the last 14 years, he brings a unique expertise of planning and executing deliberate movements in "austere terrain."
That will be invaluable as several law enforcement agencies and thousands of volunteers have been combing through more than 120,000 acres near the Mississippi River, which include several bodies of water, swamplands, flat farmlands, woods and bluffs.
"Working in small and large teams with a variety of personality types and talent levels for this long has also given me the tools necessary to manage individual and collective skill sets and utilize them effectively to achieve a shared common goal," Stephen said.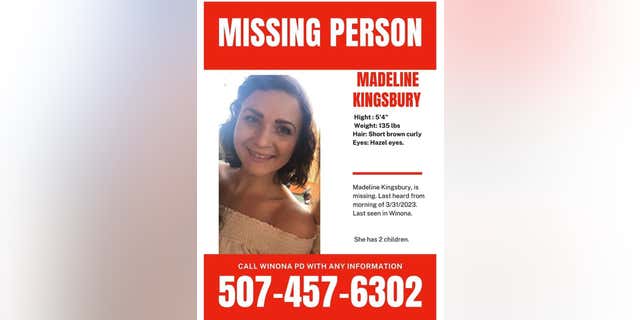 Minnesota mom Madline Kingsbury, 26, was last seen dropping her children off at daycare around 8 a.m. on March 31. (Winona, Minnesota Police Department)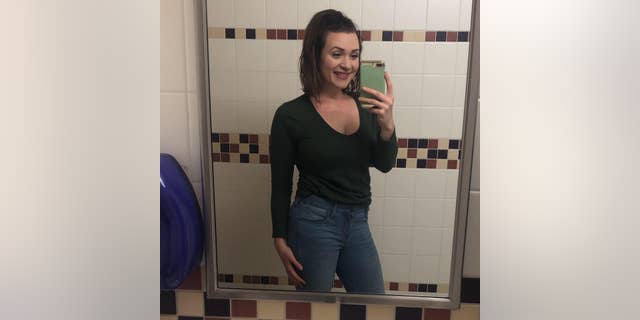 Minnesota mom Madline Kingsbury, 26, was last seen dropping her children off at daycare around 8 a.m. on March 31. (madeline kingsbury/fFacebook)
The community in and around Winona has come out in droves to search for Madeline, and their coordinated efforts continue through Facebook groups like Finding Madeline Kingsbury, which has over 18,000 followers.
Stephen said this group "is the best source as of now for information regarding volunteer search efforts that are active and forthcoming."
"The community surrounding our family, from the volunteer searchers on ground and event organizers to the offered prayer, has been indescribable, humbling and awe-inspiring," Stephen said.
FATHER OF MISSING MINNESOTA WOMAN'S CHILDREN BREAKS SILENCE 12 DAYS AFTER SHE VANISHED
"It's hard to imagine how it could ever be reciprocated. Our gratitude for all involved in our efforts to bring our sister/daughter/mother home will never fade."
There's a river flood warning in Winona on Saturday, and rainy, chilly weather is expected Sunday morning during a planned volunteer search.
One of the organizers, Heidi Kay Olson, said on Facebook, "I realize the weather is less than optimal for this, but we are doing EVERYTHING we can to bring Maddi home! Weather will not stop us from doing this!!"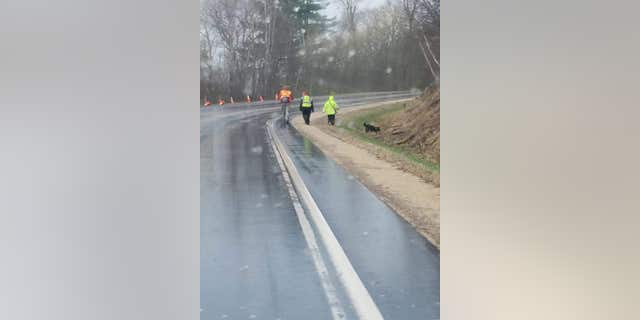 Law enforcement and first responders in and around Winona, Minnesota, continue their search for Madeline Kingsbury. (Winona County Emergency Management)
Stephen echoed the volunteer organizers' efforts.
"The search has and will continue, on multiple fronts," he said. "Law enforcement, volunteer organizations and private citizens of the area have been out and active with a common goal, bring Madeline home."
He reiterated police's requests to property owners in and around Winona and extended into Houston County, Minnesota, to search their properties for "anything odd or out of place," check doorbell cameras and not delete any footage from March 31 and April 1, even if they don't see anything.
"Every bit counts," Stephen said. "Be it walking your properties, scanning terrain as you commute and reporting to law enforcement if something doesn't seem right."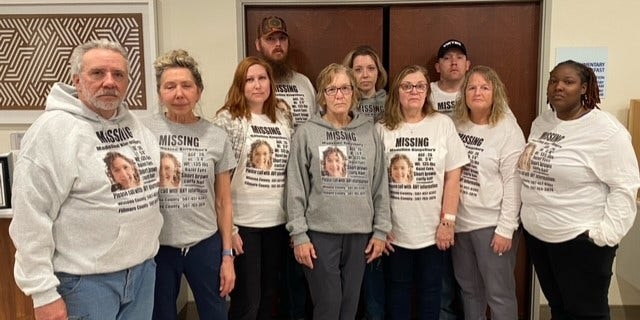 Madeline Kingsbury's family wearing custom-made sweatshirts during their search with her description and contact information for tips (Megan Kingsbury)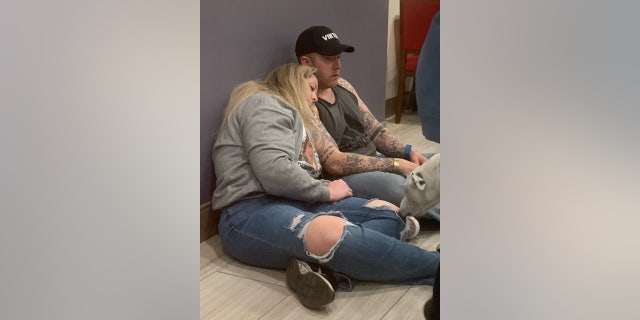 Megan Kingsbury and her brother after learning about Madeline's "suspicious disappearance." (Megan Kingsbury)
THE SAGA OF MADDI'S CHILDREN'S FATHER
Adam Fravel, who's the father of Madeline's two- and five-year-old children, was the last person who saw her alive.
He was absent during a press conference about Madeline's case and broke his silence 12 days after her disappearance in a prepared statement through his lawyer, Zach Bauer.
"Over the course of the last 12 days my family and I have been subject to a myriad of accusations regarding the disappearance of the mother of my children," Fravel said. "I did not have anything to do with Maddi's disappearance."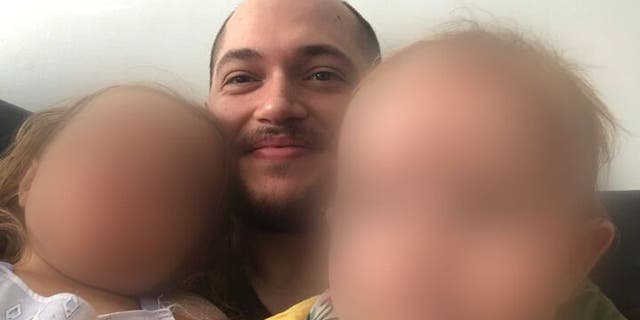 Adam Fravel, who is the father of missing Minnesota woman Madeline Kingsbury's children, said he's innocent in a statement 12 days after her "suspicious" and "involuntary" disappearance.  (Adam Fravel/Facebook)
Court documents obtained by Fox News Digital and a law enforcement statement paint a different picture of what's happening behind the scenes.
On April 4, Fravel allegedly had a tense, volatile standoff with social workers and police, who attempted to take custody of the children because he doesn't have custodial rights, according to the court filing, which described him as "non-cooperative."
"At one point, (Fravel) took the younger child into the residence and locked the door despite being told that the children were in the care and custody of Winona County," a petition by Winona County Health and Human Services alleges.
MISSING MINNESOTA MOTHER MADELINE KINGSBURY'S FAMILY FEARED FOUL PLAY WHEN SHE DISAPPEARED AFTER DAY CARE DROP-OFF
"While (Fravel) was in the home with the younger child, a social worker could hear (Fravel) shouting expletives."
Further muddying the waters is an emailed statement by the Minnesota Bureau of Criminal Apprehension (BCA), which is assisting Winona police, that says they are "not aware of any law enforcement advising Mr. Fravel not to attend news conferences or search(es) for Madeline."
Fravel's lawyer, Bauer, told Fox News Digital that the case is being handled by the Winona Police Department.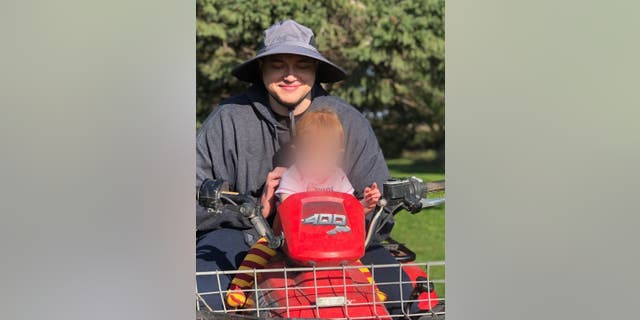 Adam Fravel, who is the father of missing Minnesota woman Madeline Kingsbury's children, said he is innocent, in a statement 12 days after her "suspicious" and "involuntary" disappearance.  (Adam Fravel/Facebook)
"Investigators within that agency told Adam that they did not believe he should attend the news conferences or searches for Madeline citing safety concerns," Bauer said.
He doesn't represent Fravel in the custody battle, so he declined to comment.
The Kingsbury family have done everything they can to block out the surrounding drama and focus all of their efforts.
SEARCH FOR MADELINE KINGSBURY DRAWS THOUSANDS OF VOLUNTEERS: 'WE ARE NOT GIVING UP'
"I want to take this opportunity to extend my gratitude," Stephen said.
"We have, in a short period of time, rallied for Madeline and created/maintained a group of passionate and motivated folks from across the state who care for and love Madeline with such an intensity that I have no doubt in the steadfastness of our mission."
WHERE TO SEND TIPS
Police said that tips from the public have been integral to the investigation. People can call 1-800-222-TIPS or go to crimestoppersmn.org.