A Utah Valley University professor called for student protests during Florida Gov. Ron DeSantis' visit for the state's GOP convention.
Professor Trevor Warburton reportedly posted a flier depicting potential 2024 presidential candidate DeSantis with a swastika on his head to promote a protest for the visit.
Sen. Mike Lee, R-Utah, told "Fox & Friends," that the professor circulated the flier on Yom HaShoah or Holocaust Remembrance Day. He called the move "wildly inappropriate on every level."
REP. LEE ENDORSES DESANTIS, BRINGING CAPITOL HILL SUPPORTERS TO 3 WHILE TRUMP HAS BACKING OF OVER 50 LAWMAKERS
Lee said Thursday that the Ph.D. social justice and mathematics ed professor described DeSantis as a "fascist" in the now-deleted Tweet. Lee said, "when everyone's a fascist, no one is."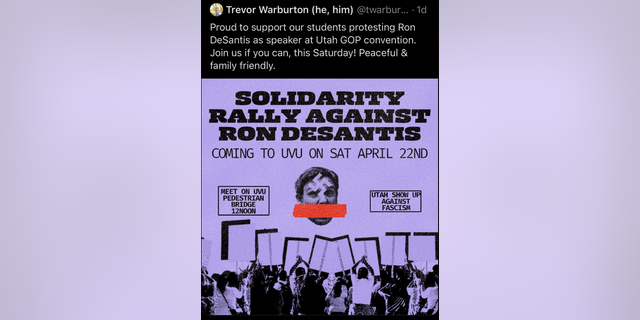 Professor Trevor Warburton's deleted flier promoting DeSantis protest
"There is nothing about Gov. DeSantis that is a fascist. Never once has he tried to centralize government power. Never once has he tried to aggregate power at the expense of the individual, the expense of the family," Lee argued.
Lee said the "use by the left of the word fascist and symbols like the swastika to depict anything they don't like, it cheapens the meaning of the word."
IVY LEAGUE UNIVERSITY MOVES TO PRIORITIZE 'FREE EXPRESSION' MONTHS AFTER STUDENTS HECKLED CONSERVATIVE PUNDIT
Lee said Republicans do the opposite by working against "big government tyranny" and government control.
Lee said it's unclear whether Warburton removed the post voluntarily. Fox News Digital reached out to Warburton for comment but has not received a response.
Before the post's removal, Warburton received harsh criticism from Republicans, including Arizona Rep. Eli Crane's chief of staff, Gregory Smith.
Warburton continued to call for protests on Twitter in a subsequent tweet.
The protest is scheduled for April 22, when DeSantis will headline the 2023 GOP Organizing Convention at UVU.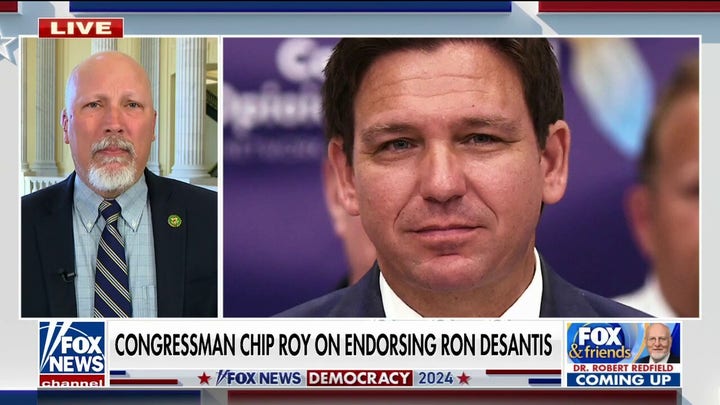 Video