The 2024 Republican primary field is shaping up to one of the most racially diverse in modern memory, but a media landscape that repeatedly touted the 2020 Democratic candidates as an American tapestry doesn't seem nearly as interested this time around.
A record 29 candidates joined the 2020 Democratic race throughout that election cycle, including seven racial minorities and one who was openly gay. The legacy media heralded what it deemed a historic presidential race simply by how diverse it was, although the ultimate victor for the nomination was then-77-year-old Joe Biden.
In January 2019, CNN was quick to hail the field "the most diverse in modern political history" back when there were only eight declared candidates. The Associated Press also jumped on the diversity bandwagon right out of the gate.
SEN. TIM SCOTT BLASTS JOY BEHAR OVER CLAIM HE 'DOESN'T GET' RACISM: 'DUMBEST, MOST OFFENSIVE THING'
USA Today columnist Jill Lawrence urged readers to "Celebrate the diverse 2020 Democratic candidates and don't fret about 'electability.'"
POLITICO ACCUSES NIKKI HALEY OF 'COMPLICATED RACIAL DANCE,' SAYS SHE HAS FRAUGHT RELATIONSHIP WITH RACE'
However, the media's tone turned pessimistic as the Democratic primary race unfolded. In October 2019, the Times published the headline, "Democrats Have the Most Racially Diverse Field Ever. The Top Tier Is All White." Washington Post columnist Philip Bump similarly complained, "The most diverse Democratic field in history seems poised to result in a [W]hite nominee."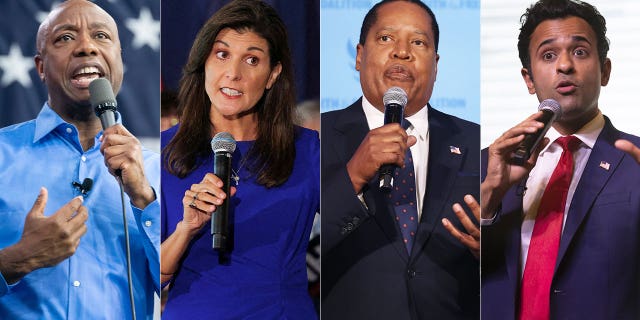 Republican presidential hopefuls Tim Scott, Nikki Haley, Larry Elder and Vivek Ramaswamy are defying the left's notion that the GOP is only made up of old White men. (Getty Images/Reuters Photos)
Elder sarcastically mocked the "shocking" disparity of the media's coverage.
"Several liberal reporters called me for comment when Tim Scott announced his candidacy. They asked: 'You and Tim Scott are both Black Republicans, what distinguishes you from him?'" Elder told Fox News Digital. "My response? 'Did you reporters, in 2016, say to Trump, 'You and Jeb Bush are both White Republicans, what distinguishes you from him?' Their silence was deafening."
"No, to the liberal media, Elder and Scott are not two different individuals. Why, as Republicans, who are both Black, Elder and Scott are practically identical twins separated at birth! Yet another example of liberal media condescension and bigotry," he added.
"Isn't it time the race and gender obsessed media discuss a candidate's qualifications without emphasizing his or her race, ethnicity or gender?" Elder wondered. "My having an 'R' at the end of my name made my 'firstness' irrelevant. Hochul having a 'D' at the end of her name made her 'firstness' a cause for celebration."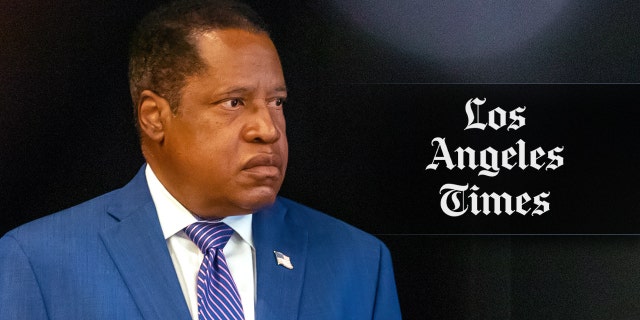 The Los Angeles Times raised eyebrows when a columnist referred to then-California gubernatorial candidate Larry Elder as the "Black face of white supremacy. (Francine Orr /Los Angeles Times via Getty Images)
Nikki Haley has faced similar attacks. Shortly after she launched her presidential bid in February, far-left writer Wajahat Ali said on MSNBC that she "uses her Brown skin to launder White supremacist talking points." MSNBC host Joy Reid also accused Haley of "trying to fit in" by converting to Christianity rather than embracing her Sikh background.
Politico took aim at Haley over what it dubbed her "complicated racial dance" throughout her political career and her "fraught relationship with race," putting focus on how she listed her race as "White" on a voter registration card in 2001 (due to lack of race options provided) and how she has "shown a willingness to embrace some of the dog whistles deployed by the current Republican Party."
"There are some of us that can be chameleons and decide not to embrace our ethnicities so that we can pass." Notably, as was pointed out at the time by her colleagues, "Sunny" isn't Hostin's birth name, which is actually Asunción. She defended that apparent hypocrisy, saying "Americans can't pronounce 'Asunción' because of the under-education in our country."
"Nikki Haley always makes liberals lose their minds. They can't handle the idea of a strong, outspoken conservative woman. Too bad for them," Haley spokesman Ken Farnaso told Fox News Digital.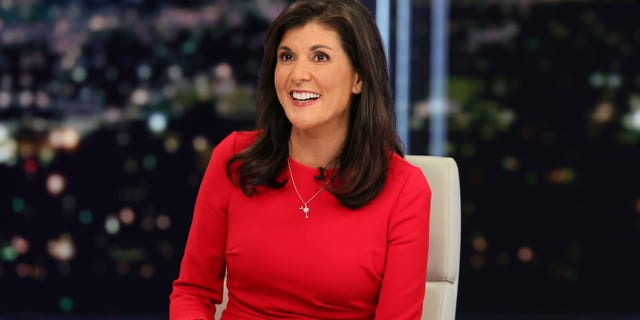 Former U.N. Ambassador Nikki Haley was the subject of misogynistic attacks from then-CNN host Don Lemon, who argued that the 51-year-old presidential hopeful "isn't in her prime." (Theo Wargo/Getty Images)
"The View" didn't just go after Haley. After Tim Scott launched his campaign, Whoopi Goldberg suggested he has "Clarence Thomas syndrome" and called his decrying of victimhood a "dog whistle." Her White colleague Joy Behar said the Black senator "doesn't get" racism in America. Meanwhile, Hostin insisted in 2021 that Scott was "used" by the Republican Party when he offered the rebuttal to President Biden's first address to Congress.
SUNNY HOSTIN: 'DISAPPOINTED' TO SEE SCOTT 'USED' BY THE GOP THIS WAY
In 2021, then-CNN host Don Lemon shrugged off the slur "Oreo" that was used against Scott as merely "name calling" and although he didn't encourage others to use the term, he offered a defense of it, telling viewers, "I'm going to be honest, maybe if you're sitting around the kitchen table and you're Black and you're with other Black people, they may say the same thing. Like, 'what is wrong with this you know what,' the term that he used. But I don't think it should be used publicly."
The Washington Post raised eyebrows with its 2021 fact-check questioning Scott's family history, specifically his repeated "from cotton to Congress" narrative, suggesting there's more nuance to his claim that his father picked cotton because his ancestors had owned farmland.
DON LEMON FIRING LINKED TO EXPLOSIVE ON-AIR EXCHANGE WITH VIVEK RAMASWAMY; GOP HOPEFUL REACTS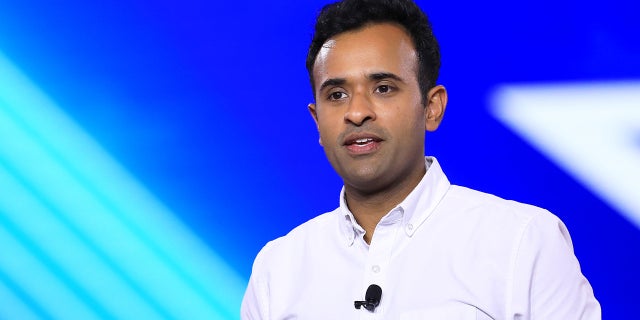 Entrepreneur and "Woke, Inc." author Vivek Ramaswamy told Fox News Digital the Republican Party should reject prioritizing diversity. ( Dylan Hollingsworth/Bloomberg via Getty Images)
The "Woke, Inc." author would rather turn the focus on the "diversity of perspectives" he and his fellow GOP rivals have instead of examining their "skin-deep diversity."
CLICK HERE TO GET THE FOX NEWS APP