Homeland Security Secretary Alejandro Mayorkas on Friday announced the creation of a task force that will assess the ways artificial intelligence can be used to detect shipments of dangerous fentanyl to the U.S., screen cargo and take on other tasks aimed at shoring up U.S. national security.
"I am directing the creation of our department's first Artificial Intelligence Task Force that will drive specific applications of AI to advance our critical homeland security missions," Mayorkas said Friday.
"Countering the multi-faceted threat posed by the PRC, learning from major cyber incidents, and harnessing the power of AI to advance our security will draw on the entirety of the capabilities and expertise the 260,000 personnel of DHS bring to bear every single day," he said. "It will require continued investment in our operational cohesion, our ability to work together in ways our founders never imagined."
HAWLEY GRILLS MAYORKAS ON REPORTS OF FORCED CHILD MIGRANT LABOR: 'WHY SHOULDN'T YOU BE IMPEACHED FOR THIS?'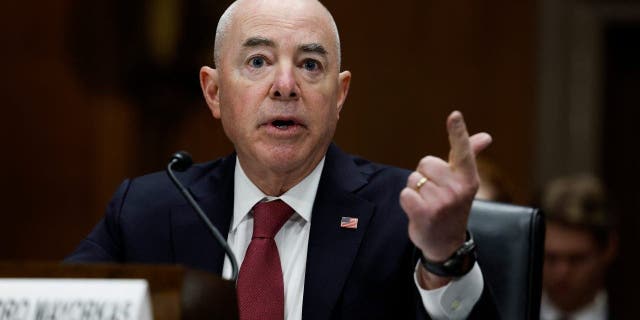 Homeland Security Secretary Alejandro Mayorkas said Friday his department is looking at how to harness AI to boost U.S. national security. ( (Photo by Anna Moneymaker/Getty Images))
DHS said the task force has 60 days to develop a plan for using AI for these and other purposes. Among other things, DHS imagines using AI to more efficiently conduct cargo screenings and identify goods that might have been produced with forced labor.
AI might also be used to fight inflows of fentanyl. "We will explore using this technology to better detect fentanyl shipments, identify and interdict the flow of precursor chemicals around the world, and target for disruption key nodes in the criminal networks," DHS said.
SEN. MARSHALL INTRODUCES RESOLUTION FOR VOTE OF NO CONFIDENCE IN MAYORKAS AMID SENATE GRILLING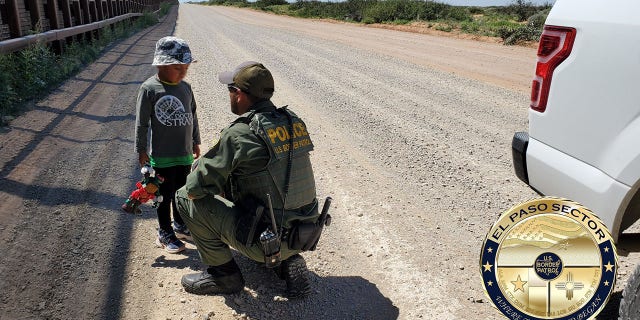 Border Patrol agents rescue a migrant child abandoned by smugglers. DHS thinks it cause AI to find victims of child sexual abuse, and their abusers. (U.S. Border Patrol)
The department said another possible way to deploy AI could help officials find victims of child sexual abuse and their abusers. But DHS did not list any more specific ideas on how to use AI to secure the southwestern U.S. border.
"I recently asked our Homeland Security Advisory Council, co-chair Jamie Gorelick is here, to study the intersection of AI and homeland security and deliver findings that will help guide our use of it and defense against it," Mayorkas said. "The rapid pace of technological change – the pivotal moment we are now in – requires that we also act today."
MAYORKAS AGAIN REFUSES TO CALL BORDER SURGE A 'CRISIS,' SAYS IT WOULD INDICATE 'WITHDRAWAL FROM OUR MISSION'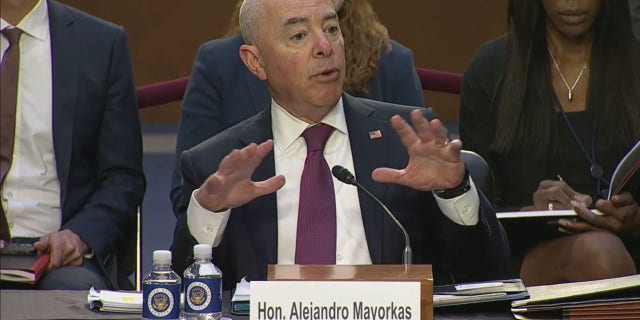 Mayorkas launched a task force to examine how AI might be deployed to serve DHS's mission. (C-SPAN)
DHS is just the latest department to take a step toward considering how emerging AI technology might affect its mission or its regulatory actions. The Pentagon has been hiring top AI experts and is hoping to use AI to make faster, more efficient threat assessments in different parts of the world.
CLICK HERE TO GET THE FOX NEWS APP
The U.S. Patent and Trademark Office is taking input on whether and how to give AI credit for certain inventions. And the Federal Trade Commission has said it is keeping a close eye whether AI development companies are deceiving consumers about what their products can do.